Grand accomplishment of CCN's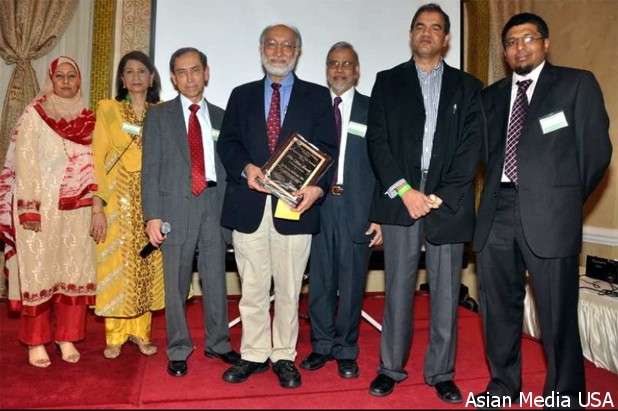 Chicago IL: Compassionate Care Network (CCN) of Chicago hosted their 4th Annual fund raising Banquet on Saturday, November 18, 2011, at Monty's Elegant Banquets, 703 S. York Road, Bensenville, IL 60106. The evening was attended by about 312 guests. It started off with a social hour that included many choices of delicious appetizers and soft drinks to neutralize the sting of spicy dishes.
After the recitation of Quran by Anas Shahzad, the Master of ceremony, Janine Salameh, welcomed the guests. In her opening and introductory speech she remarked that, 'In any type of non-profit organization you will find dedicated, hard-working individuals with a passion for giving back and a conscious that will not settle for enough, but must go above and beyond to use what they know and are skilled at to give back to the community and those in need'. Following the introduction she introduced the President of CCN, Dr. Mohammed Gafoor.
In his masterful speech Dr. Gafoor outlined the functions and goal of the organization and linked them with divine messages from the holy Prophet (peace and blessings upon him) and Holy book. From these, CCN is an idea which evolved to be what it is now, service to mankind. The main goal of CCN is Promoting health awareness through education and screenings and providing affordable access to health care for the uninsured. Dr. Gafoor quoted Tariq Ramadan, a European Muslim scholar and philosopher who stated that "We all have tangible bounties which proceed from Allah, they may be physical gifts as food, clothes, houses, gardens and wealth. Intellectual and spiritual assets are insight into good and evil, understanding men, the capacity of love, influence, power, birth, and opportunities flowing from it." We should contribute these to all those who are needy and less fortunate. One goal of CCN is to reach those people who are in real need but who never ask. It is our duty to find them out and help before they ask. He further stated that about 70% of Americans have a negative perception about Islam and Muslims. It can be interpreted as the worst of times or the best of times for us. Every bad situation can be turned into a great opportunity. Our Prophet (peace and blessings upon him) came in the worst of times and turned it into the best of times. Muslims should be involved in many
directions including spiritual trends, interfaith politics, and domestic issues that should be tackled beyond just for Muslims cause. He urged everyone to contribute generously.
Next, the chief guest and key note speaker, Dr. Teepu Siddique, MD from the Fineberg School of Medicine at Northwestern University in Chicago, was awarded the IBN Sina Award for Humanitarian Service & Pioneering Medical Research. Dr. Siddique was awarded for his pioneering research in the field of Amyotrophic Lateral Sclerosis (ALS aka Lou Garret's Disease). ALS is a non curable devastating disease that affects an estimated 350,000 people around the world, with about half of people dying within three years of its onset. Compassionate Care Network recognized and honored not only the dedicated research and pioneering work of a scientist whose work has resulted in break through knowledge, but also whose commitment to learning and to the growth and development of the human spirit, has become an inspiration for us all. In his keynote address he welcomed all the CCN volunteers and guests, and he outlined epidemic of health issues affecting the community. These include alarming rises of Diabetes and high blood pressure, both diseases, if diagnosed early and treated can give a normal healthy lifespan with simple lifestyle modification. To target this, CCN has started a pilot program to help individuals with weight problems. CCN's Health Coaches are getting
trained through Weight Management Workshops, to become personal coaches who will educate and encourage interested participants on life style modifications involving healthier eating and regular exercise routines. All this is possible because of the services and sacrifices of the compassionate few who see the vision and are willing to share the burden of educating and treating the people they serve. Without your generous financial support, CCN would not be able to do all that they do. CCN is promoting a very noble cause that your donation will be sure to benefit.
The next speaker, Azher Quader, MD., Executive Director, outlined the growth and future vision of the organization since its inception 7 years ago. He painstakingly detailed the journey of CCN and outlined future challenges and obstacles. "May Allah bless you and reward you", were his closing words.
Ecstatic and surprised, Dr. Ayesha Sultana walked to the stage next to receive a special award for her exemplary service that she has committed to CCN over the years. She followed with a delightful word of thanks to close the program for the evening and get to dinner.
Following dinner was a cultural program including an evening of fun filled music and entertainment by Javed Raza the leading Urdu singer in North America and Rama Raghuraman, a well-known leading female vocalist. Rama's opening song "Aayiye Meherbaan" was welcomed with a huge round of applause, which was followed by aye dil mujhe bathade and Aajare Pardesi, her signature song.
Javed Raza sang Jagjit Singh's ghazals: Kagaz ki Kashti, Socha nahin, as a tribute to Late Jagjit Singh and they were welcomed with great enthusiasm by the audience. Javed and Rama sang some evergreen duets like Diwana Hua Badal, Jo Wada Kiya, Abhi Na Jao, Theri Bindiya re and also some new songs like Teri Oar, Theri Mast Mast do nain, with remarkable ease and enthralled the audience with their performance. Both sang superbly and harmonized elegantly in all the songs. Javed Raza concluded the show with a Hyderabadi special song "Ek chameli ke Manve thale from the movie "Cha Cha Cha"
The show was ably supported by sound Engineer, Saif Ali who too rendered a couple of foot tapping melodies, to the delight of the audience.
About Compassionate Care Network (CCN)
Founded in 2004 by Chicago doctors Azher Quader, M. Gafoor & Ayesha Sultana, practicing physicians and community activists, Compassionate Care Network (CCN) is a not-for-profit organization that conducts free health screenings around the Chicago land area and offers reduced cost access to health care for the uninsured. Currently, CCN serves over 2500 Illinois residents. For a nominal annual fee, the uninsured have access to a health care network of over 120 physicians, 6 medical labs, 13 imaging centers, and other health care services like Dentistry, Optometry, Chiropractic
care, Physical Therapy and Podiatry. For more information please visit Web site: www.ccnchicago.com, Compassionate Care Network (CCN), 6348 N. Milwaukee Ave, # 215, Chicago, IL 60646, Phone: 773 775-3600
Page #1 / Picture #1 from left to right:
Fatema Reham Mirza MPH, (Member), Ayesha Sultana MD (Member), Azher Quader MD(Executive Director), Teepu Siddique MD Pioneering ALS Researcher & humanitarian, (Keynote speaker), Mohammad Gafoor MD (President), Badar Zaheer MD (Member) and Saquib Ahmad MD, Vice President
Page #2 / Picture #2 left to right:
Azher Quader MD (Executive Director), Janine Salameh (Director of Marketing), Fatema Reham Mirza MPH (Member), Ayesha Sultana MD (Member), Badar Zaheer MD (Member), Mohammad Gafoor MD (President), and Saquib Ahmad MD (Vice President)
Photographs and Press release by: Asian Media USA
Suresh Bodiwala
Chairman
Asian Media USA
Bus: (847) 679-8583
Fax: (847) 679-5336
Cell: (847)420-4789
sbodiwala@sbcglobal.net
Copyrights (c) 2010 – Asian Media USA
No one shall download or otherwise duplicate the graphics, images, press release and written content from the PDF without our express written permission. Likewise, no one shall reuse the aforesaid things, as the same are the intellectual property of the Company, we hereby reserve all rights
Disclaimer: – Asian Media USA
"The information in this e-mail and any attachments is confidential and may be legally privileged. It is intended solely for the addressee or addressees. If you are not an intended recipient, please delete the message and any attachments and notify the sender of misdelivery. Any use or disclosure of the contents of either is unauthorized and may be unlawful. All liability for viruses is excluded to the fullest extent permitted by law. Any views expressed in this message are those of the individual sender, except where the sender states them, with requisite authority, to be those of the Asian Media USA