The magnificent Celebration of Paryushana and Das Laxana Maha Parva by Jain Society of Metropolitan Chicago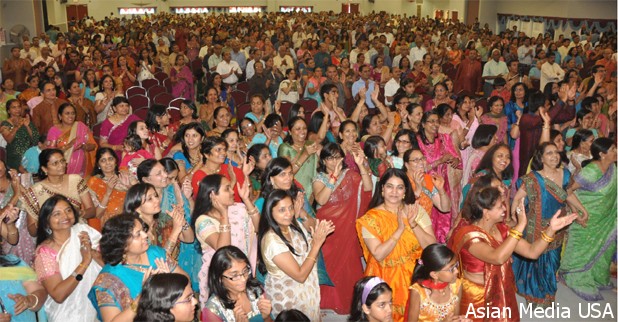 Bartlett, IL : Jain Society of Metropolitan Chicago (JSMC) celebrated one of the holiest festival of Jainism – Paryushan Maha Parva and Das Laxana Maha Parva from August 25, 2011 to September 11, 2011 at Jain Temple , 435 N Rt. 59, Bartlett , IL. More than 3500 people attended the festivities of Mahavir Janma Vanchan, Paryushan Parva's most celebrated event. Some highlights of the celebration included Gautam Swami Aaradhana , Swapna Darshan, Navkaar Vandnavali & Jaap, Laghu Siddhachakra Aaradhana, 18 Paap Sthanak Samvedana, Samvatsari Pratikraman, Tapasvi Parna, Alochana & Shrimad Bhakti, Nightly Bhavana, andcultural programs.
The eight days long festival, popularly known as "Paryushan Maha Parva" is a festival of Dharma Aradhana. During these eight days Jains follow total non-violence, love, and compassion through fasting. The festival ordains the Jains to observe the ten universal supreme virtues in daily practical life. The non-Jains also express high reverence for this Jain festival.
On this occasion, JSMC had invited a respected and learned scholar and Vidhikar Shri Narendrabhai Nandu, Mumbai, Gujarat, India, for Pravachan and rituals. During Das Laxana Maha Parva, well known and taught scholar Swami Shri Srutpragyaiji of Peace of Mind institution or Rajkot, Gujarat, India delivered lecture series throughout eight days both morning and evening. Chosen topics were very appropriate for day-to-day life, and kept about 800-1000 people on daily basis seated in a main auditorium with pin-drop silence listening them. It was truly remarkable to see hall full of people past 10:30 pm during weekdays. Each evening prior to lecture, a melodious musical (Bhavana) was performed by well-known singers from Narendrabhai Nandu's group – Kayvan Nandu and Aarti Gada of Mumbai, Gujarat . Each evening ended with Bharti and Mangal Divo sung by musical group in melodious ragas, different each day.
Youth Events
Saturday, August 27, 2011 4:00 PM to 5:00 PM
Forum by young professionals and college Graduates
Topic: How Jain Education/Values has made an impact on your life at home and work?
Saturday, August 27, 2011 8:30 PM to 9:00 PM
Jain Academic Quiz Bowl by Päthashälä Students
Members of Jain community participated with full vigor and zeal in various religious rituals and bhakti programs. A grand festivity of the "Mahavir Janma Vaanchan", a celebration of birth of Lord Mahavir was very colorful and spectacular with beautiful stage decoration where King Siddharth & Queen Trishala as father and mother of Lord Mahavir were seated on decorated royal chairs where fourteen dreams of queen Trishala presented in her lap.
This year total of about $160,000 collected as from rituals related pledges. Everyday Idol Puja, Snatrapuja, Pravachan, bhakti-sangeet and ekasana or swamivatsalya and Pratikraman were performed during Paryushan. On the day of Samvatsari Jains greet each other by saying "Michhami Dukkadam". The phrase translates to "forgive my misdeeds". Following Samvatsari was the Tapasvi Parana Celebration where all the Tapasvis break their fast. This time there were following Tapasya during Paryushan and Das Laxana Parva:
Siddhi Tap – 1
Varsitap – 4
Santikaram Tap – 6
Khir Samudra – 1
16 Upavas – 2
11 Upavas – 4
8 Upavas – 50
About Jain Society of Metropolitan Chicago (JSMC)
Founded in 1970, the Jain Society of Metropolitan Chicago (JSMC) is a non-profit, tax-exempt organization registered in the State of Illinois and provides various educational, religious and community activities in its newly expanded and renovated facility on a 15.4-acre property in Bartlett, Illinois. JSMC is a member of the Federation of Jain Associations in North America (JAINA) and has the distinct honor of building the first significant Jain Temple of North America in 1992 in Bartlett, Illinois. Since 1993, this facility has become the prime place for all religious and educational activity of Jain community in mid-west area. JSMC has a membership of about 2500 families, the largest membership representation of all Jain Centers in North America.
Upcoming Events:
JSMC Raas Garba
Friday, September 30, 2011 – Dholidana Taale with Raj & Smruti Pandya Group of KY
Saturday, October 1, 2011 – Bollywood Fusion
For more information please visit www.jsmconline.org.
Pictures captions:
All pictures Celebration of Paryushana and Das Laxana Maha Parva and Audiances
Photographs and Press release by: Asian Media USA
Suresh Bodiwala
Chairman
Asian Media USA
Bus: (847) 679-8583
Fax: (847) 679-5336
Cell: (847)420-4789
sbodiwala@sbcglobal.net
Copyrights (c) 2010 – Asian Media USA
No one shall download or otherwise duplicate the graphics, images, press release and written content from the PDF without our express written permission. Likewise, no one shall reuse the aforesaid things, as the same are the intellectual property of the Company, we hereby reserve all rights
Disclaimer: – Asian Media USA
"The information in this e-mail and any attachments is confidential and may be legally privileged. It is intended solely for the addressee or addressees. If you are not an intended recipient, please delete the message and any attachments and notify the sender of misdelivery. Any use or disclosure of the contents of either is unauthorized and may be unlawful. All liability for viruses is excluded to the fullest extent permitted by law. Any views expressed in this message are those of the individual sender, except where the sender states them, with requisite authority, to be those of the Asian Media USA