Crowd of Over 700 ring for the New Year in Waterford Banquet Hall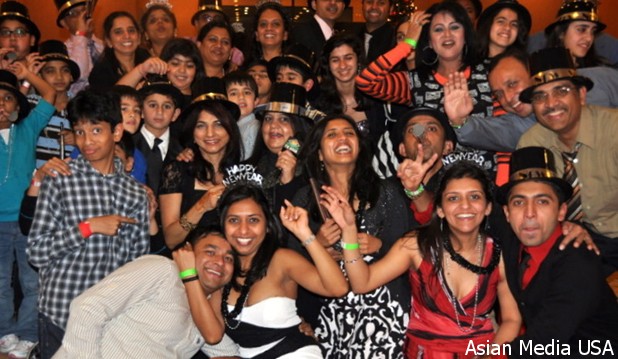 Chicago IL: Waterford Banquet hall located at 933 South Riverside Drive in Elmhurst , Illinois with Pritesh Gandhi collaboratively hosted the New Year's Eve party on Saturday, December 31st, and joyfully welcomed 2012. A spectacular New Year's Eve event attracted large crowds of enthusiastic, fun-loving celebrants. both young and old, from the Chicago land area. This extraordinary family friendly event started at 8 pm and was enjoyed by about 700 plus guests from the greater Chicagoland region.
The event had fibulas Las Vegas theme which generated a lot ecstasy in the audience. Las Vegas party themes are very popular for all types of events — weddings, birthdays, rehearsal dinners, proms, bridal showers, charity events and more. Party theme ideas, like Las Vegas, transport guests to make-believe world for the evening. All the gambling machines was rented by Jokers Wild Entertainment Casino Rentals. Blackjack, Craps, Texas hold'em, Roulette, Poker Tables and Slot machine were in lobby of Waterford park. Person dressed up like Elvis Presley and 2 Sexy, Tall and pretty Go-Go dancers make guest believe that they are in Las Vegas.
The party had the best of music, entertainment, food and beverages. There was open bar from the beginning to end of the party serving premium liquors and cocktails. There cannot be a good India type festivity without excellent food. For that over 300 feet Buffet was provided by India house. This included 10 appetizers and more than 60 different mouth watering international items followed by verity of deserts including attractively arranged fruits. The International varieties tables included Punjabi, Chinese, Rajwadi Gujrati, Khaman Dhokla, Royal Darbar and Fusion India dishes along with fountain of Mango and Chikoo Lassi. Midnight champagne toast, which attracted guests from all over the Chicago to enjoy this one of a kind show in Chicago to ring in 2012.
Dedicated hard work from Waterford staff members went in to make this party full of Joy, "Maza and Masti" and overall family friendly for all age groups. Principal organizers of the event including Pritesh Gandhi, had worked hard to organize the party. "The food and service were indeed of very high quality. We always love to come to the Waterford park as the events here has lots of verity. We really enjoyed blackjack, craps and slot machine" exclaimed an ecstatic by Dr. Amrit Patel.
DJ Nilesh Desai Jockey and Company provided virtually non-stop exhilarating dance music, along with colorful strobe lights and party/ disco club illumination which created a perfect ambiance for adults and teen-agers to party and dance into the New Year. DJ Nilesh Desai Jockey group also specializes in Hindi, Punjabi, Arabic, Spanish and American Hollywood and Bollywood Music
The dance floor was filled with enthusiasts and jubilations and the joy was felt by everyone present.
The countdown to the New Year was led by DJ Nilesh Desai Jockey and his group followed by the mid-night toast. Clatter from Party flavors and colorful Balloon drops along with Champaign toast filled the hall. All the folks present at the event greeted each other and the party ended at about 2am on January 1st, 2012. This event was a grand success despite competition by numerous other parties organized at the same time at different community halls, private houses, restaurants and banquet halls. The event elicited an outpouring of appreciation from the attendees. Weather in Chicago was extremely good comparison to last ten years (45 Fº) This event was a grand success to Pritesh Gandhi.
About Dana Daniels Go-Go dancer
As a model, Dana Daniels has graced both the runway and appeared in print ads. She is an accomplished spokes model and narrator with many repeat clients as well as major tradeshows under her "proverbial" belt. In addition to being a "Pirelli Girl" for Pirelli tires, Dana has represented many automotive clients as a product specialist, which includes Bucik, Cadillac, Chevy, GMAC, Toyota, and has toured with Lincoln featuring O.C.C. . Dana is an experienced tour guide, crowd gatherer, emcee, lead generator and is proficient with both ear-prompter and demonstrations. Dana has appeared in department stores and at corporate events as an informal model, freeze model ,and showgirl. She has also been booked as a Dita Von Teese look-a-like/spokesmodel for Cointreau. Dana's outgoing personality, drive, work ethic, and interest in people from all facets of society and backgrounds
make her a marketable talent and explained by such a diverse range of clients in a wide variety of bookings. Dana is a consummate professional. Client lists and letters of recommendation are available upon request.
Actors Access:http://resumes.actorsaccess.com/danadaniels
Dana Daniels dana.daniels2@gmail.com 630-730-2369
Photographs and Press release by: Asian Media USA
Suresh Bodiwala
Chairman
Asian Media USA
Bus: (847) 679-8583
Fax: (847) 679-5336
Cell: (847)420-4789
sbodiwala@sbcglobal.net
Copyrights (c) 2010 – Asian Media USA
No one shall download or otherwise duplicate the graphics, images, press release and written content from the PDF without our express written permission. Likewise, no one shall reuse the aforesaid things, as the same are the intellectual property of the Company, we hereby reserve all rights
Disclaimer: – Asian Media USA
"The information in this e-mail and any attachments is confidential and may be legally privileged. It is intended solely for the addressee or addressees. If you are not an intended recipient, please delete the message and any attachments and notify the sender of misdelivery. Any use or disclosure of the contents of either is unauthorized and may be unlawful. All liability for viruses is excluded to the fullest extent permitted by law. Any views expressed in this message are those of the individual sender, except where the sender states them, with requisite authority, to be those of the Asian Media USA