Grand Sankranthi and Republic Day Cultural Celebrations Hosted by Tri-State Telugu Association (TTA), Chicago
Chicago IL: The 2015 Sankranthi and Republic Day cultural event organized by the Tri State Telugu Association (TTA), Chicago, on the 24th of January 2015, under the auspices of the TTA Board of Directors, was a feast to the eyes and kept the audience glued to the seats from start to the end. The spirit of Sankranthi and Patriotism was brought forth in vibrant colors with a 7 hour cultural program with more than 320+ performers participating in the event. TTA victoriously celebrated Sankranthi with an event that presented a multi- talented, multi-faceted cultural program of thematic presentations, fashion show, music and dance. The Sama Rathi Auditorium at the Hindu Temple of Greater Chicago (HTGC), Lemont, IL was jam packed with proud TTA members and community at large. It was an evening filled with mélange of various styles of Indian classical and modern art forms by local talented children and adults alike.
Marking the tradition of Sankranthi and Bhogi the TTA board organized "Bhogi Pallu", a special ritual performed on the day of Bhogi where 45 little children dressed in colorful clothes are given Aarthi and Bhogi pallu (a special mixture of berries, flower and rice are showered on the heads of children to protect them from evil forces. They are then blessed by the adults for a year filled with health and Happiness. It was treat watching little babies and children participating in the event with the divine nadaswaram and special bhogi songs to mark the festive occasion.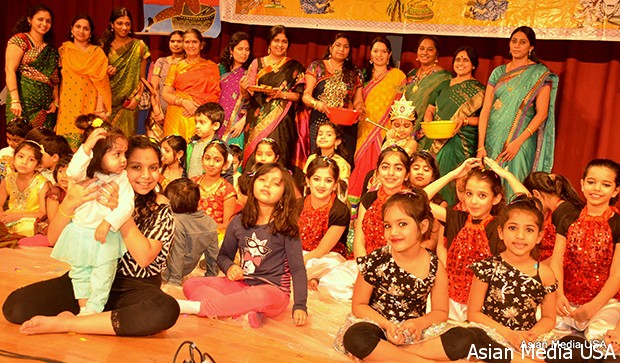 The cultural show started at 3pm with a beautiful prayers by emcee Mrs. Pranathi Kaligotla and Varun Vasireddy. Ganapathy and Vishnu shlokas were rendered by kids from Chicago Bala Dutta group. The high quality of Sanskrit sholas of Rudhra Laghunyasum by students of Dr. Hemalatha Burra was highly commended. This was followed by excellent classical dances by students of Acharya Performing Arts Academy. Students of Mr. Praveen Jaligama sang their rendition of "Sruthi Neevu" and the Musunuri Sister's serenaded the crowds with some classic Telugu movie songs. One of the themes of the evening's celebrations was the life and works of one of the most celebrated individuals in the Telugu Literary, Arts and Entertainment fields and known famously by the name of "Bapu". The students of "Mana Andari Badi" did a great job depicting this theme with their homage to his life's works.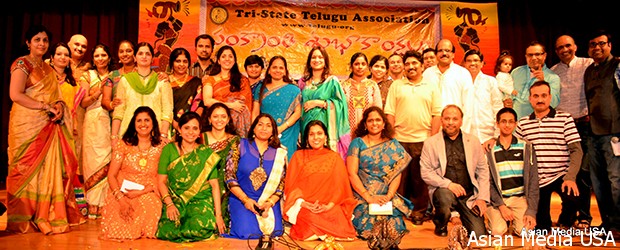 Presentations of "Annamacharya" compositions in the classical dance forms of Kuchipudi, & Bharatanatyam, were performed by the students of Mrs. Aruna Chandra, Mrs. Hema Rajagopalan of Natya Dance, Mrs. Vijayalakshmi Shetty, Mrs, Lakhsmi Warrier and Mrs. Sobha Tammana. The uniquely choreographed classical fusion dances by Mrs. Sheetal Dhanani of Tarana Khatak mesmerized the audiences. The festive spirit of Harvest season and patriotism was well captured by several folk dances and modern interpretations by Moksha School of Dance.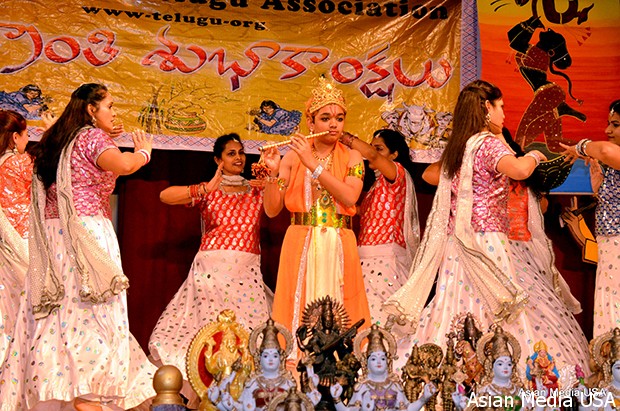 Aananda Dance Theater presented – "East Meets East – The Meeting of Buddha and Mohini". This experimental piece attempted the marriage of two different frontiers in dance and music. While the lilting Carnatic raaga intertwined with the soulful notes of Oriental music, the dance movements attempted to embrace this fusion with Mohiniyattam inspired body language. The spirit of amalgamation was kept alive in the "Aahaaryam" or the costuming/accessorizing aspect of the dancers. The original concept & choreography was by Janaki Anandavalli Nair, the founder of Aananda Dance Theater and a dedicated dance artist whose deep devotion to preserve the traditional and classical elements of Indian dance pervades her artistic repertory. Aananda Dance Theater offers students a positive space to explore Indian art and culture through the aesthetics of dance movements. "East Meets East" was performed by Janaki Anandavalli Nair, Elizabeth Nellamattathil, Sri Angara, Swathi Karri, Divya Pariti and Shania Nediayakalayil.
The up tempo and high energy performances of students of Mrs. Bhagya Nagesh – Bollywood Rhythms along with Srilakshmi Duvvapu, Rina Thakur, Anita Rotiwar, Tarun Yandamuri, and Sushmitha Kilaru were received with great excitement. The performance of Vande Maataram string quartet coordinated by Mrs. Aparna Ayyalaraju and Mr. Vijay Balantrapu were applauded.
After a scrumptious dinner the second half of the cultural event was packed with vibrant performances and thematic productions.
Along with the dances and shloka recitals some of the high lights of the evening program were the national anthems of both United States and India were sung by Dr. Narayan Tata and Mrs. Ananda Erramilli. Followed a goose bump inducing performance of patriotic songs by students of Mrs. Rajeswari Pariti of Rajaveena School of Music that reminded audience of yester year classic All India Radio programs.
The interactive game of Anthyakshari coordinated and executed by Mrs. Pranathi Kaligotla, Mr. Praveen Jaligama and Mrs. Chandini Duvvuri with impromptu teams of audience members was a huge hit with entertainment that had everyone on their feet dancing and cheering for their favorite teams to win. The show was closed with a stylish fashion show "Trend & Tradition" coordinated by Ms. Padmaja Sonti and Krishna Boutique of Hyderabad, India. The latest trends in teens and women's ready to wear collections with a modern twist was a colorful feast to the eyes.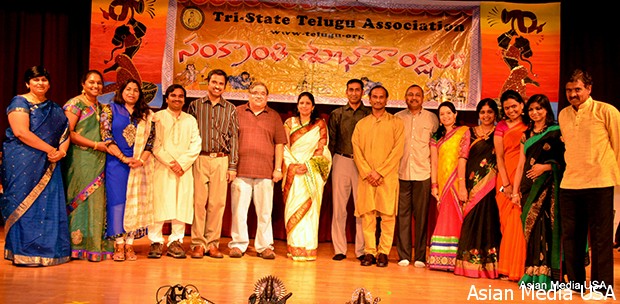 All in all, the performers, the teachers, the parents, the volunteers and the enthusiastic and supporting audience brought the welcome spirit of Sankranthi and Republic Day to Chicago. Coordinating such major items is surely not an easy task and yet it was handled very well by all the choreographers and coordinators.
The emcees for the evening, Mrs. Pranathi Kaligotla and Mrs. Vidya Maruvada did a marvelous job compering the entire show and kept the interest of the audience sustained throughout. Stage décor and traditional Bommala Koluvu by Mr. Bhaskar Reddy Karri & Dr. Roopa Karri, Mr. Gowri Addanki, Mrs. Radhika Garimella and Mrs. Usha Pariti added to the charm and set the mood for the evening.
Video coverage was provided by Mr. Mallikarjuna Rao Bodepudi, photography by Mr. Gopi Vadlamudi and Media coverage from Suresh Bodiwala Asian Media USA. Event was sponsored in part by Krishna's Boutique (Hyderabad) Events Unlimited (Palatine, IL), PMPEasy.com and Innovative Consulting Solutions, LLC.
The relentless efforts of the TTA Board and the Cultural committee, Food, Registration and Volunteers committees, were appreciated in the vote of thanks delivered by the event cultural coordinator, Mrs. Padmaja Sonti.
ard of Directors are Bhaskara Reddy Karri, Chandini Duvvuri, Harish Kolasani, Jagadish Kanuru, Srilakshmi Duvvapu, Neelu Mylavarapu, Padma Sonti, Pranathi Kaligotla, Prasad Jasti, Raghu Moturi, Rajani Akurati, Ramakrishna Korrapolu, Ravi Tammana, Sai Yandamuri, Srinath Vasireddy, Swapna Pula, Usha Pariti, Vaidehi Sriram, and Veeraswamy Achanta
Next event:
Venue for following events: Sama Rathi Auditorium, HTGC Temple, Lemont, IL
Ugadi – Saturday April 11, 2015
Dasara/Diwali – TBD
About The Tri-State Telugu Association (TTA)
TTA is a non-profit incorporated organization of people of Telugu Origin residing in states of Illinois, India, and Wisconsin (Tri-State area). It was formed in 1984 for the sole purpose of helping Telugu people living in Tri-State area. One of the main goals of TTA is to enhance the cultural, educational, social and charitable interactions among its members. TTA is one of the largest Telugu organizations in the Tri-State area with more than 500 members. TTA's doors are open to anyone that enjoys Telugu culture and Festivals. As a non-political entity with a sole goal of promoting cultural awareness, we are governed by a group of likeminded volunteers who serve on the board. We invite you to join us at our future events celebrating the many beautiful Telugu festivals and Traditions" said Jagadish Kanuru, senior board member of TTA.