Live2U Hosts New Year's Eve Celebration with Krushna and Kashmira
Chicago IL: Live2U organized a splendid New Year's Eve celebration on Wednesday, December 31, 2014 at Meadows Club, 2950 W Golf Road, Rolling Meadows, IL. This event consisted of Bollywood star, Bollywood Comedian, 90 items Cruise Style Food, Open Premium Bar, VVIP and VIP sprawl, DJ by Sohbash Khan, elegant stage decorations, Special Light effects, Excellent sound system and a Special Meadows Club Grand Ballroom Layout for the Best Party Ever.
Over all the party had the best of music, entertainment, food and beverages and a midnight champagne toast, which attracted audience from all over the Midwest to enjoy this one of a kind show in Chicago to ring in 2015. Though there were many New Year's Eve Parties organized all over Chicago land area however Live2U has proved again that when it comes to New Year's Eve Party in Chicago land area they are the best in town.
Live 2U is an Entertainment Power House Specializing and Conceptualizing Live Shows and Concerts, Plays in USA and Canada featuring the most sought after Celebrities in the Indian and Pakistani Entertainment Industry, one that is vibrant and full of life. Live2U and India House joined together to organize this New Year Eve celebration with the best music, entertainment, food to welcome the New Year.
The highlight of the show were the Bollywood stars Krushna and Kashmira, who entralled the audience. "The audience were fantastic. When we were on the stage, we could feel it. All the different movements and things that we do strikes a response by their applause. Every dancer put so many hours of dedicated rehearsal into refining their dances that by the time it was New Year's Eve, all could relax and just have fun. The audience enjoyed the show and the party, making the whole event a grand success" said by Krushna and Kashmira.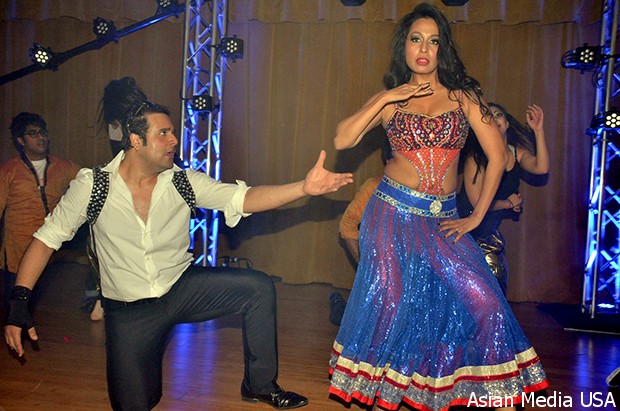 The doors swu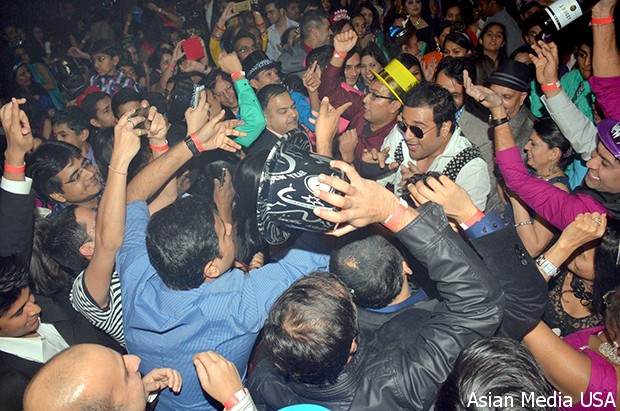 ng open at 8 pm, the banquet hall was full within half-an-hour, and the show went on until 1:00 am. Along with the sound of DJ Sohbash Khan, Live2U Entertainment included acts brought in from Prem's Dance studio & group, based in Atlanta, GA to specially perform with Krushna and Kashmira.
DJ Sohbash Khan says, "It was an amazing crowd! They were so responsive to everything I played. It's so great to have 2 musical sides to my career, one where I only play for American Club/Parties, another where I only play Indian Events, and then one like New Years Eve where I have both I can collaborate together" DJ: Sohbash Khan mesmerized the crowd with flawless and most upbeat music and truly proved that he is best in town and had everyone on their feet for nonstop 5 hours and literally rocked the party.
The show started with some melodious numbers by Kathakali. "The show was very successful due to the heart throbbing performance by the husband and wife team of Krushna and Kashmera Shah. The entire audience danced to the performances of both of them and thoroughly enjoyed the evening. The different varieties of food was very delicious. Whoever I met said that they thoroughly enjoyed the evening and had a real fun time. We look for such fun filled evenings to be arranged by Live2U in future" said by Dr Tapas Dasgupta MD.
The show also included a stunning music performance by 13 years old Ashley Singh, who is the daughter of showbiz queen, Rita Singh. Ashley is only 13 years old, but she has been learning Indian Classical singing since she was 5. She has done over 10 stage shows so far in Chicago including FIA Events, IAYO Achievers award night, New Year Eve shows, and Mika Singh's concert. When she was just 11, she performed at the wedding reception of famous Bollywood Director, Mohit Suri, and Bollwood actress, Udita Goswami. Her voice is extremely powerful and unique, very similar to Sunidhi Chauhan. People call her chhoti Sunidhi, out of love. On Dec. 31st new year eve party at Meadows Club, Ashley sang two latest Bollywood hits, Mein Tenu
Samjhawan (from Humpty Sharma ki Dulhania) and Yaar Na Miley (Kick).
Prem's Dance studio & group, based in Atlanta, GA performed at the New Year's Eve bash at the Meadow's Club with stars Krishna & Kashmira Shah. The group is comprised of choreographer Prem Rahman & dancers Shilpa Jadwani, Shahwaiz Nassor, Zain Sharif, Zafir Sharif, Sundus Agad, Amreen Lalani and Fauziya Ali. They performed to dynamic and energetic songs such as Bang Bang, Dhoom Machale, Saree Ke Fall Sa, Balam Pichkari, India Wale, Palat, and Ram Leela to name a few. The crowd was thoroughly entertained by the energetic, explosive & interactive performances.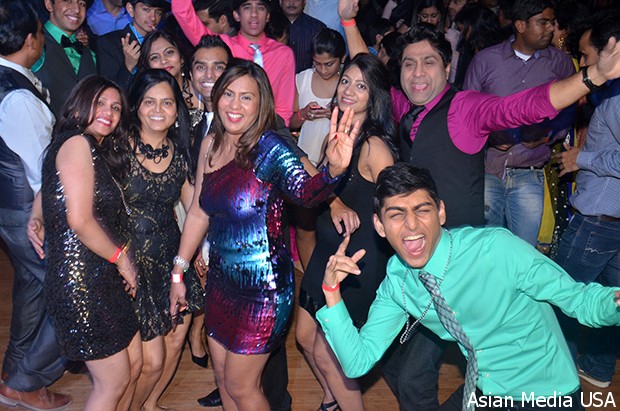 Overall this party was the finest and the best event to the extent that people were not ready to leave the venue even after 1 a.m. and said with one voice that they were looking forward to party on 31st December 2015 with the same group.