Bollywood singer Poonam Bhatia Regales New Year's eve Party
Elmhurst IL: Ushering the New Year Chicago Style was the highlight of the spectacular New Year bash organized by Ocean Breeze Entertainment. The event was held at Waterford Banquet hall located at 933 South Riverside Drive in Elmhurst, IL on Wednesday, Dec 31st 2014. Despite the bitter cold weather 500 people of party revelers joined this beautiful celebration with family and friends to welcome 2015. The New Year party at Waterford banquet is one of the most talked about event of 31st December 2014.
There was open bar from the beginning to end of the party serving premium liquors and cocktails. There cannot be a good India type festivity without excellent food. For that over 300 feet Buffet was provided by India house. This included 10 appetizers, 12 Sweet Desserts and more than 70 different mouth watering international items followed by verity of deserts including attractively arranged fruits. The International varieties tables included Punjabi, Chinese, Rajwadi Gujrati, Khaman Dhokla, Royal Darbar and Fusion India dishes along with fountain of Mango and Chikoo Lassi.
Poonam Bhatia rocked the stage right from the word go! She started off with all the 2014 Bollywood chart busters like baby doll, nagada sang Dhol baje, tune Mari entry etc. As the evening was progressing the atmosphere was getting charged with non-stopping thumping music from Hitesh Master & orchestra saregama. Highly energetic performance by Poonam Bhatia was sufficiently supported by Abhijit from New York. They kept on belting the latest Bollywood fare like jumme ki rat hai , fevicol, Gandi baat, atta majhi satakli, tharki chokro etc. Featured performers from Milwaukee and belly dancers rocked the performance stage. DJ Bhatt filled the house with pulsating tracks. The night saw people dancing their hearts out while they enjoyed the food and drinks. Free flowing drinks and unlimited food kept the guests well satiated.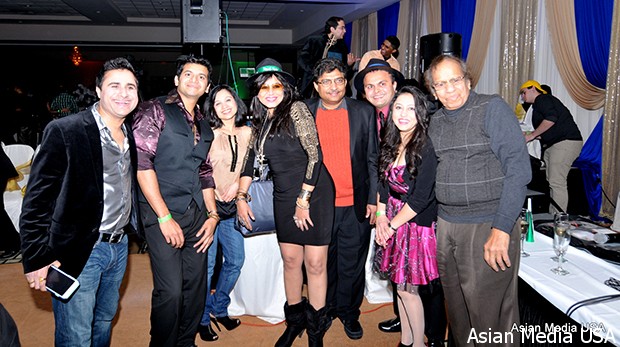 The dance floor was filled with enthusiasts and jubilations and the joy was felt by everyone present.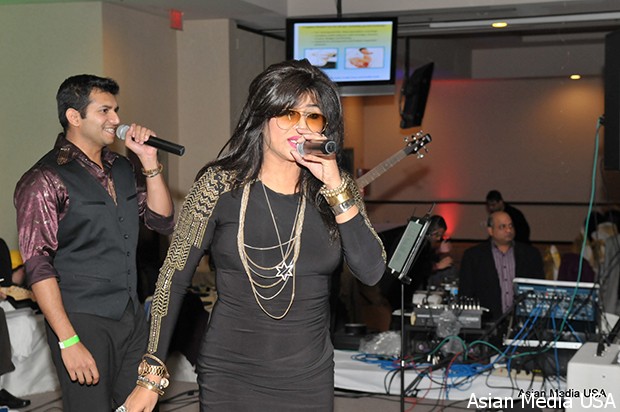 The countdown to the New Year was led by Subhendu Modak and his group followed by the mid-night toast. Clatter from Party flavors and colorful Balloon drops along with Champaign toast filled the hall. All the folks present at the event greeted each other and the party ended at about 1am on January 1st, 2015. This event was a grand success despite competition by numerous other parties organized at the same time at different community halls, private houses, restaurants and banquet halls. The event elicited an outpouring of appreciation from the attendees.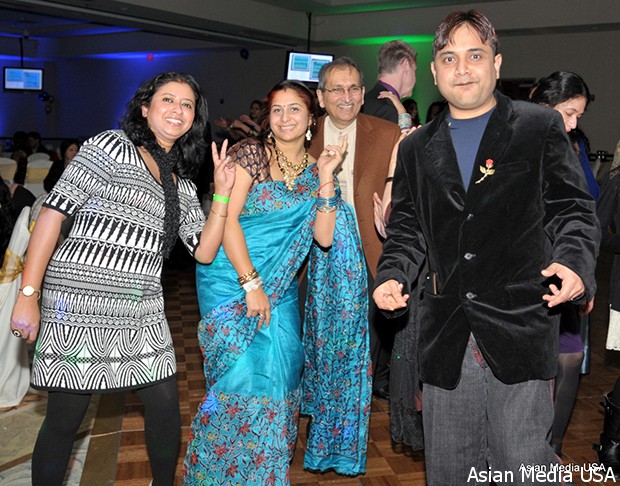 Ocean Breeze Entertainment is an entertainment firm focusing on event management, Indian movie distribution& exhibition. The company annually produces programming across scripted and non-scripted genres. The company's creative teams around the world are continuously developing new ideas that are shared across the Ocean Breeze network. Ocean Breeze is headquartered in Milwaukee,USA. For more information visit http://www.oceanbreezeentertainment.com/ or https://www.facebook.com/OceanBreezeEntertainment