The Fabulous Full house NYE 2015 event with Anjana Sukhani
Chicago IL: The New Year Eve event at Ashyana Banquets presented by the Indian Event Management (IEM) team was once again a roaring success. Clearly, the banquet hall was charged up with the amazing intensity of folks wanting to see the beautiful Bollywood actress, Anjana Sukhani of Salam-e-Ishq fame along with the other attractions such as the Samba dance performance.
The IEM team has been making its name in the Entertainment Industry by first launching 'Chicago Indian Icon'; then presenting the 'Bappi Lahiri' concert and now adding another feather to their cap by this sensational show for 2015 NYE. The five members of the IEM namely , Brij Sharma (President), Pratibha Jairath (Vice President), Sharan Walia (Director of Planning and Management), Raju Bankapur (Director of Entertainment and Execution), Anoop Walia (Director of Public Relations and Business Services) were pleased to announce the Full House show.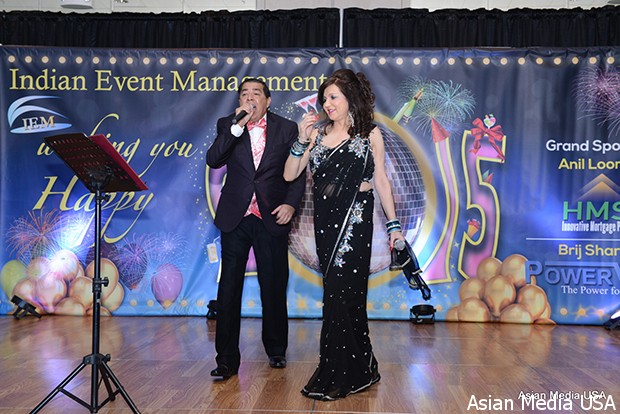 The hall echoed with excitement and applauded when Ms. Anjana Sukhani walked down the beautiful stairs …All eyes were on her…She greeted the audience as she walked up to the stage for a Charismatic retro medley with professional dancers from Sonia Dance Rhythm Academy and the Chicago ADAA dancers.
The event was Grand sponsored by Anil Loomba of Home Mortgage Solutions, Inc. The prizes of Raffle draw were also by Home Mortgage Solutions, Inc. The winners were excited to hear their names announced by Ms Sukhani.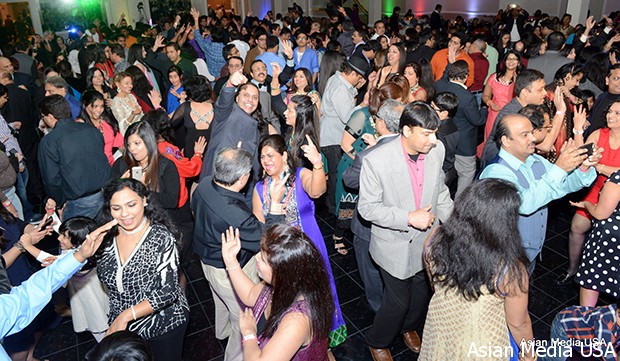 Raju Bankapur and Pratibha Jairath, our own Chicago artists presented their music performance with a fast number medley that captivated and rocked the audience with their popular numbers. There was quite a bit of variety in the program. Natasha Trikha, the Chicago Indian Icon (CII) winner in her category, presented a beautiful medley with Chicago ADAA dancers performing in the background.
Another surge of excitement was noticed when Anoop Walia announced the Samba dance performance. All heads turned to see Samba dancers walking into the hall with beautiful head-gear and their own musicians. The audience enjoyed their performance.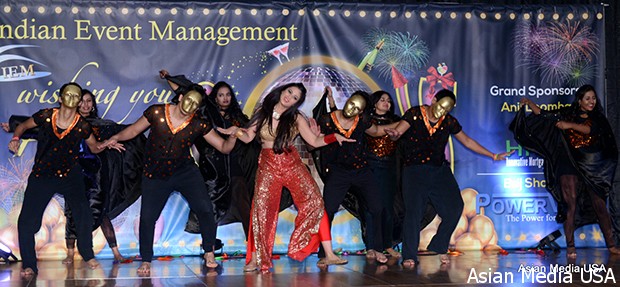 Ms Sukhani was back on stage enthralling the crowd once again with yet another medley in her third performance close to midnight. The audience was in a frenzy, crowding the stage and seemed uncontrollable when Anjana interacted with audience.
Party favors were distributed and the Balloon drop showered the dancers with Bright Neon colored Balloons. The room was filled with enthusiastic people wishing each other Happy New Year. The Grand sponsor Anil Loomba and the entire IEM team with their families were on stage with Ms Sukhani toasting at the countdown.
The ambience and dinner arrangements at Ashyana were exemplary. It was a hundred item Cruise style dinner that was served from 9:00 until 2:00 am. The Bars were open and the people sang, danced, and dined all through the evening into the late hours with nonstop music by DJ Skyy.