Hanuman Ji's Moorti Sthapna at Hanuman Mandir and Community center
Chicago IL: The holy celebrations become even more joyful when we feel the divine blessings being showered. It turned out to be a pleasant miracle in the middle of December month in Chicago when we had a 50-degree weekend for the holy event of Hanuman Ji Moorti Sthapna. A vast number of devotees have been praying dedicatedly for many months for this day.
Devotees of Hanuman Mandir had a pooja for Bhoomi Shudhi on December 14, 2013. Ground breaking pooja was done in April 2014. Hanumanji arrived in Chicago in July 17th with the help of Chamu & Sampath Ramesh and He reached on Mandir ground on August 14, 2014 and resided in a 70-foot top container. He was visited everyday by his devotees and Pooja prayers were performed with Kumkum flowers, dhoop Deep, Prasad & Hanuman Chalisa chanting (even during very cold weather) until Asthan was constructed.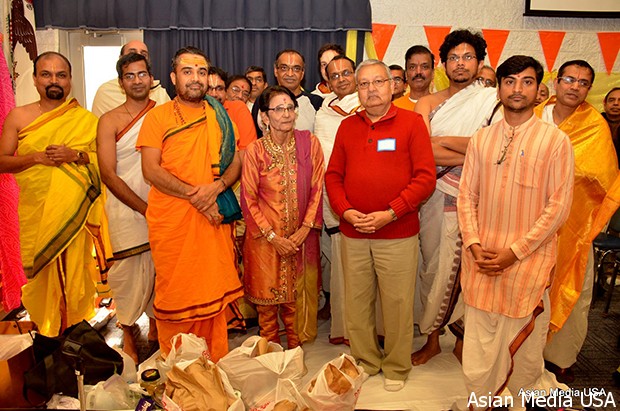 On December 9, 2014, Priest Nagendra Rao performed special Pooja from 6:00 A.M. to 9:00 A.M. for Murtisthan with special prayers to make Holy Assan for Hanuman ji.
The Sthapna procedure started with prayers on Dec. 12, 2014, to bring out beloved Hanuman ji's Moorti from its strong shipment container. It was a four-hour event that involved careful lifting of 22.5-foot tall, over 46,000-lb., one-piece statue carved of Marana marble that had been shipped from Jaipur, India. It is a heart-warming sight to see this magnificent sculpture highlighting our Indian faith and art. The Moorti seemed almost live with Hanuman ji showering blessings at his devotees with a great smile.
This highly delicate and sensitive engineering operation started with prayers by Pandit Yogesh Pandya, accompanied by a group of devotees and a team of technical personnel present at the site of upcoming Hanuman Spiritual and Cultural Center, at 3623 West Lake Street, Glenview, IL.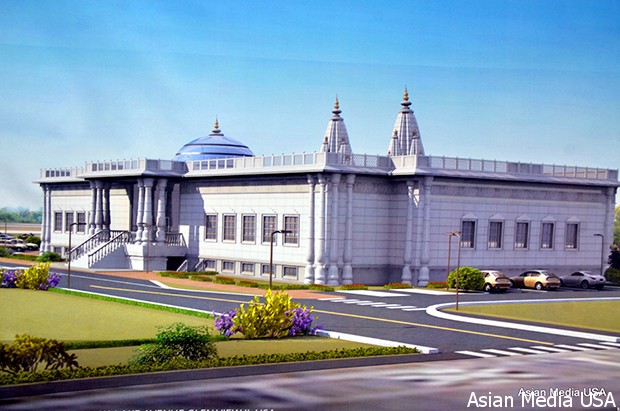 On Dec.13, 2014, a team of young professionals organized a meeting at the Mandir sight and volunteer their time to plan the crowd control and traffic management of devotees expected on the following day.
On Dec.14, 2014,devotees did Darshan of Lord Hanumanji in Glenview, IL and made history on this earth. Notwithstanding the early morning cold weather, the team of volunteers took their positions in open area at the Mandir sight. As people started arriving to view Hanumanji, the volunteers started serving the visiting devotees in a very efficient manner. They made a path to enable devotees to seek the Moorti Darshan without leaving their cars. The stream of visitors was guided by the volunteers towards the Glenbrook High School to join the day long prayers.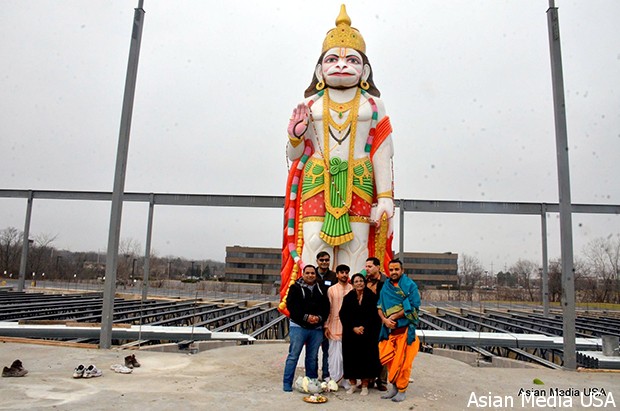 A room was already tastefully decorated by an energetic team of volunteers on the previous evening to accommodate devotees. To give respect to Motherland where most were born, Hanumanji's favorite Jasmin flowers were brought fresh from India by air to be offered to our Beloved HANUMANJI by all devotees with freshly prepared MODAK (ladoo) which was provided by Mandir through the combined efforts of Dr. Khurana & Ravi. The prayers started at 9 a.m. by Pandit Nagendra Rao and Pandit Yogesh Pandya. The devotees got a chance to offer their 'Archana' in a personal manner. The daylong celebrations were graciously attended by devotees, many of whom expressed their love for the Mandir by sponsoring trees which would be planted on the 4.5-acre vast area surrounding the main Mandir building.
The chanting of prayers was accompanied by various Bhajan singers who kept the atmosphere thrilled with their melodious voices. The devotees were provided with the bags of holy Parsad. Each Parsad bag also included a special wooden bead which was artistically painted by volunteer, Dr. Vathsala.
The efficient management of the Glenbrook High School, Glenview, deserves a grateful vote of thanks for permitting the Mandir to use the School facilities to hold these prayers and celebrations.
At the conclusion of the day, the holy Moorti was safely covered until the construction of Mandir dome would resume after the passage of winter weather.
Meanwhile, everyone is welcome to join the regular monthly prayers and Sunderkaand recitation from 5-7 p.m., on every fourth Saturday, at 2390 Dorina Dr., Northfield, IL.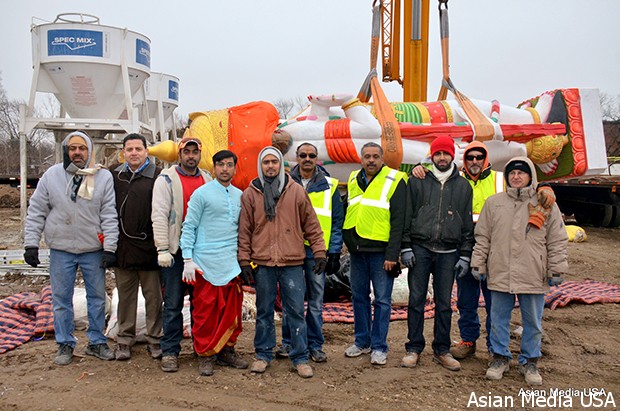 To receive the program details in future, please send your name, e-mail address and phone number at the following address: hmgcil@gmail.com
Please also visit the Hanuman Mandir facebook page at:
https://www.facebook.com/pages/Hanuman-Mandir-Spritual-Community-Center/813787225316495
Please like, comment, share and invite FB friends to visit this page (All this can be done from your personal FB account.