Grand Christmas Festive Extravaganza in Chicago
Chicago IL: Beautiful strains of melodious Carols, euphonic musical presentations, colorful dances, message centric skits and inspiring sermon marked the grand Christmas Banquet organized by United Christian Cultural Association [UCCA] at the Bristol Court Palace in Mount Prospect, Illinois on Saturday, December 13, 2014. This luminous festive event had a sizeable attendance of the gathering of Christian families complemented by the presence of representatives from the Hindu, Muslim and Sikh communities — thus implicitly making a grand inter-faith and inter-denominational Christmas celebrations.
Chief Guest Consul General Dr. Ausaf Sayeed – in his remarks – sincerely expressed his thanks and appreciation to the organizers for inviting him and added that he always looked forward to the Christmas celebrations with a sense of anticipation year after year. Consul General outlined the role of Christians in building the modern India and how a small minority of Christian population made notably significant contributions especially in the field of imparting quality education students and providing health care services. Consul General also recalled his schooling days at Catholic school and how he is familiar with the values and tenants of Christianity and how he regards them. Following his remarks, Consul General Dr. Sayeed gave away Community Leadership awards to Dr. Nandan Thogaru, Dr. Regi Paul & Sharath Kalvakota.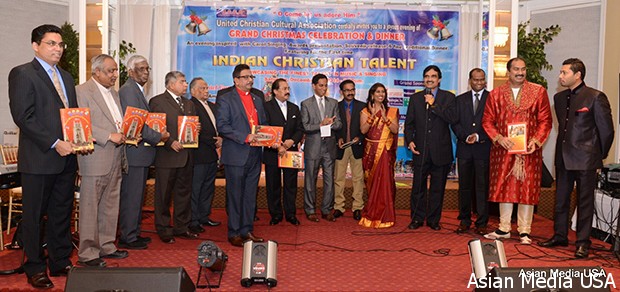 Keerthi Kumar Ravoori, principal organizer in his welcome remarks thanked the Consul General and said his presence at the Christmas event is a shining testament to his esteem towards the Christian community. Keerthi Ravoori praised Consul General Dr. Ausaf Sayeed for bringing about remarkable reforms to the office of the consulate general in Chicago. Keerthi Ravoori later honored Consul General Dr. Sayeed with a colorful shawl and flower bouquet.
Raju Enoch Pasumarthi, UCCA President thanked and explained how UCCA continues to blaze new trails in ushering inspiring programs that seeks to uplift the Telugu Christian community in ways that they have made a difference in the lives of the people. Emmanuel Neela, Vice President outlined UCCA vision statement and spelled out the future programs. Ramarao Kanakapudi proposed a vote of thanks and described Christmas as a celebration of the birth of Jesus Christ. Vasanth Charles UCCA Director who served as the Emcee described how UCCA began its journey seven years ago and how it continues to evolve into a vibrant organization of great purpose in the community. Shirley Kalvakota who was co-emcee explained the significance of Christmas and said Christmas is all about 'giving and sharing' the good gifts the God has blessed with. Iftekhar Shareef also joined on the stage to offer Christmas greetings.
The highlights of the Christmas extravaganza was the Indian Talent contest that showcased singing competition with judges' panel led by Dr. Nandan Thogaru, Dr. Vijay Kiran and Samson Yenebere. Praveen Neetipudi presented an outstanding dance presentation in which he illustrated the joy of Christmas celebration; while young children Saritha Pasumarthi, Deena & Alina presented a very graceful lamp dance.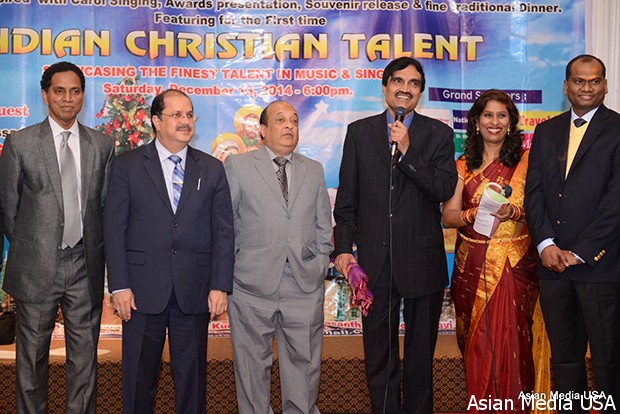 Guest Speaker Rev. Peter Pereira meticulously explained the central story of Christmas which he said is the sacred birth of Jesus Christ to rid the sins of the world. He emphasized on the significance of Christmas which he said exemplifies hope, peace & joy. Katherine Thorat of Air-India extended her heartfelt support and appreciated the community for availing the services of Air-India in travelling to India. A special souvenir was released by a group of Pastors& Church leaders including Rev. Dr. David Vidyasagar, Pastor Rev. Peter Pereira, Bishop Jacob Agepog, Pastor Subhadra Vipparthi & Pastor Katari who were joined by Christian community leaders Varghese Chacko, Jayachand Pallekonda, Sam George,Dr. Nandan Thogaru, Iqbal Pagani,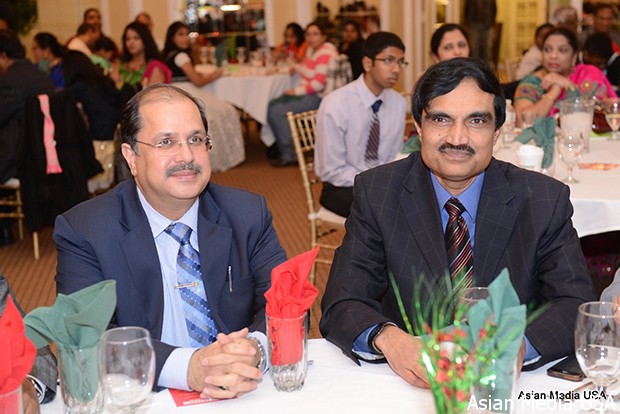 The Choir members dressed in colorful traditional Indian attires presented a string of carols full of gusto, melody and beats presented by Hannah Charles, Salomi,Shirley, Jyothsna , Merari Bushpaka, Surender Charles, Praveen, Mohit, Jonathan, Emmanuel, Satish, Surrujwala, Teresa with full musical compliments provided under the musical direction of Pravin Charles, Johnson& Dheeraj Charles. The evening concluded with the serving of fine dinner.