Association of Indian Pharmacists in America Holds Diwali Dinner Party
Chicago IL: Harish Bhatt, president of the renowned Association of Indian Pharmacists in America (AIPHA), hosted AIPhA's exciting Annual Diwali Party on Saturday, December 13, 2014 in the Sheraton Lisle, 3000 Warrenville Road, Lisle IL to celebrate the upcoming holiday season with members and their families. AIPHA also took the opportunity to discuss the progress and outlook of the pivotal group to the over 400 guests in attendance. Harish Bhatt was the Coordinators of the event. The program was highly successful with the active support of the Executive Board, AIPHA members and volunteers.
The Banquet was attended by dignitaries including Tim Schneider Chairman Illinois Republican party, Dr Yash Amin Director of drug compliance state of Illinois, Fernando Grillo Former Secretary of Department of Financial and Professional Regulation, John Lagattuta Director of Human Resources and Labor relations, Nimesh Jani Elected Trustee of Schaumburg Township, Ryan Higgins Republican Committeeman for Schaumburg Township, Jake Miller Our lobbyist for Pharmacy Association, Aarti Parikh Drug Compliance Investigator, Steve Lawrence Cardinal Drugs and Bill Bodin HD Smith drugs HD Smith drugs and Dale Smith as today they complete 60 years in business.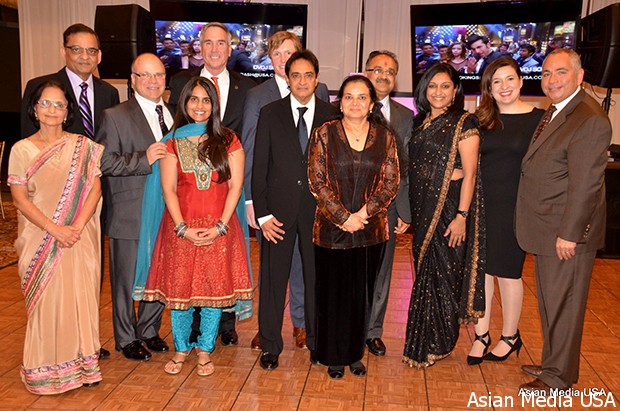 The event will start with the social hour at 6:00 PM where the guests can unwind after a hard day's work with tasty hors d'oeuvres while enjoying the company of their friends followed by the main program at 7:00 PM. The evening started with the Masters of Ceremonies, Tushar Mehta welcoming everyone for this auspicious occasion, He invited president Harish Bhatt on stage. "I want to recognize and congratulate all the pharmacists present tonight. It is you who set up shop in disadvantaged areas where residents lack access to adequate healthcare. This is not at all an easy thing to do, especially considering the challenges associated with owning an independent pharmacy" said by Harish Bhatt president of AIPHA.
"The last thing I want to do is put a damper on the holiday spirit by raising the topic of our issues, but I feel there are some things that need to be addressed today. I want to touch upon something very simple. On one hand, all of these politicians speak about the importance of small businesses and how competition should be fair. However, the reality of the situation is totally different. The state of Illinois wanted to save money on their medic aid program. For example, liquid Tylenol costs less than 50 cents but it is not a covered item for kids under Medicaid. Children unnecessarily end up in emergency rooms due to high fever. On the other hand, the state pays thousands of dollars for new psychiatric drugs even though similar drugs that are only one generation older are available generically and cost pennies. We hope the new administration will take these examples to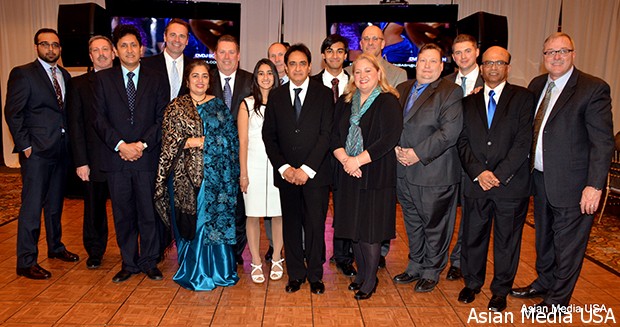 heart, and invite us to help them. In addition to the issue of these contracts, pharmacists face physical risks and burdensome regulations that hinder our ability to make a living. Indian pharmacists are the largest minority in the pharmacy community, and we own the most pharmacies in urban areas. We not only provide a much needed health service in poor communities, we also provide jobs for the residents of these areas" said by Harish Bhatt president of AIPHA.
"I want to express my sincere appreciation and gratitude for this warm invitation to the annual AlPHA Holiday celebration. It was the vision of the leadership of this organization that persuaded me to accept my current position in 2003. Our organization was started with the mission to promote pharmaceutical services in collaboration with other health care professionals to better serve and educate the community and to that end I can say that collectively we all have made great stride and our future is bright. We are brighter with the presence of two individuals without whose help we may not have been able to achieve the goals and aspirations that we had embarked upon. Mr Fernando Grillo the Ex Secretary of the IDFPR and Mr John Lagattuta the Ex Deputy Director of Statewide Enforcement. Would you please rise so that everyone can recognize you" said by Dr Yash Amin Director of drug compliance state of Illinois.
Gita Patel, Pharmacist stated, "This organization has been around over 25 years. This is the largest crowd that I have ever seen for this organization. It is a cause for everyone to get together to learn what is going in the pharmaceutical industry and to have fun." Also, first time attendee pharmacy student from Chicago State University, Aarti Shah said, "This is a great event and we, the students are very happy to be invited to help celebrate Diwali and contribute to AIPHA."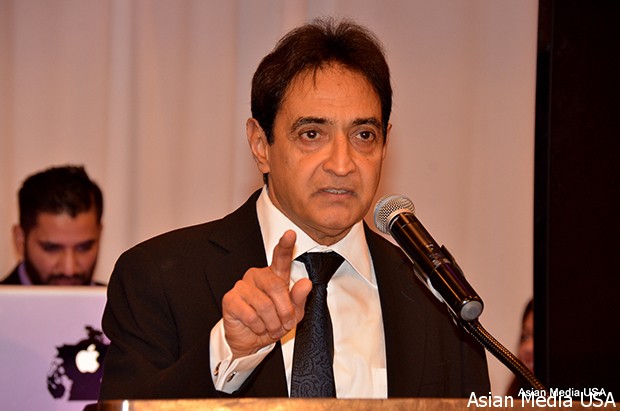 "The turnout is different every year for this event. This year the turnout is more than before because people enjoy networking and being involved This Diwali event is good for students and all involved in AIPHA." said by Mr. Bharat Mehta, Accountant for AIPHA
Award ceremony
Dr. Yashwant Amin for his Extraordinary Service and Dedication to Our Pharmacy Profession
Nimish Jani for his Positive Accomplishments and Dedicated Service to Our Community
Delicious dinner was served by Saffron. The evening's music was provided by DJ Sobash. Audience to dance to late into the night.
Executive Board: Harish Bhatt (President), Rajesh Chotalia (Vice President), Jitesh Patel (Secretary), Haresh Khakhkar (Joint Secretary), Vitthal Patel (Treasurer), Jignesh Gandhi (Joint Treasurer) and the Board of Directors included Tushar Mehta, Snehal Bhavsar, Jyotin Parikh, Gajanan Trivedi, Manu Patel, Shital Manek, Kishore Chugh, Mahendra R. Patel, Ambalal S. Patel and Ambalal H. Patel.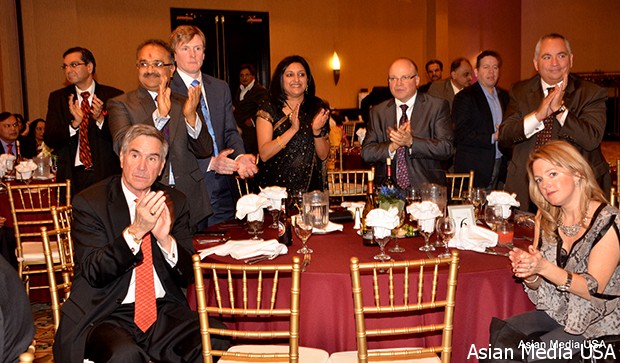 About The Association of Indian Pharmacists in America (AIPHA):
The Association of Indian Pharmacists of America is an organization dedicated to increasing cultural awareness and promoting diversity through various pharmaceutical services, promotional, and social events. The AIPHA Parent Chapter has shown its continual support by involving pharmacy students in their monthly board meetings, inviting students to be a part of their annual Holiday Party, helping students reach their career goals, providing scholarships, and of course, offering guidance and support. The members of the AIPHA Parent Chapter are role models for the student pharmacists and their presence in our university chapters has been extremely encouraging. The national organization of the Association of Indian Pharmacists in America (AIPHA) was founded in 1985 by 20 members. Today, there are over 453 members. The student chapter of AIPHA at the University of Illinois-College of Pharmacy was established in 1996 with the same drive and initiative that was shown in 1985. The student chapter of AIPHA has established specific objectives that need to be fulfilled year in and year out. The most important, is to promote the representation of Indo-American practicing pharmacists and student pharmacists in various professional and socio-cultural activities.