Consulate General of India, Chicago Hosts Vibrant Cultural Festival- Kala Utsav
Chicago IL: Kala Utsav, A cultural extravaganza was organized in cooperation with over 20 Indian Community Organizations in the Midwest on Saturday, August 23, 2014 at Copernicus Center, 5216 W Lawrence Ave, Chicago. Kala Utsav was the brain child of Consul General of India, Dr. Ausaf Sayeed and his dream became a reality with the assistance of various cultural groups and community organizations.
Kala Utsav gave a platform for various Indian cultural groups to showcase their best performance and expose their abundant talent. It was instituted to bring to the fore front top-class performances in both Indian music and dance. The categories included Indian Dance (Classical, Folk, Bollywood & Modern, Indian Music (Classical, Devotional, and Instrumental).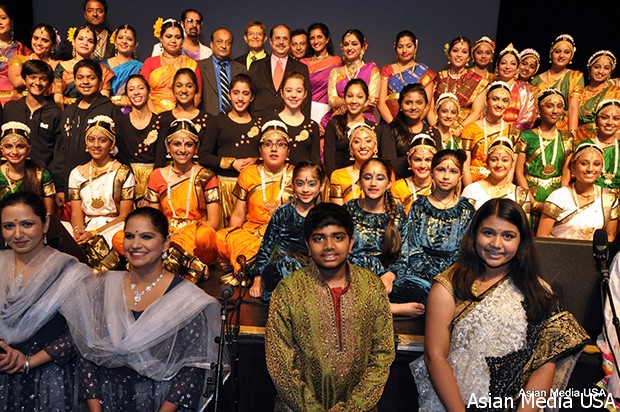 The organizing committee members were: Kiran Chouhan, Vinita Gulabani, Pranita Jain, Brian Keigher, Harish Kolasani, Beena Patel, Kanti Patel, Naren Patel, Hema Rajagopalan, Keerthi Ravoori, Kshama Shah, Iftekhar Shareef, Rita Singh, Dr BK Sinha, Hina Trivedi, Jatinder Singh Bedi, Santhosh Varghese, and Vandana Walia.
Participating Organizations included: Aekluvya Aashram, Anila Sinha Foundation, Assam Association of Greater Chicago, Bharathanjali School of Dance, Bollywood Rhythms, Kala Eternal Rhythms, Kalapadma Dance Academy, Kalapriya Center for Indian Performing Arts, Mudra Dance Academy, Natya Dance Theater, Nrityamala Dance Academy, Rama Advanced School of Music, Sadhana School of Indian Music, SAPNA, Sikh Community of Wisconsin, UP Association of Greater Chicago, Utkalaa Center for Dance, and the Yakshahejje School of Performing Arts.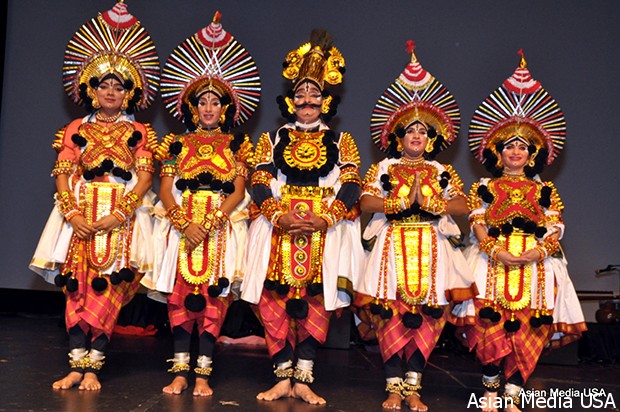 Since joining office in August 2013, as CG, Dr Ausaf Sayeed has become a name amongst Chicagoans. He has many firsts to his credit and has promised to make CG Office consumer friendly and initiating various community camps and hearing concerns. His vision has been to show the Unity amongst Indians and this event was a truly an example of that.
Dr. Tarun, known as Masala T opened the event and invited dignitaries for the traditional LAMP-LIGHTING ceremony which was performed by Honorable Dr. Ausaf Sayeed, as a tribute to Motherland India in presence of Sponsors and all organizing committee members. This was followed by singing the National Anthem of India and America. Dr. Ausaf Sayeed in his speech hailed the organizations that supported this event and thanked all the participants for their cooperation in putting this event together. Masala T and acclaimed Bharatanatyam Guru, Ms. Sushmita Arunkumar served as MC for this program. They took the audience through a spectacular cultural journey of India, visiting many States and highlighting their traditional art and culture.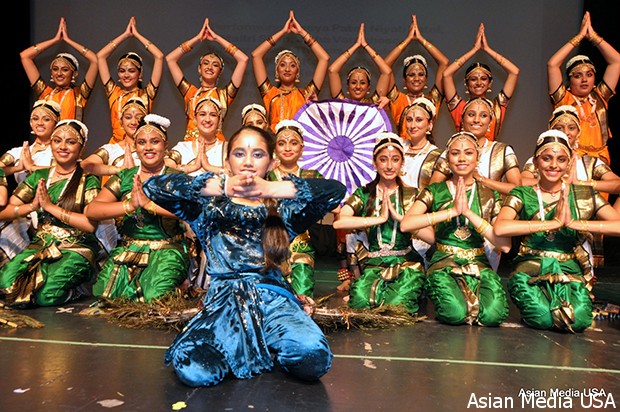 First presentation was a Prayer for Peace and Harmony by Sadhana School of Indian Music. After this auspicious beginning, a Kathak dance performance was done by Anila Sinha Foundation, called "Mayur". Beats and Rhythms of Uttar Pradesh was presented by UP Association of Greater Chicago. Next Mr. Sandip Bhatacharjee and Mrs. Bhattacharjee from Sangeet Research Academy / Aekluvya Aashram presented a Bhajan and a Thumri for this special occasion.
"Rhythmic Journey via Indian Percussion Instruments" was presented by Sri Kousic Sen, Sri Raj Deshmukh, Ms Sonali Sinha, Mr. Vijay Gupte and Ms Laxmi Sarthy. Next Assam Association of Greater Chicago performed a traditional Bihu dance."Shanthala Dance" from Bengal came next. Odissi was performed by Utkala Center for Dance.
Next presentation was a patriotic item by Natya Dance Theater, " Maa Tujhe Salaam ". Next presentation was a Kuchipudi Dance from Andhra Pradesh, Brindavana Nilaye, presented by American Telugu Association (ATA)/Telugu Association of Greater Chicago (TAGC) followed by another Kuchipudi presentation Maheswari by Nrityamala Dance Academy from Bloomington, IL . Next presentation was "Thillana" by Mudra Dance Academy. Thillana is a pure dance item which displays the jubilance of classical Bharatnatyam dance. Next came "Yakshagana" from the State of Karnataka by Yakshahejje, School Of Performing Arts from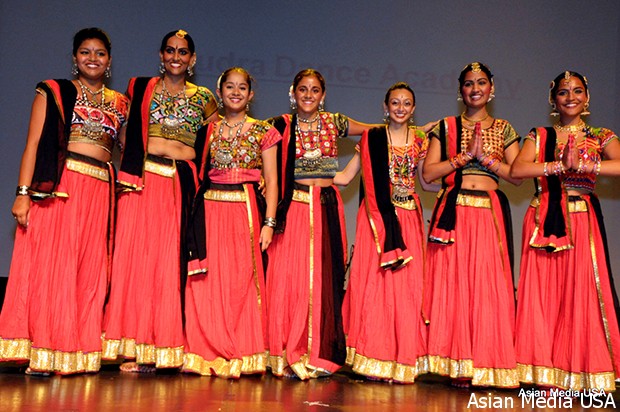 Indiana. Mohiniattyam was presented by Bharathanjali School of Dance, from the State of Kerala. One of the popular South Indian String instrument is the Veena. SAPNA – ( Sri Annamacharya Project of North America) and RAMA (Rama Advanced School of Music) performed " Sounds of Infinity". Bollywood Rhythms brought "Bollywood Dhamaka" a Bollywood dance routine. A folk dance from Gujarat was performed by Mudra dance academy "Nagada Sang Dhol" This folk song is based on an episode in the mythological tale of 'Ramayana'.
Next was Anila Sinha Foundation who presented a famous composition – Tarana in Kathak Dance style. "Shan Punjab Di" was presented by Sikhs Community of Wisconsin. Finally the Journey ended with a patriotic presentation by Kalapadma Dance Academy who presented Bankim Chandra Chatopadhyaya's "Vande Mataram" in traditional Bharatnatyam style with a group of 27 dancers.
Vote of Thanks was given by Mr. Iftekhar Shareef who acknowledged the incredible journey of Indian Culture, music, dance, patriotism and the innovative performances that were delivered. He hailed the support received from all the Community organizations in arranging this event. Through this event, a seed has been sown by CG and it is hoped that it will yield into a full-fledged tree by the passing of time. He commended efforts and enthusiasm of all organizations, participants, parents and the staff of Copernicus Theater.
It is amazing that India has such a rich cultural diversity! Each performance, their costumes and presentation styles reflected that vividly. We not only have ancient dance forms, but we also have a number of ancient musical instruments. India is a country filled with rich art and culture and this event made it possible to experience and enjoy them.
Main Sponsors of the event were; Iftekhar Shareef, Trustee Chair, FIA,Chicago and Chairman National Bank Card Corp. and Naren Patel, CEO and President MedStar Lab. and President Vishwa Gujarati Samaj USA. Both are prominent Community leaders who are always eager to help the Community.