PM Narendra Modi's Victory Celebration by Vishwa Gujarati Samaj-USA
Chicago IL: Naren Patel, President of Vishwa Gujarati Samaj USA was very happy to see close to 1500 people attended the program and received so many compliments in person and via email. It was truly an amazing program, complete fusion of Narendra modi's exhibition, life story, and Independence Day celebration, Janmastmi, Bollywood, cultural activities, food and much more. Everyone appreciated Naren and Mafat Patel for hosting such a beautiful event. Audience was thrilled and fascinated by award winning Oddissi dance, Raas, Garbo, Patriotic Dance Performances, and most importantly an exceptional performance by DID Artist Kamlesh Patel. His message was to keep trying until you get it right. 1500 people were very happy watching Dance India Dance star and President Award winner Kamlesh Patel was the highlight of the program; it was an emotional experience to watch him and his speech was absolutely inspiring. The entire program was more about creating a spirited patriotic environment in which everyone expressed their love and gratitude to our motherland. It also gives us a chance to respect those who sacrificed their lives for us and our country. These feelings ultimately translate into creating a better country and society. 'What Better Way to Support and Celebrate our Community and our Country'
VGS-USA is well known for their grand scale celebrations and this was an unforgettable event. Indians residing in Chicago land area gathered in large numbers to participate in this grand celebration.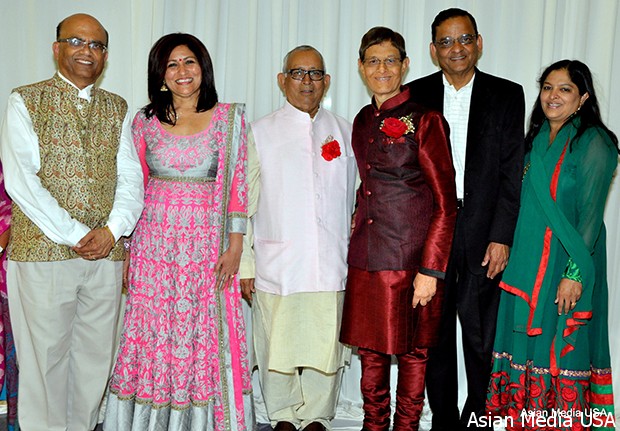 The Chicagoans and community organizers from various States from India got together in Schaumburg under the leadership of Mr. Naren Patel. The excitement was such that we have not seen in a long time. The organizations included; all media and newspapers, TV Asia, FIA(s), AIA, MAFS, Patidar Samaj, Brham Samaj, Vaishnav Samaj, Hindi Club, Manpasand, IAMA and IAMACF, Gujarati Samaj and Culture Associations, Dance Schools, Temples, Churches, Mosques, Senior Parivars of Chicagoland area, Gujarati and Punjabi Associations, Kerala Samaj, Orrissa Samaj, Kaunkani Samaj, UP Samaj, Kashmiri Samaj, Sindhi Samaj, and many more join hands and agreed to have grand celebration under the umbrella of Vishwa Gujarati Samaj-USA.
Exhibition was open for the guests from 3:00 pm and farari food was provided around 4:30 pm and then entertainment began at 6:00 p.m. on Sunday – August 17, 2014 at Jain Center, 435 N. Route 59, Bartlett, IL.
This program was very unique on a grand scale, and the magnificent decorations and exhibitions displaying a series of photos of Narendra Modi's various stages of his life. There was a photo-booth for families to take photos with the cut-out image of Shree Narendra Modi Ji, and various States showcasing their cultural program.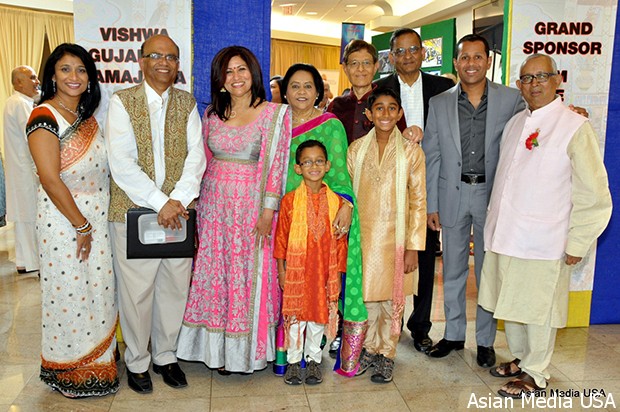 Ms. Beena Patel and Vandana Jhingan did an excellent job as Emcees. Beena began with "Nand Gher Anand Bhayo, Jai Kanaiya Lal Ki" and people recited the same enthusiastically. Nishal Patel sang the American National Anthem and Anand from Bollywood Entertainment sang the Indian National Anthem with powerful emotions.
Beena Patel introduced Naren Patel as a person who believes in strong family values, giving back to the community and spreading good Karma in general. His two sons Neal and Raj follow their father's footstep that says a lot now a days. He is a pillar of strength for our society and always eager to help any cause, big or small.
Naren Patel welcomed all dignitaries and thanked everyone who have helped in organizing this memorable event, applauding tremendous achievements of Shri Narendra Modi. He shared his personal experience with NAMO when he was the Chief Minister of Gujarat. Naren feels privileged and honor to celebrate PM's victory. He believes, with PM's vision and leadership, India will now be in the forefront to bring order and peace in the region and provide better life for all Indians. Naren thanked his sister Beena Patel for being an intricate player in all aspects of the planning from day one.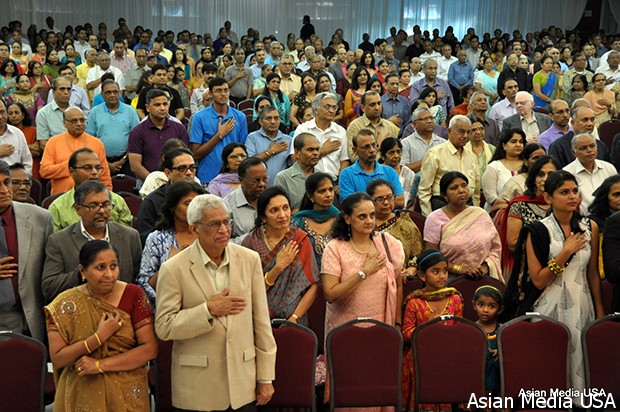 Mafatbhai patel, Event Chairman, and "Mayor of Devon" stated that PM Narndra Modi and him are from the same District in Gujarat. Mafat Patel has faith in NAMO's ability to lead our country and hope to see the vast progression. Mafat Patel thanked his two sons for supporting his social and community services.
Cook County commissioner Timothy Schneider attended the program. Commissioner Schneider started his speech saying Jai Shree Krishna and applauded the work of Vishwa Gujarati Samaj USA and complimented Naren Patel for his leadership. Commissioner announced that he has prepared a resolution for VGS-USA and will introduce to the Cook County Board in September 2014. He showed great respect for Indian people and congratulated Narendra Modi as Prime Minister of India.
State Senator Jim Oberwise was happy to be part of the celebration. Jim Oberwise is serving in the Illinois Senate since January 2013 as Republican Spokesperson for the labor and commerce. He serves as the Chairman of Oberwise Dairy that his Grandfather started. Senator Oberwise began his speech with Namaste. He also expressed confidence and capability of Narendra Modi and great wishes for India progressing at a rapid speed under his leadership.
Consul General Dr. Ausaf Sayeed thanked Naren Patel for organizing such a beautiful event and PM Modi's exhibition. He said that he is willing to put in extra hours for the betterment of our community and Countryman. He wants to see our community united and see positive results. He invited everyone to attend "Kala Utsav" organized by his Office on August 23, 2014. He shared the good news that Bharatiya Pravasi Divas and Vibrant Gujarat will be celebrated at the same time in Gujarat.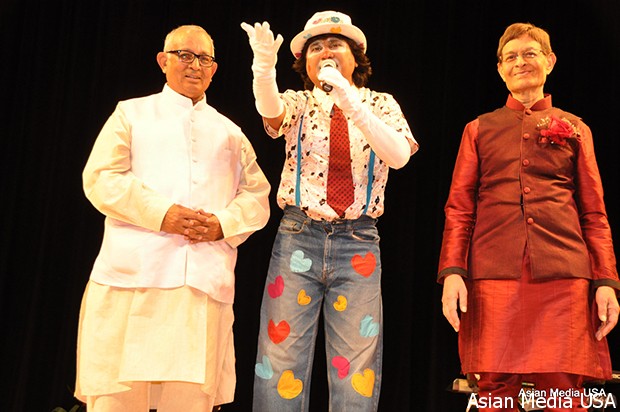 There were three Awards given to recipients of the community. Dr. Madhuvanti Ghose, Alsdorf Associate Curator of Indian, Southeast Asian, Himalayan and Islamic Art received award in Art and Culture. Dr. Beejal Amin, Neurosurgeon at Loyola Hospital received award in recognition of excellent service in Medicine and Valjibhai Patel from Splash Graphics for Art & Commerce.
Shashi Patel, Sajawat, Arlington Rental and Dream Occasions were recognized for their creative work and a beautiful venue decor. Varshaben M. Patel assisted in safe keeping all of the art effects that was displayed in the exhibition. Dr. Yash Amin is the architect and brains behind the victory exhibition. Bhavana Modi was providing the entertainment and catering. Kishore Chugh and Piyush Patel assisted in planning the event.