A Colorful Enchanting Teeyan Da Mela Organized by Punjabi American Organization, Chicago
Chicago IL: Punjabi American Organization (PAO) organized , their 10th annual, a very entertaining event "Teeyan Da Mela for on Sunday, August 03, 2014 at Meadows Club. It is a great honor and proud for Punjabi American Organization to host 'Teeyan Da Mela' for all the ladies in Midwest Region of Great America as this is the only one event which is "Ladies only" where even the very shy ladies come forward and show their hidden talent without any hesitant.
More than 600 ladies overcrowded this event. The event hall was over packed with ladies and children dressed in colorful Indian clothes. This year PAO brought 'Shaukan Mele Dee' contest from audience along with singing, dancing and enjoying unforgettable open gidha for all ladies in the event. It was of board members of PAO to see all ladies on Dance Floor dancing away and enjoy this sunny summer Sunday. Teeyan is such an important meaning for Punjabi culture. Ladies as a mother/daughter are so respected and loving to families to share the warmth of keeping families together.
Punjabi Americans Organization aims to promote unity and progress of all Punjabi Indian-Americans. Main purpose of organizing this type of event is to expose women by bringing them out to the outside world from their routine house hold work, offer an opportunity to meet with the community and pass time with amusement and joy, wearing dresses of their choices.
Organizers decorated the event hall with Punjabi dupattas, saris, and other traditional punjabi dresses as well as with colorful clothes, flowers, and garlands. It appeared like a rainbow spread across everywhere in the event hall. The gathering of huge crowds around the stalls of henna, bangles, facial makeup, and Indian dresses really gave the feeling of traditional Indian fair. As soon as attendees entered the event hall, the decorated swing caught the eyes of every one and reminded them of their beautiful past. There were different stalls for Mehndi, Jewelery, Gift Items, Punjabi Suits and Kurtis. In addition to gidha, dholki, singing and dancing with live music, delicious Indian snacks and delicious gourmet lunch was served.
Organizing Committee welcomed the audience and thanked all the sponsors for their generous donations. The event started with the traditional Open dholki,where the audience were invited to the stage to participate in singing punjabi songs to keep up the punjabi tradition of celebration.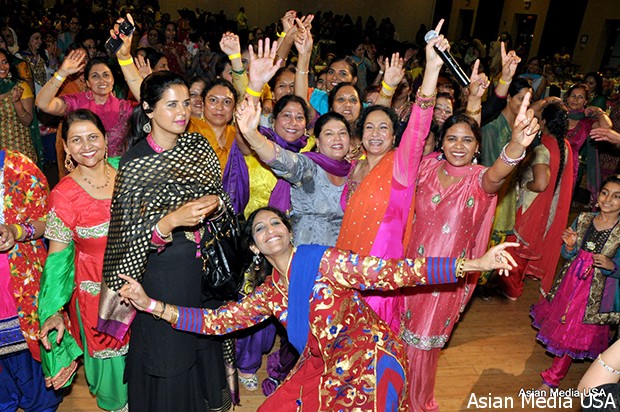 Thereafter the program went on to present other cultural performances such as Dance performed by Girls from Mudra Dance Academy; Song by Dalbir Chopra, Pooja Dhaliwal. In between Aarti Singla engaged the audiences by asking questions. This was followed by Dance from Hannah Singh and Sanya Bawa and then, by a beautiful Punjabi song from a very small girl, Sahana Bawa sang a Punjabi song beautifully encouraging audience to keep their language and songs alive . An attractive program of Skit play by Vipin Kaler Group'. This was followed by Young girls gidha performance Coordinated by Sukhbir Dhillon in which all the traditional Punjabi props such as Khooh ( well), Charkha, Peeng ( swing) are displayed and used in gidha. It followed by " Shaukan Mele Dee'.Then there was a song by Kanchan Ji.
There was a live show by the premier artist, Satwinder Bitti. Chief Guest – Minnie Multani, Grand sponsor- Jasmeet Suga, Grand sponsor- Amrita Dandona and all other sponsors were awarded for their generous financial help to make this event successful. Special Appreciation award given Guest of Honor- Surinder Nand, MD and to singer Satwinder Bitti. Winners of ' Shaukan Mele Dee' was declared and honored.
Then, 'Jago'- special punjabi dance was performed. Dance floor was full of beautiful ladies within minutes, enjoying and dancing. At the climax of this event, almost all ladies and girls who attended "Teeyan Da Mela" were on "Gidha floor" and were a truly enjoyed and thrilled by everyone with Satwinder Bitti giving her heart in encouraging the audience with numerous Bolian.
Bravo goes to Teeyan Da Mela organizers- Minni Multani, Sukhi Singh, Navjot Bajwa, Rajinder Mago, Kamal Hunjan, Neha Walia, Pinki Walia, Naina Singh, Manisha Garg, Aarti Singla, Jasmeet Suga, Satinder Kaur, Pammi Sangha, Kanchan Lal along with Punjabi American Organization board members- Jasbir Suga, Paul Dandona, Guljar S. Multani, Jesse Singh, Savi Singh Attal, Sukhwinder Hunjan, Davinder Singh, Nick Gakhal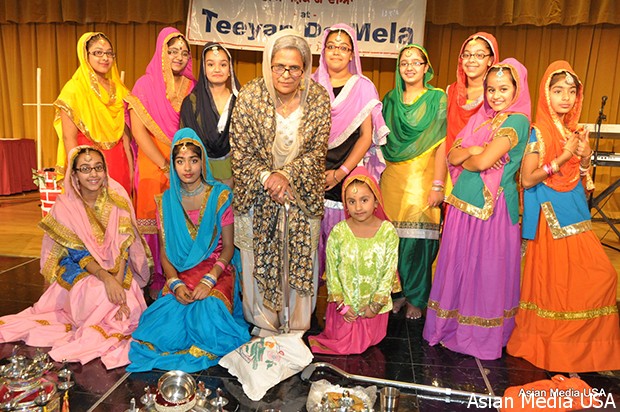 Organizing team did excellent job by putting in tireless efforts, Kudos to All. "Teaching people that women are capable of having fun, very capable of doing everything in life – Earning, Taking care of Family, Getting involved with other things in the Community, Helping in every part of life."– One must say seeing this show performed, executed by Ladies.