Vishwa Jagriti Mission of North America (VJMNA) organized 4 days of spiritual and divine retreat
Chicago IL: Vishwa Jagriti Mission of North America (VJMNA) organized 4 days of spiritual and divine retreat at Hindu Temple of Greater Chicago in Lemont, Celebration Campus in Naperville and on the Cruise in Lake Michigan. World Renowned Saint His Holiness Sudhanshuji Maharaj and his elder daughter Dr. Archika Sudhanshu, a soulfull Meditation Mastro graced the blissful event in Chicago from July 24th -27th,2014.
On Thursday July, 24,2014 the program was started by a prominent Master of Ceremony Anju Lal at 7-00 pm. Devotees enjoyed the melodious Bhajans sung by Anju Lal, Raju Bankapur, Pratibha Jairath. Founder member of VJMNA, Praveen Verma introduced His Holiness Sudhanshu Ji. Maharaj. Two hours of discourse on "PRAYER", given by His Holiness, was informative; detail oriented and left audience awestruck. Session also included most popular Vedic prayers and its meaning.
On Friday July,25, 2014, Anil Dhutia, Gaurang Shukla & Jagdish Yadav sang the tuneful and devotional Bhajans. Devotees came from different parts of the country and from India to pay respect and to hear the wisdom pearls of His Holiness. Topic was "Karma and Bhagya (Destiny)" which was explained in such a way that each and every one in the audience was totally captivated. How much our actions contribute to any situation and what is the role of destiny and then the Grace plays a significant role too in our lives. His Holiness satisfied the inquisitive audience by answering some of their questions. Session was embraced with short meditation by Dr.Archika Sudhanshu in her sweet and adoring voice.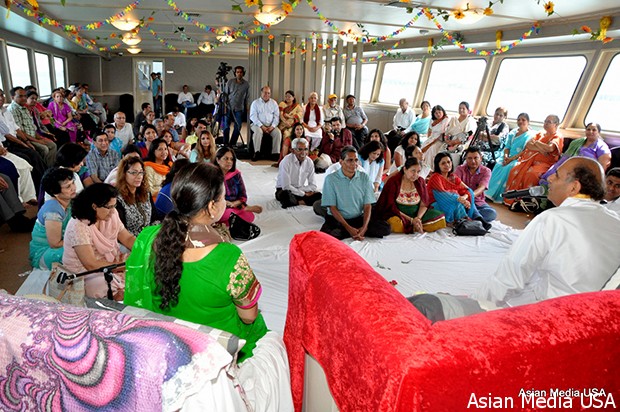 Meditation Empowerment Workshop was held on Saturday July 26 & Sunday, July 27, 2014 from 7-30 am to 10-00 am at Vivekananda Spiritual Center in Lemont by Dr.Archika Sudhanshu. Her way of imparting the knowledge of meditation was outstanding. Power Point Presentation was very clearly explained and made an impact in everyone's heart. Relation between mind, body and spirit was made very clear. Different Pranayam were demonstrated and our seven energy sources (chakras) were explained with their benefits and activation method.
Saturday July 26, 2014 the continuation of divine retreat moved to Celebration Campus in Naperville where Devi Pariwar, (Ravi Parekh, Sunita Sehgal, Goldy and Happy) amused the audience with devotional Bhajans. . His Holiness delivered an amazing sermon on number one issue of the modern world "Stress free life" Simple yet effective methods on how to live stress free life and how to manage stress were explained. He enlightened the inquisitive audience on achieving cure from this modern menaces' curse in straightforward terms.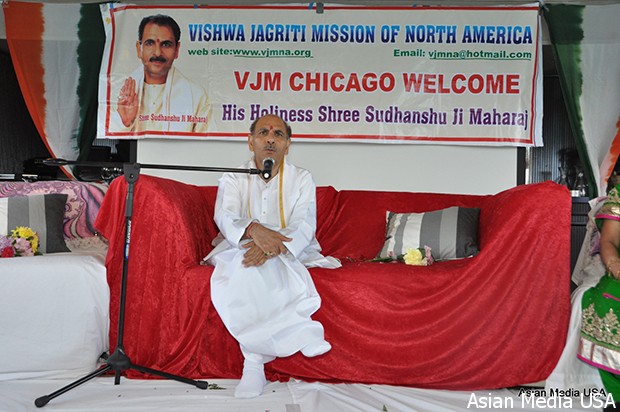 There was never a dull moment as the team of the organizers Sudhir Kumar, Praveen Verma Hari Gupta and Krishna Bansal, the dedicated devotees had planned the event magnificently with befitting decoration.
The last and most popular event was on Sunday, July 27 2014 – Lunch Cruise on Lake Michigan from 11:30 am to 3:30 pm. 130 special devotees got the blessed opportunity to be with His Holiness and also witness the natural beauty of Lake Michigan in the stunning backdrop of Chicago skyscrapers. Sudhir Trikha, Sunita Sehgal and Sharda Verma who came all the way from India sang truly devotional and melodious Bhajans. Puran Vyas, who is well known in Chiagoland area, was on Tabla. Young kids participated in chanting Guru Vandana with meaning. His Holiness drew everyone's attention with his inspirational discourse and also answered couple of questions. His Holiness was joined by Respected Guru Ma and His elder daughter Dr. Archika Sudhanshu..
A sumptuous vegetarian lunch served by Shree Restaurant each day.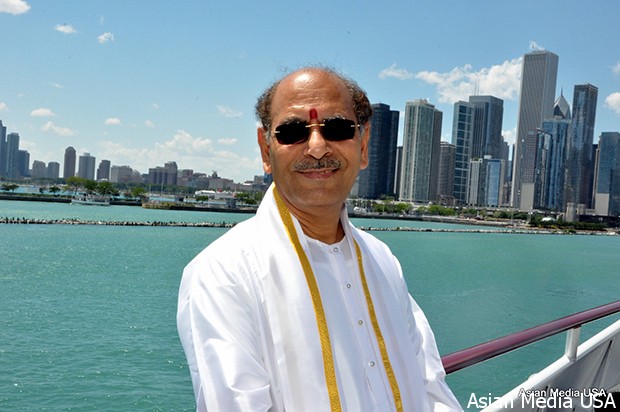 Vishwa Jagriti Mission is actively involved in promoting religious and humanitarian activities for the elderly, physically handicapped, orphans and poor/under privileged. Some of the main activities include: Meditation Camps & Temples for Prayers: Spiritual Revival Get-togethers (Satsangs/Sermons); Providing High Quality Medical Facilities to the Poor; Vriddhashrams (Old age homes) for Senior Citizens; Balashram (Children's Home); Tribal Development Projects; Gurukul Updeshak Mahavidyalaya (Preaching School); Gaushala (Cowshed); Disaster Management.
Shri Sudhanshu Ji (born 2nd May 1955 ) is a preacher from India and the founder of Vishwa Jagriti Mission(VJM). He has over 10 million devotees around the world with more than 2.5 million as disciples. His Holiness is endowed with spiritual wisdom and blessed with divine powers. Sudhanshu ji was born [2may 1955) in Saharanpur District of Uttar Pradesh in India. Sudhanshu ji was the eldest son in the Kamboj Gotra family and was named Yashpal, Yash means glory and Pal means Savior. Yashpal was educated at a Gurukul where he studied the Vedas, Upanishads, Sanskrit Grammar and Astrology.
Dr. Archika Sudhanshu, is a master of 'Powerful Silence Meditation' The President of India, Hon. Dr. Pranab Mukherji presented 'The Dinkar Sahitya Samman to Dr. Archikaji on Saturday,November 24, 2012. Dr. Archika Sudhanshu is the founder of Doctor Archika Foundation, under which various projects for the empowerment of young women take place.. She quotes, 'Do not undermine your worth by comparing yourself with others. It is because we are different that each of us is special.'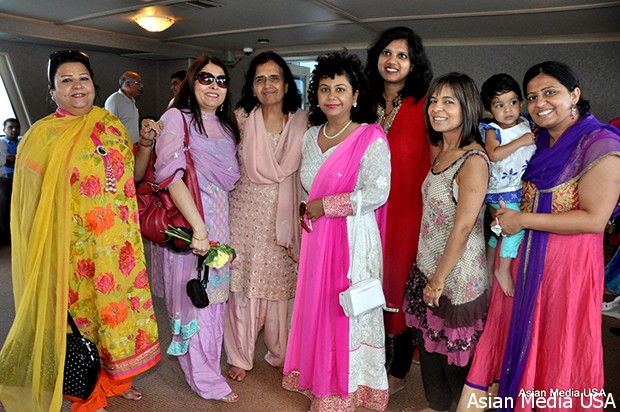 The Chicago based VJMNA is a national outfit of the parent body in India and it has also been rendering huge service in the spread of education of Indian culture thru humanitarian activities, like cooking and feeding the homeless at the shelter, adopt families during Christmas and provide meals during Thanksgiving holidays. Vishwa Jagriti Mission of North America(VJMNA) is a young and tender branch of the Gigantic Tree of Vishwa Jagriti Mission. VJMNA has been moving forward spreading the love and light along with the golden principles of His Holiness Sudhanshuji Maharaj. It has become engaged in several missionary activities for the citizens of our community here in Chicago area. In pursuit of Spirituality, the VJMNA family meets second Sunday of the month for collective prayers.