Spirit of Ramadan embraced at "Iftar" Dinner
Chicago IL: Masjid – Al – Huda located at 1081 Irving Park Road, Schaumburg, IL 60193, celebrated "Iftar" dinner on July 22, 2014 to show their brotherly spirit of giving and sharing during the Holy month of Ramadan.
Dr. Kalid Abdus Sami and masjid members greeted all the incoming guests numbering more than 200 and started the program with Recitation of the Holy Quran in Urdu and translation in English by provided by Hafiz Faraaz.
Dignitaries present included Consul General of Pakistan Honorable Faisal Niaz Tirmizi; Laurie Nowak,
Du Page County Board Member, Bob Peickert, Chairman of Democratic Party of Du Page County; Michelle Mussman, State Rep. Dist. 56; Paul Kohnstamm, Campaign Manager for Tammy Duckworth; Rich Jacobs, Dist. Dir. Of Senator Michael Noland; Deborah Bullwinkel, President, Villa Park Village; Sue Walten, Community Activist; Eira Corral; Hanover Park Village Clerk; Judge John Dalton, 16th Judicial Circuit, Kane County; Gerald Bromely Schaumburg Library Trustee; Mike Quiroz, Du Page County Sherrif Candidate; Jean Kaczmarek, Du Page County Clerk Candidate; Tariq Malhance, Former Chief Financial Officer, Cook County; Nasir Jahangir, 2nd. Chair Democratic Party of Du Page County; Zainab Khan, Press and Media Coordinator for Laurie Nowak; Dr. Ashish Sen, President of Indo American Democratic Organization; Brian Mulcrone, Senior Dist. Executive, Northwest Suburban Council; Fred Crespo, State Rep. 44th Dist.; Thomas Del Re, Pre-planning Advisor, Dignity Memorial Community Services and many more from different communities.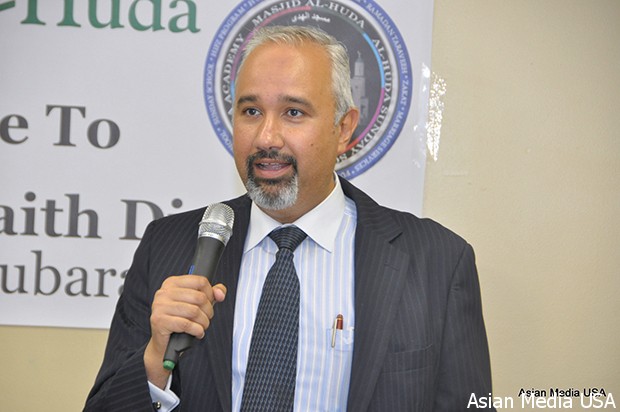 People from different communities addressed the gathering and greeted Ramadan Mubarak. Fred Crespo, Laurie Nowak, Michell Mussman, Paul Kohnstamm and Eira Corral spoke about Ramadan celebrations and applauded the excellent work done by Al Huda Masjid.
President of the Board Br. Rizwan ul Haq welcomed all the present to the dinner program.
Consul General of Pakistan Honorable Faisal Niaz Tirmizi said he was pleased to see people from different walks of life and from different communities gather, celebrate and understand principles of Islam.
The Key note Speaker was Michael Abdul-Malik Ryan,J.D.- Chaplain, Muslim Life.
Dr. Khalid Abdus Sami in his introductory speech touched upon three core activities followed during the holy month Ramadan. First: Charity- Last year, Muslims gave over $ 400,000 to Food Pantries and paid Utility Bills of needy families in Chicagoland area. This year's target is over half a Million Dollars which will be collected and spent right here in Chicagoland.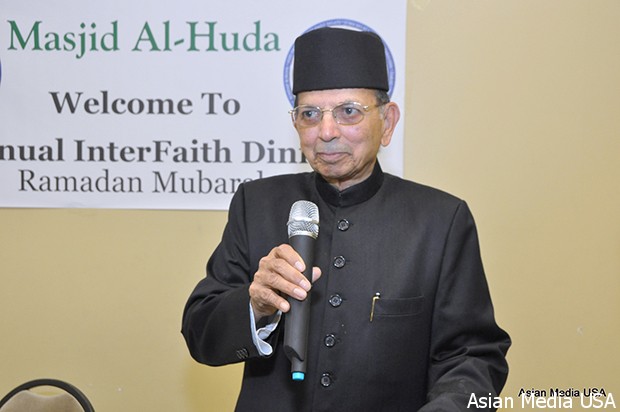 Second: Ramadan is a time for Contemplation to fast all day and to pray all night and think deeply about others. By experiencing hunger and thirst Muslims become more compassionate towards those who have no choice throughout the year but to be hungry and thirsty.
Third: Ramadan is also a time for increased fellowship with Muslim Brothers and Sisters as they attend Masjid more frequently for night prayers and worship.
"To alleviate the feeling of hate and fear we welcome our neighbors into our homes and into our Masjid to share in our Fast Breaking, as we give thanks to God almighty for all of the things that he has made possible for us. The main objective of inviting all of you is to share the Spirit of Ramadan with our friends and Non-Muslim neighbors and take this opportunity to inform and educate our Non-Muslim fellow citizens. Events of this kind are extremely helpful in bringing people closer and developing better understanding of each other's faith and viewpoints, he added.
The Key note Speaker Imam Michael Abdul Malik Ryan grew up in Oak Park, IL. The son of two teachers, he developed a deep affection for books and learning of all kinds. A DePaul Graduate, he accepted Islam in 1994 and was part of founding the United Muslims Moving Ahead Organization at DePaul as well as Inner City Muslim Action Network. He graduated from the Georgetown University Law School in 1998 and worked for 14 years as an Attorney and guardian AD Litem- in the Cook County Child Protection System to represent the interests of Children. He also worked as a volunteer to the President of the Board and served as Imam of the Inner City Islamic Center in the Southside New City neighborhood. He has studied Islam with a variety of Teachers and currently continues his studies in Islam through Al Maghrib Institute based in USA, Canada, Great Britain and Malaysia. He is also interested in Irish Culture and language and in Comparative Religion especially Islam and Judaism. He is Asst. Director of the office of Religious Diversity at DePaul and serving as Chaplin to the School for the new learning and Muslim Life.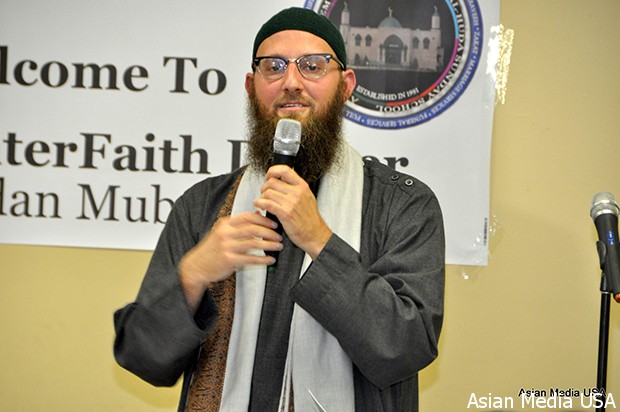 Imam Abdul Malik started with his own background and narrated incidences that attracted him to Islam. He described importance of Ramadan referring to Prophet Mohammed. Scholarly yet in simple understandable way he differentiated Islam and compared it with other religions and explained statistically position of Islam in USA with other religions. He said what you donate is not that important, but it is your inner will to help which is of importance.
After Key note Speech, there was enough time for Question and Answer Session. After breaking the fast all the Muslims went up for Prayer. After prayer, all came down and enjoyed full meals.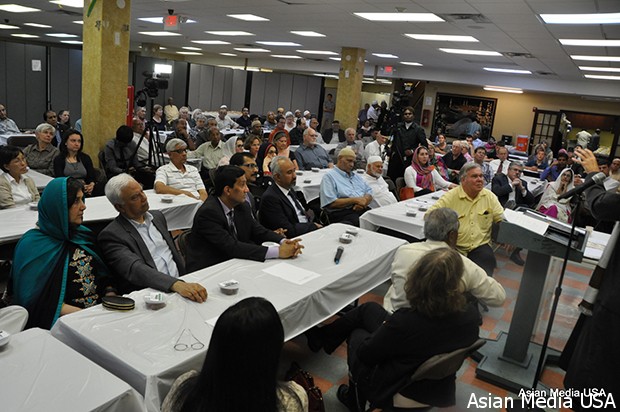 The MIC Board of Trustees is comprised of 16 individuals that are responsible for the management and oversight of the dealings and affairs of Masjid Al-Huda and all affiliated services (Al-Huda Academy, Sunday school, etc.
Their Current Board of Directors are: Rezvan Al Haque- President, Jamil Zara- General Secretary; Aqeel Akhtar- Treasurer; Mir Maqsood Ali; Ahmed Karim; Abdul-Wahid Karim; Dawood Gul; Mohammed Farooq Patel; Asif Sabri; Salman Faiz; Imran Khan; Abdul Mannan Khan; Abdul Azeez Mohammed; Abu Bakr El-Houmaidi;