Punjab Sports Club Chicago holds successful International Kabaddi Cup Festival
Chicago IL: On Sunday, July 20, 2014, Punjab Sports Club held its Annual International Kabaddi Cup Festival at Boomers Stadium, 1999 Springinsguth Road, Schaumburg, IL. This sport event turned out to be a big festival of fun, food, live entertainment and sports. Despite uncertain weather in the morning people not only from Chicagoland's area but from Indiana, Michigan and Wisconsin came in large numbers to enjoy this sports plus festival. In the evening a famous Punjabi The Legend Gurdas Maan entertained the audience with his popular songs for more than one and a half hour. More than 5000 individuals attended the engaging day of sports, food, and live entertainment.
Punjab sports Chicago has been organizing International Kabaddi Tournament since 2003 when it was a World Cup and was held at this same venue at Boomers Stadium. This is their 12th 'Kabaddi Mela'. It was heartening to see all board Members being identified by their White Tee shirts with Logo of PSC. It was a rare incident that team of two officers namely Mary Passaglia and Tom Miller from Community Development Dept. Village of Schaumburg also were present to assess food being served. Food was very well served by Clay Oven Restaurant, Schaumburg and Viceroy of India Restaurant. Tony Singh of India Town exhibited variety of items for sale some of which were rare collection.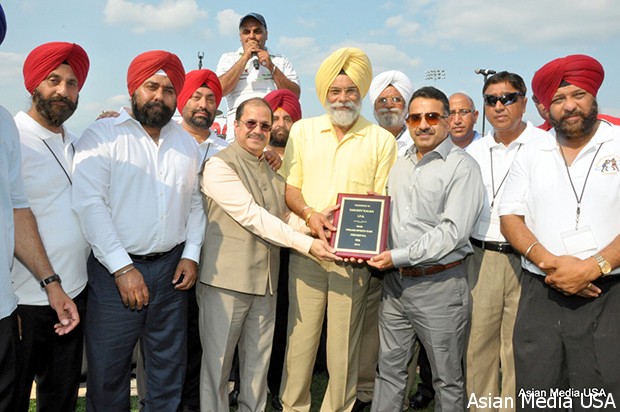 Chief guests: Dr. Ausaf Sayeed, C.G. of India Chicago & Darshan Singh Dhaliwal
Opening of Mela started in presence of various dignitaries including IGP Police from Punjab Shri Santok Kalra, Dy.CG Gangte and many Priests.Mayor of Schaumburg Laddi Singh-Candidate for State Rep. Dist. 54 Larson board members.
Priest recited prayer and Tournament was declared open through blowing Baloons By IGP Kalr and Mayor Larsen
The first match was played between Punjab Sport Indiana and Toronto which resulted in win for Indiana by-35/22.
Second Match was played between Punjab Sports Club Chicago nad PSC Milwaukee which was won by Milwaukee by35/18
Third Match was being played between PSC Indiana and PSC Chicago which was won by Indiana by 29/12
Fourth match was being played between Mil Waukee and Torronto which was won by Milwaukee by 28/14
At this stage a Show match was being played between players comprising of Under 21 of age from Indiana and Milwaukee which resulted in win for Indiana by 18/12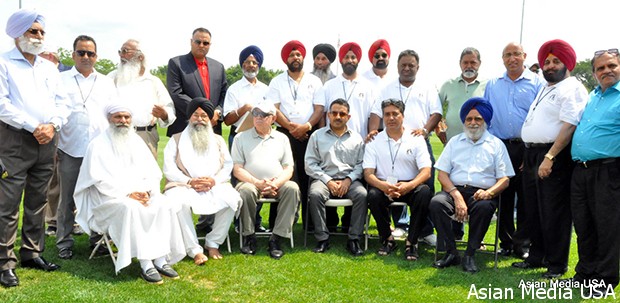 Ultimately Finale took place amidst huge encouragements from spectators present in large numbers and players of both teams were being introduced to many dignitaries ho congratulated them and wished Best Luck in Finale. It was a rare occasion to have IGP of Punjab Santok Kalra and CG Dr. Ausaf Sayeed being present.
In Finale Teams of PSC Milwaukee and PSC Indiana participated and Milwaukee Team won the Finale by44/29 and was declared Champion.
Raghvinder Mahal was Scores and Harjeet Ghotra; Swarna Valley; Rana Bhandal and Nijjar were Umpires for the matche. Sukhsen Singh Brar entertained the entire audience continuously with his non stop Commentary over all live matches and also continued passing on various informations as to Sponsors, Dignitaries and so on.
First prize in memory of Bapu Kartar Singh, was given to PCS Milwaukee Team with a check of $1500 A Champion Trophy also was given.
Second prize by Varinder Singh Sahi, Darshan Singh Darar, Prithpal Singh Ghotra, was given to PCS Indiana Team with a check of $750 and a Runners' up Trophy also was given.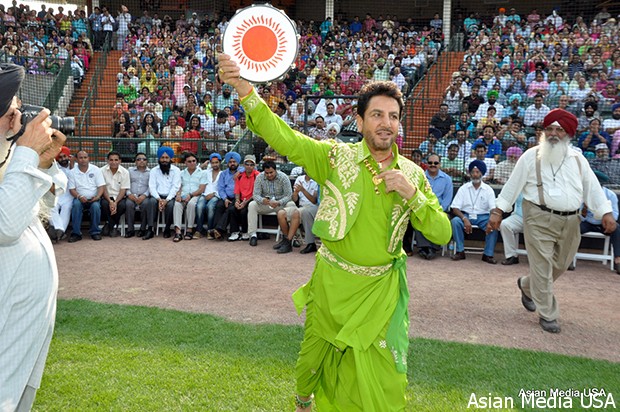 Punjabi Youth club of Milwaukee started the program by presenting a beautiful 'Malwai Gidha' program.Then started long awaited program from 'The Legend Gurdas Maan The Jogiya Live concert"
Gurdas Maan Gurdas Maan is an Indian Singer, Songwriter, Choreographer, and Actor. He is considered one of the most notable figures in the world of Punjabi Music.
Gurdas Maan mesmerized the entire strong audience amassing more than 5000 spectators with his Scintillating, Romantic, Energetic and vigorous Music which made many enthusiastic ones to rush to the stage in spite of tight security to compliment him. He also gave number of worth remembering quotations, examples and showed his humbleness. The program was about Punjabi Songs and Dances made most zoom.
He was accompanied by Jaswinder Jassi from Ptiala A Guitarist; Jaswant Bhola from Bhatinda on Dholak; Mohan Kumar from Ludhiana on Drum; Manish Kumar from Jallandhar on Dhol; Sanjay Kumar from Bhatinda –A Radhamist; Tulsi Dass from Sirsa on Key Board; Rattan Lal from Patialt on Actopad and Manoj Kumar from Patiala on Course – A Renowned Gurdas Maan Group which was the backbone of Gurdas Maan Performance.
Jaskaran Dhaliwal
Punjabi Cultural Society of Chicago (P.C.S.) is a non-profit 501 (c) 3 organization promoting education, good citizenship, community development, civic commitment and involvement, and preserving Punjabi Culture, language, Sports and performing arts of the North-Indian State of Punjab among its community members and also mainstream Americans in the Midwest and beyond. PCS caters to this need both by directly organizing events that bring community members together from all over the Midwest region and by facilitating participation of its community members in mainstream activities. PCS has a holistic approach to community building and it's comprehensive programming encompasses a variety of aspects of community life and it's needs.
Mission: One of the biggest challenges facing any immigrant population and its subsequent generations is to preserve and promote their heritage to strengthen common bonds. Punjabi community of Chicago area numbering about 10,000 is no different. As the community gradually grew in size in the early seventies, the volunteer efforts in these areas also increased. The likeminded ad-hoc groups working together since the early eighties were formally organized under Punjabi Cultural Society of Chicago (PCS), which was registered under its present name in Illinois State in 1993. It was later approved as a 501 c (3) non-profit corporation. All the board members and officials are dedicated volunteers without any compensation.
Description
President: Lovedeep Singh Dulat; Senior Vice President: Narinder Sra; Financial Secretary: Santohkh Singh; Media secretary: Happy Heer; Event Organiser: Ajay Lakhan; Board Members: Harwinder Ghotra, Ajmer Pannu, Lucky Sahota, Amrik Singh, Ggurpreet Gill, Gurmeet S. Bhola; Gian S.Sera, Baldev Gill, Rajinder Dyal
Lovedeep Singh Dulat Narinder Sra; Santohkh Singh; Happy Heer; Ajay Lakhan; Harwinder Ghotra, Ajmer Singh Pannu, Lucky Sahota, Amrik Singh, Gurpreet Singh Gill, Gurmeet S. Bhola; Gian S.Sera, Baldev Singh Gill, Rajinder Singh Dyal, HarvinderSingh Billa, Jaskaran Singh Dhariwal, Lakhbir Singh, were instrumental in making this event a Grand Success. And they desrve Kudos.
Many congratulations to all innumerable Sponsors those have helped in one of the most outstanding Mela and Entertainment program ever organized. Throughout the day there wer plenty of Vegetarian and Non Vegetarian Food and Drinks were freely available. There was provision for Free Parking also.
Harminder Dhillon from Ajit India New Dehi and Punjabi Tribune, Lajjandhar covered the program. Asian Media Team Comprising of Chairman Suresh Bodiwala, Editor Jyotikumar Chokshi and Videographer Vipul Patel covered the entire proceedings. Vandana Zingan from TV Asea also was present.
Overall, the event was a great success and all guests raved about the wonderful organization of the unforgettable event.