$180,000 was collected for charity by Ekal Vidyalaya Foundation Chicago chapter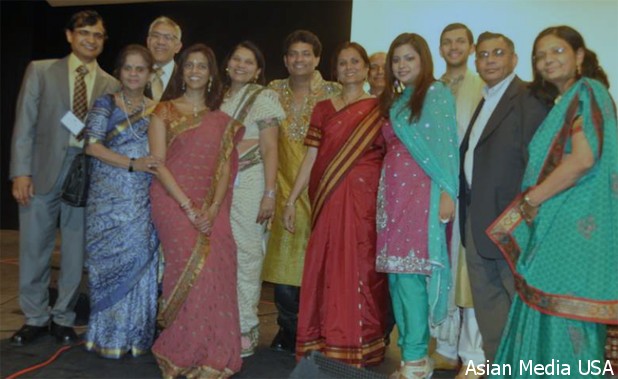 Chicago IL: Chicago extended best of Indian community support to Ekal Vidyalaya meritorious serves to the cause of child education in India. Ekal Vidyalaya foundation of USA held a Charity Dinner and Concert on Saturday, April 2, 2011 at Glenbard North High School Carol Stream, Illinois in its continuous efforts to promote One Teacher One School in Indian villages, especially those inhabited by the tribal communities, and reach out to them with a precious gift of imparting elementary education. Musical night was attended by 900 plus people. Chicago's educational, cultural, business, political and prominent community leaders were present in Ekal Vidyalaya fundraising event.
In USA Ekal Vidyalaya First show was Friday, February 25, 2011 Lakeland, FL and last show will be June 5, 2011 at Scranton PA. They are planning to have total 70 shows in USA. April 2, 2011 at Glenbard North High School was 18th show in USA.
This concept of One Dollar, One Teacher, One School, One Village, which had begun nearly a decade ago in India, has already shaped up as an institution of learning in hundreds of villages in many Indian States. The idea is to teach small groups of 25 children by a single teacher in each village in a setting of a Gurukul school in a cost effective plan: 330 School x $365 + $59,550cash = $180,000
Ekal Vidyalaya or the One Teacher School has been functioning for many years now all over the country in remote areas where the tribal and other deprived section live. The Ekal Vidyalaya Foundation, a charitable Trust, and other support organizations initiate, support and run such non-formal schools. A very cost effective methodology was developed with an emphasis on giving the children basic education with emphasis on the 3Rs Reading, Writing and Arithmetic.
The Ekal Movement has gathered momentum over the years and today not only provides basic education but is also involved in providing health care education, helping this section of the society to become self sufficient and enjoy the fruits of freedom, democracy and increased opportunity for growth.
The group is performing for the benefit of Ekal Vidyalaya foundation across the nation in 2011. Everyone is welcome to attend the fundraisers and encouraged to support this noble cause. Ekal operates innovative, nonformal schools which run on a minimal budget of $1 (Rs.50) a day. One can sponsor Ekal Vidyalaya by donating $365.00 per school. The main goal of EVF is to focus on functional literacy, healthcare education, and development and empowerment education in tribal part of India.
Ekal School teaches non-formal education system that has a unique technique called "Group Learning" or multi-grade teaching. The technique is taught to the teachers. The syllabus includes language, arithmetic, general knowledge, moral values, healthcare, handicrafts, yoga and physical exercise.
The non-formal media of education includes songs, stories, games, dance-drama, and nature. This program reinforces discipline, devotion to the nation, respecting human values and elders, daily hygiene and cleanliness. EVF activities are extended to provide healthcare education to villagers. Through development of education, villagers become independent, self-reliant and utilize local resources. The foundation strongly believes in empowering the villagers to establish "Gram Swaraj" or "Self-Governance" as envisioned by Mahatma Gandhi. The Ekal Vidyalaya Foundation (EVF) is a tax-exempt, registered non-profit service organization dedicated to bringing education and village development in rural India. Ekal's philosophy is to take a holistic approach to social and economic development. The Ekal movement is the largest, grassroots, non-government education movement in India, operating in over 34,343 villages, including remote rural and tribal villages, and educating over 962,485 children.
The function began with Mr. and Mrs. Amrit and Shashi Mittal, Dr. Hasmukh Shah lighting the traditional lamp, followed by the HSS-Balagokulam children reciting prayers with adults; Kavya and Tanya Sheth, Avni Shevade, Kruti Patel, Dev Desai, Avni Patel, and Sanya Nema and Yash Desai. The Musical Concert, a nostalgic evening of favorite Film songs and Ghazals including latest hits from Bollywood entertained the audience to their fullest wits and joy.
Artists galore included Manoj Mishra (Bollywood Playback & Lead Singer) with Nirupama Dey (Sa Re Ga Ma 2007 Finalist); Ashwin Rokade – Keyboard & Flute; Pramod Katekar – Guitar and Rajendra Nakashe – Tabla/Dholak & Sampler.
Manoj Mishra gave an excellent rendition of songs by Mohd Rafi, Kishore Kumar, Hemant Kumar, Sonu Nigam, Anup Jalota, Hariharan, Ghulam Ali, and more. Nirupama Dey (SA RE GA MA 2007 Finalist) sang the sonorous songs of Lata Mangeshkar, Asha Bhosle, Shreya Ghoshal, Sunidhi Chauhan, and more Ashwin Rokade (Keyboard), Pramod Katekar (Guitar), Rajendra Nakashe (Tabla, Dholak & Sampler) accompanied them.
Manoj Mishra, popularly called as 'Mihir', is a rising Bhojpuri singer from Gorakhpur. He is a playback singer for a number of Bhojpuri movies His public performances always attract a large number of people. He has performed with playback singers Abhijeet, Kumar Sanu, Alka Yagnik, Anuradha Paudwal and others.
Nirupama Dey, an accomplished singer was an excellent complement to the group fully conversant with painting, cooking and dancing. Her favorite actors are Amitabh Bachchan and Aamir Khan and favorite actress are Rani Mukherjee and Aishwarya Rai. She was chosen to be in Himesh Reshammiya's Rock Gharana. She was among the top 14 finalists on Sa Re Ga Ma Pa Challenge 2007.
Ashwin Rokade is professionally working in music industry from 1999. He started doing shows with Manoj Mishra from 2001 all over India. He has performed with playback Singer Abhijeet Bhattacharya, Asha Bhosle, Nitin Shanker, Vinod Rathod and many others. Pramod Katekar started his career from 1998. He started performing with Manoj Mishra from last 6yrs. He has performed with Abhijeet Bhattacharya, Anand raj Anand, Altaf Raja, Sukhwindar Singh, Krishna, Vinod Rathod and Many Others. Rajendra Nakashe started his career from 1994. He started performing with Manoj Mishra from last 10yrs. He has performed with Mahalakshml Iyer, Sunidhi Chauhan, Himesh Reshimya, Roop Kr Rathod, Sajid Wajid, and Babul Supriyo.
Vignesh Kosgi proposed vote of thanks acknowledging cooperation from numerous artists, friends and supporters of Ekal, especially those who are instrumental in putting this magnificent event together and making it a grand success. He also thanked the food committee lead by Gautam Patel, Rohit Bhatt and his entire team for their generous services. Last but not lease he acknowledged the assistance of videographer Prashant Vakil & Photographer Praveen, and Amit Patel and Sharma Konkapaka for providing amazing sound system. He also thanked members of TV as well as print media, especially Vandana Jhingan – TV Asia; Suresh Bodiwala, Chairman and Dr. Chandrakant Modi, President and his team – Asian Media; Kishore & Meena Purohit – T. V. India.
Last but not the least; we thank The Glenbard North high school authorities for accommodating us to have our annual program in their school premises.
Hemang Srikishan and Neha Shah were brilliant as the Master of Ceremonies. Hemang Srikishan shared his inspirational experience for to visit India. "After graduating with a degree in Psychology in 2007, I was unsure of the next step that followed. Like many others, until that point, my life had been mapped out: from elementary to middle school and then high school to college. I had never doubted those steps, I just followed them. But when I graduated from the University of Illinois, I found myself free to choose the next step. Amidst all the options available, I was drawn to India because of my lack of a real connection with the land of my ancestors. I had participated in Indian Students Associations, Indian dancing, and various other activities, but none of that was truly connected to India. It was all only an image of the motherland. By going to India as an Indi corps fellow in 2008, I was able to form a deep relationship with India and its people by sharing in their hopes and struggles. Though my time in the villages of Kutch, Gujarat only lasted 14 months, my experiences fundamentally changed the way I see my role as a member of the Indian Diaspora.
As with many Indians of my generation, my parents came from less privileged backgrounds. To me, the challenge of my parents' generation was/is to provide stability and opportunity for their children, for my generation. My parents were successful in this challenge and because of this, like others in my generation, I am blessed with a great deal of privilege that they never had. But now that I have been given so much privilege, the question of our (me and others like me) generation arises: what impact will we leave on the world? The answer to this question is the call of our generation. How an individual chooses to act is a personal choice, but I believe it is our responsibility to use our privilege to better the communities we are a part of and spread the opportunity and stability our parents strived for beyond our individual selves."
Neha was one of the emcees of the program with Hemang Srikishan. Neha Shah completed her CPA degree from University of Illinois and her MBA degree from DePaul University. She currently works as a Project Manager for Equity Office. Speaking to Asian Media USA; Chairman Suresh Bodiwala and President Dr Chandrakant Modi Neha said, "I am honored to be one of the emcees in the 2011 Chicago fundraiser for Ekal Vidyalaya. As a woman, education is a core part of the foundation of my success and confidence. Ekal Vidyalaya is providing the gift of education to those in need. Children, especially young girls, in these villages of India are gaining confidence and being empowered to believe in their dreams and to gain the tools to make them happen. This is why I believe in the mission of Ekal Vidyalaya."
Dr. Hasmukh and Jyotsna Shah are long time community activist and leader, well known to community. For many years they have dedicated their life to spiritual devotional life that has made difference in countless individuals and organizations. They have lived in the town of Sterling of Illinois. Dr. Shah for years has dedicated his life in providing free health care to needy. Both have been awarded numerous recognitions and awards some of the organizations that they served include Swadhyaya Parivar and Ekal Vidyalaya, where the couple is appointed to the highest position.
Due to overwhelming response, a second Musical concert show was arranged on Sunday, April 3, 2011 at Arya Samaj, 700, Hill view, West Chicago, Chicago. 300 people showed up at this event. Avni Patel (13 years) was Master of Ceremony at Arya Samaj event and shared inspirational her own experience with Ekal and motivated many people to sponsor Ekal schools. Avni has collected funds for Ekal in last couple of years and sponsored Ekal schools in tribal area of Bharat. She is a great inspirational to all of us!
Speaking to Asian Media USA; Chairman Suresh Bodiwala and President Dr Chandrakant Modi, foremost female singer Nirupama Dey said that music is her obsession, it is cult and religion for me it. I love vintage songs from the movies produced in 40's 50' and 60' which many consider golden age of Bollywood. I worship songs of Geeta Dutt, Noorjehan, Shamshaad Begum, Lataji, Asha Bhosle and of course my own hits. It is my experience that evergreen numbers like Barsaatmein hum se mile tum, Ayega anewala, Jawa hain Mohobbat, Mohe Panghat pe, ChinChin Choo, Piya tose naina lage re, Vande Mataram and numerous others take listeners on a eternal nostalgia trip. It is my feeling that the listeners love voice instantaneously. Elated with Ekal Vidyalay's mission and chance of singing abroad to the Indian American crowd, she said, it was one of the most triumphant trip of my undertaking. This mission combined with doing something for underprivileged children's in our motherland, is what I will always treasure. Thanking the Ekal organization for giving me and my team an opportunity to perform in North America, and doing something for disadvantaged kids in our motherland, is bringing me closer to fulfilling my lifelong dream and aspiration. Further she stated that "I was thrilled to hear and witnessed vibrant and enthusiastic crowd in every city we visited, still yearning for love of our homeland and its culture including music".
Anil Bhatt and Darshanaben Bhatt were inspired to join in Ekal Vidyalaya from his son Sunjay. In 2000 Sunjay was involved in Indicorps which is a non-partisan, non-religious, non-profit organization that encourages Indians around the world to actively participate in the developing progress of India. Sunjay went to India for one year and learned more about Ekal Vidyalaya. He spent a lot of time in small villages. During this time he made hundreds of DVDs and lots of educational material for Ekal. Anilbhai and Darshanaben were involved with Ekal since the last five years.
Media partner Asian Media USA Chairman Suresh Bodiwala and Dr. Chandrakant Modi President, asked questions to Anilbhai that what would he like to see Ekal Vidyalaya progress in ten years from now. Anilbhai said, "Last two years Ekal Vidyalaya progress is considerably, people are aware more about Ekal Vidyalaya. International fund-raising arm was established in the year 2001 and later Ekal Vidyalaya Foundation of America (EVFUSA), and recently Global Ekal Vidyalaya Foundation (GOEVF) was established. The growth of establishing schools has been exponential—10,000 new schools were opened just in last four years. Ekal Vidyalaya is more people oriented and is "By the people, For the people, and To the people" From last year to this year we have seen over 35% to 40% more volunteers involvement in collecting donation to open and run new schools and related activities.
Ten years from now we would like to see many more young peoples in India and abroad involved in this program. Also the way far more Jewish community people living outside the Israel gets involved for benefit of their home country, Similarly we like to see more NRI young and old should join Ekal organization and get bonded with our goal of helping the forgotten poor in Indians .
Photographs and Press release by: Asian Media USA
Suresh Bodiwala
Chairman
Asian Media USA
Bus: (847) 679-8583
Fax: (847) 679-5336
Cell: (847)420-4789
sbodiwala@sbcglobal.net
Copyrights (c) 2010 – Asian Media USA
No one shall download or otherwise duplicate the graphics, images, press release and written content from the PDF without our express written permission. Likewise, no one shall reuse the aforesaid things, as the same are the intellectual property of the Company, we hereby reserve all rights
Disclaimer: – Asian Media USA
"The information in this e-mail and any attachments is confidential and may be legally privileged. It is intended solely for the addressee or addressees. If you are not an intended recipient, please delete the message and any attachments and notify the sender of misdelivery. Any use or disclosure of the contents of either is unauthorized and may be unlawful. All liability for viruses is excluded to the fullest extent permitted by law. Any views expressed in this message are those of the individual sender, except where the sender states them, with requisite authority, to be those of the Asian Media USA