H.H. Swami Tejomayanada Inspiring Chicago visit
Chicago IL: From June 28- July2, 2014, the uplifting and inspiring presence of His Holiness Swami Tejomayananda, Global Head of Chinmaya Mission Worldwide, was experienced by hundreds of Chicago land and neighboring states' families.
Pujya Guruji, as he is affectionately called, is currently touring and conducting camps and retreats in the United States as he typically does during the summer months. With over 375 Chinmaya Mission centers worldwide, serving countless families, using the Chinmaya Bala Vihar and Adult classes, it was a rare and blessed opportunity for Chinmaya Mission Chicago to host Pujya Guruji for 5 days. Chicago has two major centers- Badri in Willowbrook, and Yamunotri in Grayslake.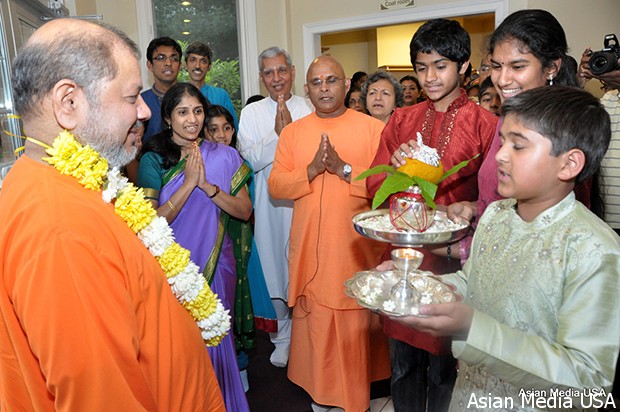 The high point of the visit was on June 30, 2014 when hundreds of devotees welcomed Pujya Guruji with the traditional purna kumbha welcome ceremony and celebrated Guruji's 64th birthday at CM Chicago's Yamunotri center in Grayslake with devotional Sundarakand recitation, bhajans, and melodious flute concert by Pt Ronu Majumdar. The celebration of the birthday is an annual reminder to the aspirants of the purpose of their life, pursuing of noble goals and living a value based life. The pious, receptive attitude prevalent on such an occasion invokes the grace of the entire Guru-shishya parampara. All centers celebrate this auspicious day with special events. The thoughts of peace, love, devotion, etc., sent out by the devotees that assemble together to celebrate the birthday go a long way in promoting peace, harmony and spiritual well-being of everyone's minds and of the surroundings.
True to His Guru, H.H. Swami Chinmayananda's vision, Pujya Guruji tirelessly works to spread the wisdom of Vedanta and the practical means for spiritual growth and happiness. If Swami Chinmayananda served the cause of Vedanta with his service, knowledge and pioneering qualities, Swami Tejomayananda completes that with his natural attitude of devotion. This is richly and abundantly evident in his talks, his singing, and his demeanor.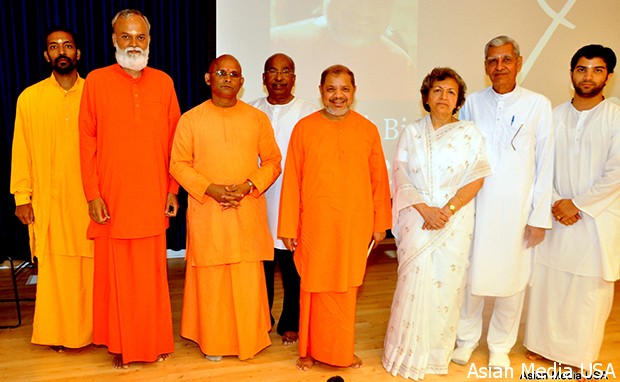 Pujya Guruji explained in detail some of the upcoming plans for Centenary Celebration of Swami Chinmayananda's 100th birth year scheduled to start on May 8, 2015 and culminate on August 3, 2016. The National Srimad Bhagavad Gita Chanting competition is planned to be held in Chicago in September of 2015 and the International Bhagavad Gita Chanting competition is to be held in Delhi in December of 2015.
Pujya Guruji gave beautiful and sublime talks in the evenings at both Badri and Yamunotri centers. Topics were "Purajana Gita" on June 28 and June 29, 2014 at Badri and "Lord Rama's Reveries in Nature" on July 1 and July 2, 2014. Links to the talks are listed at the end of this article.
What does Chinmaya Mission Chicago teach? Chinmaya Mission follows the Vedic teacher-student tradition (guru-shishya parampara) and makes available the ageless wisdom of Advaita Vedanta, the knowledge of universal oneness, providing the tools to realize the wisdom in one's life. Vedanta inspires seekers to understand their own faith better. Mission classes aim for inner growth at individual and collective levels. Chinmaya Mission Chicago offers a wide array of Vedanta study forums for all ages and Bala Vihar classes for Pre-K through Grade 12. While celebrating all the major festivals, children are taught the ultimate purpose of celebrating these festivals. Mission offers Indian classical art forms and conducts and supports numerous social service projects. Mission also offers summer day camps for youth KG through Grade 12.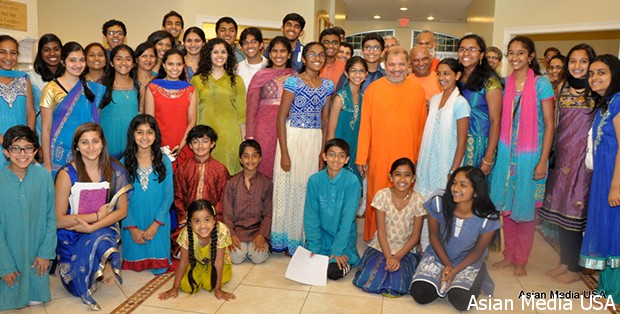 Our resident Acharyas, Swami Sharanananda, Acharya Jetindra Nayar, Acharya Swapna Nayar, Acharya Shanker Pillai, and Shri Dhiren Khatri conduct weekly classes and periodic retreats for adults. New classes will begin in September, 2014. New families are welcome to register today and attend the remainder of the weekly summer classes for free.
Please visit the web sites for upcoming activities and to register for classes at either Badri (www.chinmaya-chicago.org ) or Yamunotri (www.chinmaya-yamunotri.org) center or contact Acharya Shanker Pillai (630-886-6442) or Mrs. Rajul Bhalala (847-302-2383).
Links to talks by H.H.Swami Tejomayananda:
Talks on Purajana Gita given by Swami Tejomayananda, Global Head of Chinmaya Mission Worldwide, June 28 and June 29, 2014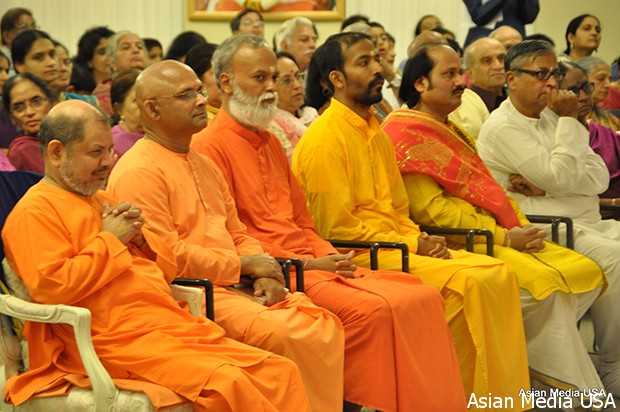 Talks on Lord Rama's Reveries in Nature given by Swami Tejomayananda, Global Head of Chinmaya Mission Worldwide, July 1 and July 2, 2014