Designer Mara Pinto Kick Off Eye on India Festival 2014
Chicago IL: Opening Gala for fourth annual Eye on India (EOI) Festival was launched on Thursday, June 5, 2014 at Open Secret Studios, 401 N. Racine Avenue, Chicago. Each year, the Festival aims to bring the best of Indian art, literature and culture to Chicago audiences, as well as to showcase the work of talented local artists. EOI is hosting over 20 events in Chicago and neighboring suburbs. The 2014 program includes a diverse blend of art exhibits, literary and discussion panels, dance, theatrical and cultural performances in venues around Chicago. This year's a new addition to the program 'Eye on Innovation'. As done each year, EOI had proudly showcasing local Chicago artists at the Gala, including Fashion Designer Mara Pinto, contemporary art presented by Veranda8, Musician Zeshan Bagewadi and the work of talented students from the Fashion Studies Department at Columbia College, Chicago with a spectacular Multi-Media backdrop by award winning filmmaker Prashant Bhargava.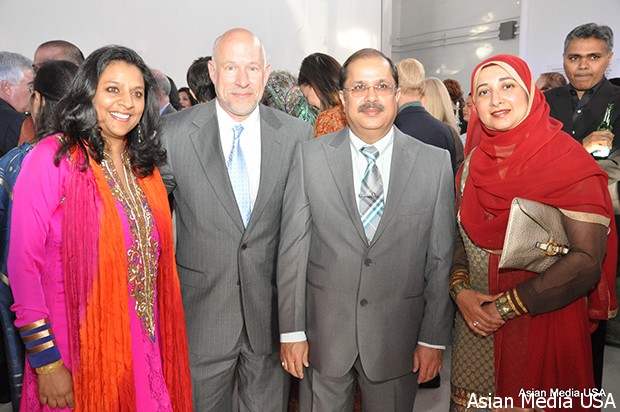 EOI Events include:
• Eye on Innovation on June 7th & 8th a curated weekend of unique and interactive programming which highlights the work of creative entrepreneurs, including Bucketfeet, Freebie, Georama, Idea Lemon, Ishi Vest, Meal Sharing, Veranda8, Whitl, Zero Percent amongst others, organized by Monica Badlani
• Ravi Venkatesan (ex-MD Microsoft India, author of Conquering the Chaos: Win in India, Win Everywhere) and award winning author Rana Dasgupta on June 21st at the Columbia College in conversation
• Cultural Crossroads with Saxophone Sisters at the Space in Evanston on June 22nd and the Sufi Gospel at the Chicago Temple on June 26th.
• Eye on India's first theatrical presentation Hamlet – the Clown Prince with leading theater and film personalities including Rajat Kapoor, Kalki Koechlin, Atul Kumar, Vinay Pathak and Namit Das on June 27th and 28th at the Columbia College. They looked forward to seeing all on June 5th, as well as to welcoming to other Festival events.
Program started with greeting of guests by showering of flowers petals on them from 2nd floor. Anuradha Laheri and Sanjoy Roy welcomed all the guests and gave glimpses of Eye on India program for 2014.. Program started with music from Zeshan Bagewadi, and orchestra presenting Indie-Rock. Stunning Bharatnatyam dance 'Mother Earth' and other numbers were presented by artists from Natya Dance Theatre headed by Hema Rajagopalan and associates Shanthy Nair, Rekha Iyer, Deesha Bhaumik, Nadia, Priyanka and Bhavika. The Fashion Parade was organized by The Design Studio 'Charisma' under guidance of Ritu Boorgue and Fashion Design Dept. of Columbia University. Staffing Manager Tom Sierra of Entertaining Company handled open bar, and delicious varieties of dinner items very well. A new After dinner liquor named 'Somrus' a was freely distributed and enjoyed by the crowd. Anuradha invited Dr. Ausaf Sayeed, Consulate General of India, to address the multitude. Dr. Ausaf Sayeed in his spirited speech welcomed the activities of Eye on India for nurturing Indian culture and other cultures helping propagate building new world. Honorary Ameya Pawar a 1st elected Indian American to as Ald. of 47th Ward, of Chicago and Terry Mazany, President and Chief Executive officer of Chicago Community Trust, each delivered befitting speech commending magnanimous efforts and teamwork of EIO organizers and volunteers.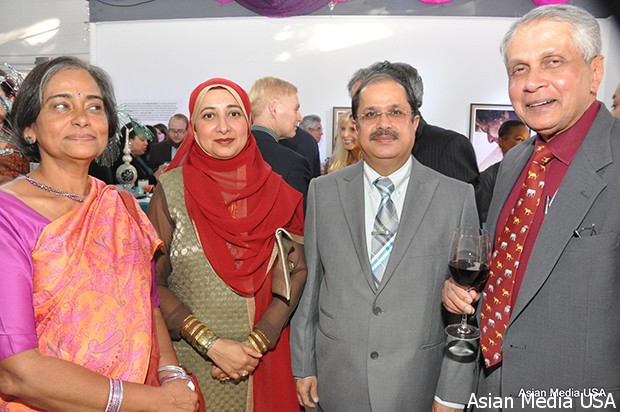 EIO is a Not for Profit Organization with the mission to provide a platform for cultural, artistic and educational exchange collaboration and enhancing understanding between India and USA. These cultural links are expressed through EOI Festival, an annual event in Chicago. EIO is very appreciative of The CHASE Bank, the title sponsor, in their effort to promote diversity and community service in Chicago. The Festival has also received incredible support from the Consulate General of Chicago. Other prestigious sponsors include ICCR, Elissa Efroymson and Adnaan Hamid, Exelon, and SBI who were vital for bringing a Eye on India to Chicago. The festival has also partnered with Columbia Collage of Chicago, Indo Amercian Heritage Museum, IAC, Hamdard Center, Natya Dance Theatre, Moksha Yoga, the City of Chicago , Kalapriya and several other community and art based South Asian organizations.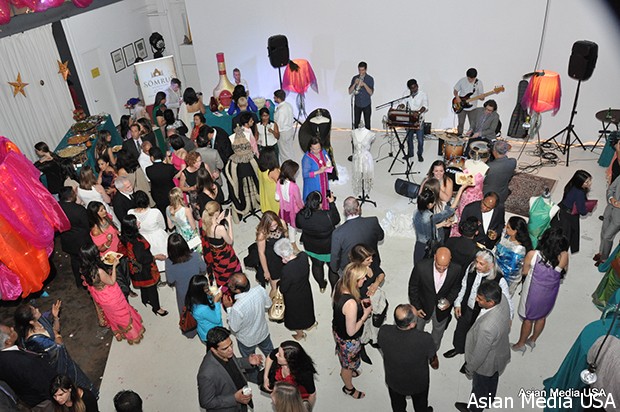 Anuradha Behari, the graceful lady behind this mammoth project answered concept behind, `EIO. `Eye on India is a homage to my country of birth and an effort to introduce its rich cultural traditions and heritage to the Chicago residents. We don't want, just an introduction to the past of India but also what is happening there today.