Celebration of Asian American Heritage Month with Awards Ceremony
Chicago IL: Chicago celebrated its 14th Annual Asian-Pacific American Heritage Month (AAHM) on May 16 with an awards ceremony and cultural program at noon at Richard J. Daley Center downtown. The reception was hosted jointly by Dorothy Brown, Clerk of the Circuit Court of Cook County (CCCC), and Beena Patel, president of the 14-year old Asian American Employees Social Club (AAESC).
This year Mrs. Dorothy Brown, due to conflict in schedule, could not attend the event in person. Her place was substituted by Mr. Michael Moore, executive clerk of Court Operations and Administration Principal Host Mrs.Beena Patel, Asian Committee Chair and Associate Clerk of First Municipal Bureau. Beena opened the event and first congratulated Prime-minister elect of India, Mr. Narendra Modi for his triumphant overwhelming election victory in recent Indian general election.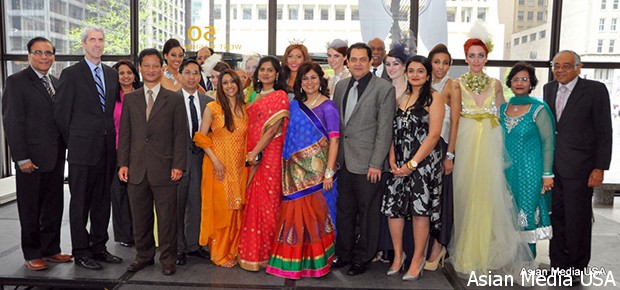 Master of Ceremony 'Miss Chicago' Ms. Marisa Buchheit, individually thanked all the AAESC members and event sponsors. She recognized name dignitaries present, foreign Diplomatic Personnel present including Deputy Council General of India Mr. N. J. Gangate, Media Representatives, Community Leaders, and her own support staff. She recounted how AAHM was started over 10 yrs. ago to celebrate contributions of American Asian-Pacific communities.
Award Presentations:, Award recipients for the 2014 Asian American Heritage Month were:
Jayal Amin,-Community Service Award: Dr. Bharat Barai – Leader in Medicine Service Award; Sgt. Abdul Kapadia –Law Enforcement Service Award/Cook County Sheriff ; Rana Javed Khan – Public Relations/Media Award; Judge Pamela Leeming – Judiciary Service Award; Judge Jessica O'Brien – Judiciary Service Award; Savita Punjabi – Clerk of Circuit Court Asian Employee Award; Dr. Ashish Sen – Political Service Award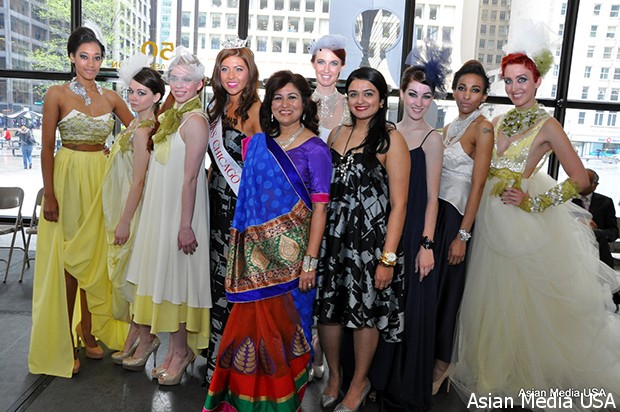 Award Presentations was accomplished by Michael Moore, Ms. Beena Patel, Various dignitaries and Consul Generals
Breathtaking Fashion show Fashion Show and Designer Clothing provided by Prina Bagia she is a daughter of Priva Jewelers. Prina Bagia is a talented clothing, accessory and jewelry designer who hand makes every unique piece from a spare room in her parent's house in Skokie. Born and raised in Chicago, Prina wanted to support her hometown by buying all of her supplies from Chicago based businesses, including her materials, threads and beads. Within two months of debuting her pieces at a Chicago fashion show, Prin by Prina Bagia has gained great popularity within the community. Her high-end gowns, skirts and blouses have been recognized in local papers and blogs with praises on her prefect stitching and bead work that can be specialized to every body type. On May 22nd, Prin will be featured in an exclusive fashion show at Gallery Bar with hopes to attract buyers within the fashion industry. You can find the current "Ready to Wear" line on the Prin website, http://www.prinbyprina.com. Prina's passion for fashion and design started at a young age and her dream is finally turning into a reality!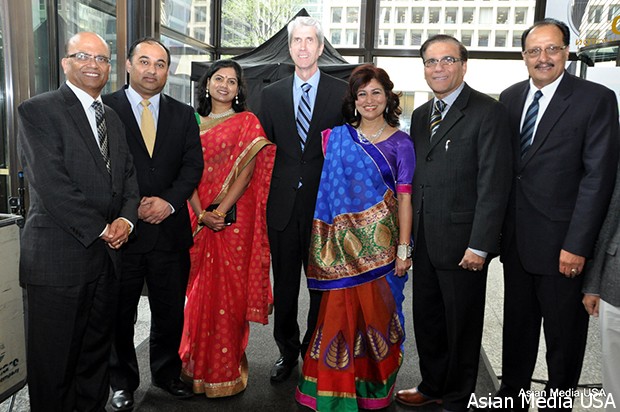 Vote of thank and Closing Remarks: Beena Patel
Sponsored by: Beena Patel and Asian social club members
The program was immediately followed by a luncheon reception at the Clerk's Office at the 10th floor Conference Room,
Asian American Employees Social Club Members: Beena Patel – Chairperson, Devi Annamalai, Eliseo M. Arguelles, Sudhir Bhatt, Susan Chu, Candace Edwards, Bindu M. Kadakia, Said Khan, Naoko K. Klaus, Asif Malik, Christina Nonato, Hansa Patel, Hashmukh Patel, Hemang Patel, Hetal Patel, Manhar Patel, Parimal R. Patel, Pinal Z. Patel, Savita Punjabi, Peter Ravoori and Jawahar Reddy