Sonu Nigam's Stunning Concert Klose to Chicago's Fan soul
Chicago IL : Sonu Nigam Live in Concert "Klose To My Soul " rocked Sears Centre Arena, 5333 Prairie Stone Parkway, Hoffman Estates, IL On Friday – May 16, 2014. The magnificent Sears Centre Arena was packed with a phenomenal number of people who attended this sold out Concert. So far all these years max 4000 people attend show this time break all record.. attendance was over 8000 plus. Chicago and Midwest for making it the Biggest Sonu Nigam Concert Ever In Chicago!!! Sonu Nigam, the heart-beat of Bollywood music and Cinema, who is an actor as well as a playback singer, mesmerize enthusiastic crowd for about 3.5 hour. Tickets for show range from $39, $59, $69, $99, $150, $250 (VIP) and $500 (VVIP). The National promoter of this tour is Balaji Entertainment and the Chicago show was organized by Babubhai Patel, Bhavesh Patel from Sahil and Nick Patel and Mayur Patel from L.A. TAN.
Among himself, Sonu Nigam Live in Concert "Klose To My Soul" had many skilled musicians, all look stylish and very remarkable. Sonu Nigam and his band of 24 musicians The orchestra included 9 violinists, 2 keyboard players, 1 drum player, 3 Dholak and or Tabla players, 2 Congo players, 2 Octapad players, 2 Guitarists, 1 saxophone player, 1 trumpet player and 1 flute player and was conducted by a maestro. Changing lights, large images on LED screens and a spectacular cast which brings more live impact on audiences. Sahil and L.A. TAN has done a fabulous job. The stage was decorated by Sears Centre Arena along with directions from Sonu Nigam team was very impressive. There was state-of-the-art set up on the stage. Sears Centre Arena looked like this before." The sound system was high quality and outstanding. Security did excellent job for general audience. Volunteers team had done outstanding job by doing overall management making the whole show seem most organized and well disciplined.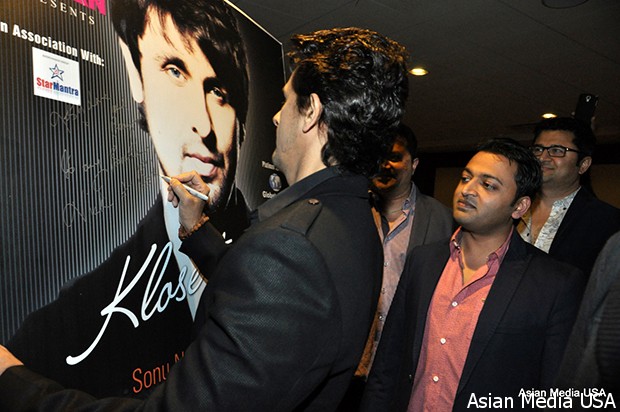 Sahil and LA TAN are pioneer in USA for organizing big shows of Bollywood star in Chicagoland area. Explaining the reasons for success in show business, Bhavesh CEO of Saahil said that it could be because of much bigger group with more musicians and sophisticated equipment including State of the art stage decoration with flickering rotating colorful coordination hypnotizing laser light system to augment the performance impact. With such state-of-the-art set up on the stage, Odeum center never looked like this before. It was a collective effort of Bhavesh Patel, Babu Patel CEO of Shahil, Mayur and Nick Patel, CEO of L.A. Tan.
"I think I am more friendly with Nick and Bhavesh than any other promoters that I worked with; I don't know why that is, I think it's just to do with the fact that they have been so kind and receptive from the first time we met and basically really gracious people and it's always been an enjoyable experience. So I am actually very personally found of both of them" Saif Ali Khan,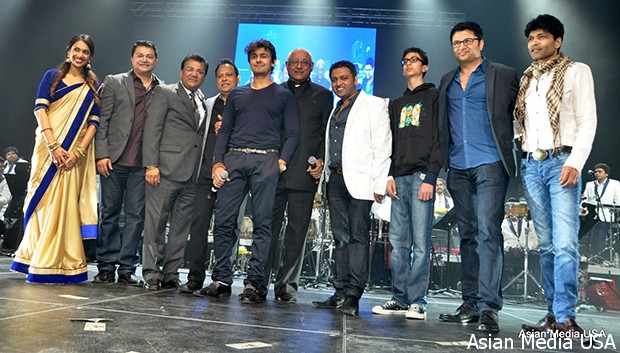 "They are like the most well organized, the most amazing promoters in Chicago" said by Salman Khan
"There is Nick who is a very close friend. Thank You Nick for calling us to Chicago. There is Bhavesh who is making us party all night long, Babu Bhai and Mayur. Thank you guys for calling us to Chicago and yes, let's hear it for them" said by Shah Rukk Khan
"20 years ago, Inn se bhi meri Bees saal pehle mulaqat hue thi, they are Klose to my soul people for the last 20 years" said by Sonu Nigam
"Lots of Love and Prayers to my Brothers Nick & Bhavesh. Happy to be back with you all again. God Bless & More Power" Sonu Nigam wrote and signed on Klose To My Soul poster.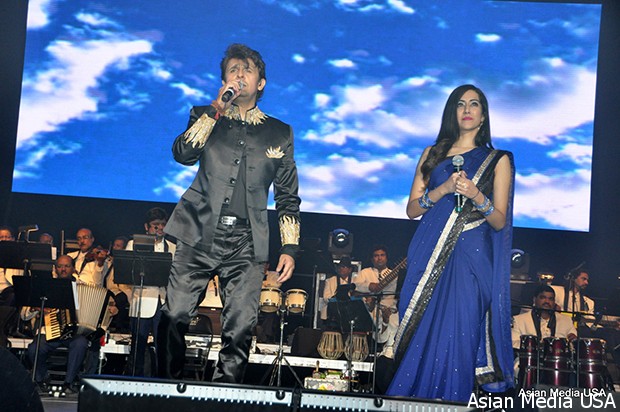 Chicago music lovers were treated to an evening of extraordinary music by the versatile singer, Sonu Nigam and his band of musicians who are currently on a 90-day world tour covering total 17 shows. The first show on May 3, 2014 in Trinidad, Guyana , Washington D.C, New Jersey, Toronto, Chicago (6th show), New York, Atlanta, Houston, Vancouver, San Jose, Seattle, Los Angeles, Dallas, Orlando, Detroit and Last show on June 8, 2014 in Montreal. Aims to give his audience a state-of-the-art show with a bigger orchestra, better lighting and sound while retaining the essence of his Bollywood style of music.
Sonu Nigam Live in Concert "Klose To My Soul" are currently on a world tour entitled, enthralled the audience at North Carolina, Trinidad, and Atlanta. All shows were sold out and the popularity of has reached such a high, that Sonu has decided to extend his stay in the USA till July 16. After his show in New York on June 9, Sonu will perform for the second time in July 2012.
The concert was stated as 8: 35 pm. Opening of show started with Nick Patel from LA TAN. Once again Sahil and LA Tan is promoting a local talent. They are promoting our cultural and heritage and generously encourage young generation by giving a platform to Singers and Dancers. A platform will also be given to politicians. They will represents themselves and express their thoughts and ideas to our community. Shruti Menon performed as Master of ceremony for entire program.
After the warm up of the orchestra, a female singer Jonita Gandhi was the opening performer of Sonu's "Close to my Soul" concerts, [Jonita Gandhi made her mark in Bollywood with the title track of "Chennai Express] sang 2 songs. Sonu was dressed in Gray suit with Gold boarders. The concert was appropriately named "Klose to my Soul", because Sonu belted out over 50 songs that are close to his soul. Perhaps Sonu is the only singer who can only sing in his own style but also sing songs of Mukesh, Kishore Kumar, Mohammad Rafi, Manna Dey, R.D. Burman and even songs of Asha Bhosle and Lata ngeshkar with ease and flair.
Sonu was born on July 30, 1973, success didn't come easy to this powerhouse of musical talent from Haryana. Sonu used to accompany his father to sing at weddings and parties during his teenage years. But at the age of 19, Sonu came to Mumbai with a bagful of dreams in search of his destiny. He moved to Mumbai with his father to begin his Bollywood singing career at the age of 19. After getting his first break for the film, he has already reached the pinnacle of his career in short ten years.
In Mumbai, his playback dreams had to wait a while and Sonu had to do radio commercials, apart from recording songs of legendary singer Mohd. Rafi with the label Rafi ki Yaadein. That album made him reach a wider audience. Trained by classical singer Ustad Ghulam Mustafa Khan, he got a TV break to host a singing reality show Sa Re Ga Ma in 1995, which was a huge hit. Real fame brushed him when he was chosen to give the playback for Anu Malik's composition 'Sandeshe aate hain' in the Hindi film Border.
Nigam is a major force in the music industry with too many awards to list. His work has been well recognized in India and the world over as he got three International Indian Film Academy (IIFA) Awards, four Screen Awards, three Zee Cine Awards, two Lions Gold Award, and three Annual Central European Bollywood Awards for his Hindi songs. He has two Film fare (South) Awards for his Kannada songs as well. An untiring performer, Sonu's official website says, "Stage and Sonu are words which go hand in hand." And he has proven that right with live shows all around the world.
The thunderous applause received after each song rendition was a standing testament to his ever increasing popularity. He also entertained requests from his fans during the show. He was accompanied by Jonita Gandhi and Shruti Menon, who performed solo numbers at the opening and during half time break.
"Meher Dance Troupe" performed dance. Gopi Engineer was Creative Director of dance. Participants were Masumi Amin, Divya Asher, Jan Bhagwakar, Monica Mehta, Arti Phatak, Ravi Shah and Samy Simha
Local singer from Chicago ACE Boogie group, Sabah and Shariq Sidz sing songs
Indian Consul General in Chicago, Dr. Ausaf Sayeed and his family attended the show. Other community members who were in attendance were present in the audience were elected officials, dignitaries, American Politician, Indian and Pakistani Prominent Community leaders seniors and their families.
Besides performing some of his popular hits, he also paid tribute to Late Jagjit Singh and Mehdi Hasan who have made a significant contribution to Indian music industry. He belted out ever green hits of Mohammed Rafi, Mukesh, Kishore Kumar and Manna Dey bringing back the nostalgia of yesteryears.
It was a truly a remarkable show leaving the audience spell bound by his amazing musical talent! His soul and soul deeply imbibed with music brought out his inborn talent and passion for singing. The show ended shortly before midnight with Nigam thanking fans and organizers for their support.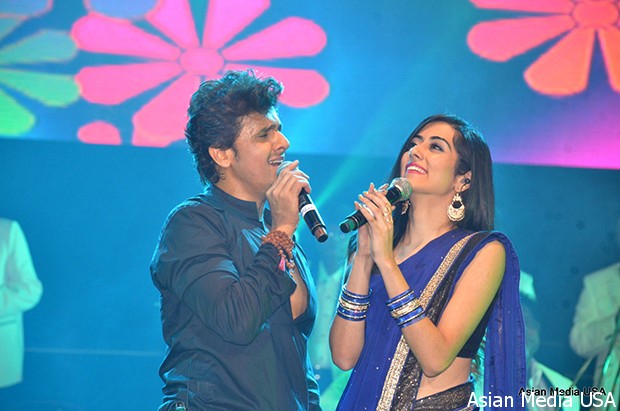 The young and dynamic Bhavesh Patel thanking the crowd, he said, "Thank You Chicago, Thank You the entire Midwest for making tonight's concert sold out." He then thanked his sponsors and supporters, he said, "I would like to thank our associates Dr. Shahid Bhatti of Star Mantra; Dr. Kamlesh Amin; A warm welcome to our consul general of India, Mr. Ausuf Syed sitting here; Platinum sponsor, Mr. Niranjan Shah; Gold Sponsor, Etihad Airways; Artist food courtesy, Sai Saffron; Transportation courtesy, Chicago Motors Cars; Official Photographers, Studio Seven; Social Media Parter, Shalini of Fiery tiger; and The Khan Show; Radio Partner, Savan. Special thanks to Kannu of Al-Mansoor for all your hard work; last but not the least, all the ticket outlets and you the fans for you continues support.
Yeh Cheez Entertainment were the social media and promotional partners of this event. They promoted the event on social media website, on the web, and during community events and local shows by asking Sonu Nigam related Trivia. They promoted the concert through their talk show "The Khan Show" by making promotional videos and showing old Sonu Nigam performances. On the day of the show, the host of The Khan Show, Noman Khan, interviewed people before the concert started and asked the audience "how excited they are?" and "What's their one favorite Sonu Nigam song, which they really want to hear from him tonight?"
Another great concert coming, The Melody Queen "Shreya Ghoshal" Save The Date – Aug 15, 2014 at Sears Centre Arena. As you can tell after Sonu Nigam Live in Concert "Klose To My Soul" Babubhai & Bhavesh Patel from Sahil and Nick & Mayur Patel from L.A. TAN can deliver an awesome show. Be prepared for another fabulous performance