IAMACF Annual Gala and Fund Raising Dinner
Chicago IL: Charitable Foundation chapter of Indian American Medical Association (IAMACF), held their Annual Meeting and Fund Raising Dinner on May 10 2014 at Waterford Banquets, 933 S. Riverside Drive, Elmhurst, IL. The entire colorful event was attended by more than 250 attendees The primary purpose to organize this event was to raise the financial support in running the Free Healthcare Clinics in metro Chicago serving increasing numbers of underprivileged, undeserved and underinsured patients amounting to over 3000 patients in year 2013.
After social hour the event commenced with the national anthem, followed by the energetic and enthusiastic address, respectively by IAMA President Dr. Hemlata Bakane, and IAMACF chair Dr. Rambha Radhakrishnan. In summary, they congratulated IAMACF officials and volunteers for running the free clinic in Chicago for past over 20 years. This success is by the virtue of the unselfish dedication and labor. Dr. Bakane stated that "The God has given us wealth in order to have the opportunity to help and to do well to others. and Dr. Rambha appealed to donate the time and money towards this noble cause. Dr Bakane thanked Dr. Jay Joshi, IAMA young physician committee chair for helping with various skillful tasks ranging from monthly power point presentations to the tedious paper work of submitting the grant and CME credit application to the Chicago Medical Society. Ms. Leslie Ramyk ,the executive director of the Illinois Association of Free & Charitable Clinics, a statewide network of Free & Charitable clinics and executive director of the Ravenswood Health Care Foundation, in her Keynote address pleaded each to help this noble organization dedicated to providing free and quality healthcare to the needy residents of the communities.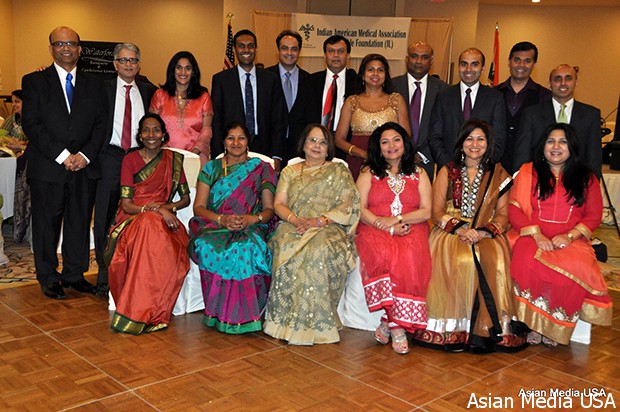 During the award ceremony, a volunteer physician of the year reorganization was given to Dr. Walten Baba for his dedicated service to the clinic. Dr. Baba is a family medicine doctor in Chicago, Illinois and is affiliated with Swedish Covenant Hospital. He received his medical degree from University of Baghdad College of Medicine and has been in practice for 55 years.
Chris Zala – was also recipient of outstanding volunteer award. He is devoted tireless volunteer. Chris served as the Director of the Council on Asian Affairs for the City of Chicago's Commission on Human Relations. Chris helped serve the interests of the Asian American community in Chicago. Chris also served as the Associate Director of the Mikva Challenge, a non-profit youth leadership organization in Chicago that was started by the Hon. Abner Mikva. Chris currently serves on the Board of Directors for the Indian American Medical Association's Charitable Foundation (IAMACF).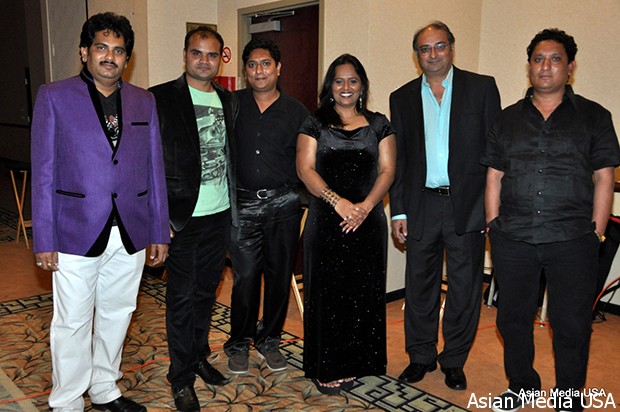 Almost entire audience contributed generously during the fund raising appeal. Over $80,000 was raised. Audience was urged to participate in a 'planned giving program. A planned gift is a donor's commitment to the continuity of the traditions and values of the IAMA-CF through a gift that takes effect after the death of the donor. One can include the IAMA-CF in your will or other estate plans which will provide the financial power the organization needs to continue the programs and help future generations.
Dinner & Entertainment followed, after the Raffle Draw for two round trip Air India Tickets, each valued $ 2,500.
Following vote of thanks by Dr. Anita John, live music Manpasand Entertainment Group
Mumbai Masti followed late till night.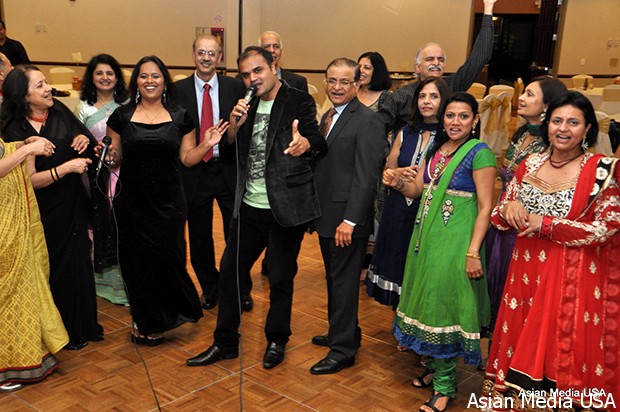 About IAMA
IAMA is a non-profit professional organization comprised of Illinois Physicians of Indian Origin committed to professional excellence in quality patient care, education and community service. The IAMACF Healthcare Clinic has been providing free, primary healthcare to Chicago's West Ridge and surrounding communities for two decades. It serves patients from varying ethnic backgrounds, religions and nationalities. The clinic serves patients who are linguistically and economically challenged, who have no safety net or health insurance.
This free clinic serves more than 3,000 patients annually, from all ethnicity, irrespective of their caste, creed and religion: The clinic also provides with free laboratory and limited pharmaceutical services. Clinic hours are Saturdays and Sundays from 10 am to PM and Wednesday evenings from 4 PM to PM. It is run by volunteer physicians from the Indian American Medical Association (IAMA) and other collaborating medical organizations. The clinic is also an invaluable learning experience for medical students from six local Medical Schools, who are coordinated by New Life Volunteer Services (NLVS). The medical students gain valuable hands-on medical experience, while treating indigent patients from varying cultural backgrounds. It is a great learning environment for our promising future doctors.
Executive Committee Members:
Dr Rambha Radhakrishnan-Chair: Dr Annita John–Secretary, Vasanthi Seeras—Treasurer; Dr Sanjay Amin–Executive Director, Kishore Chugh–Co-ordinator and Chair of the event
Board of Directors & Advisory Committee:
Usha Nimmagadda; Manish Brahmbhatt; Hemlata Bakane; Sudha Velamati; Jitendra Dassani; Aaza Ahmed; Sonia Mehta; Vijay Khianni; ; Neal Patel; Beena Patel;; Chris Zala; Rajesh Chotalia; Jayal Amin Esq.
Sponsors of the Event: Medstar