Live2U splendid show "Bipasha Basu in Chicago"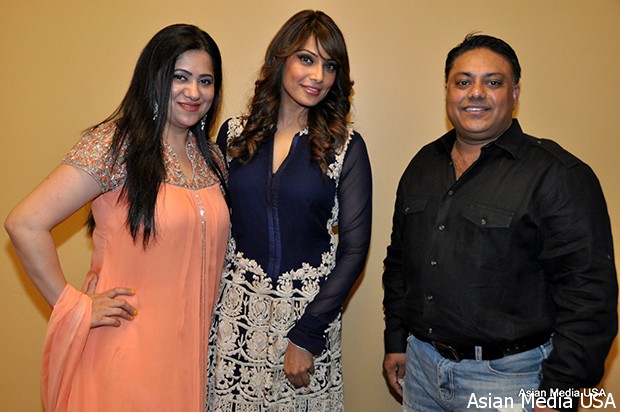 Chicago IL: Live2U organized a splendid show "Bipasha Basu in Chicago" from 6:00 pm on Sunday, May 04 2014 at The Meadows Club, 2950 W. Golf Rd Rolling Meadows, Chicago , IL. It was an unique admixture of Drinks, Dinner , Music , Dance , and Meet and Greet. Special Light effects, Excellent Sound System and a Special Meadows Club Layout for one of the Best show Ever. Audiences were more than 250.
Live 2U is an Entertainment Power House Specializing and Conceptualizing Live Shows and Concerts, Plays in USA and Canada featuring the most sought after Celebrities in the Indian and Pakistani Entertainment Industry, one that is vibrant and full of life.
Sunil Shah-Founder President New FIA; Rishikant Singh-Manager Air India; Suga of Suga Builders; Hina Trivedi; Iftkhar Sharif-Chairman Board of Trustees FIA; Hina Trivedi; Dr. Arun Narang; Ninad Daftary; Raj Patel; Mona and Manjeet Bhalla; Dr. Utpal Parikh attend this show.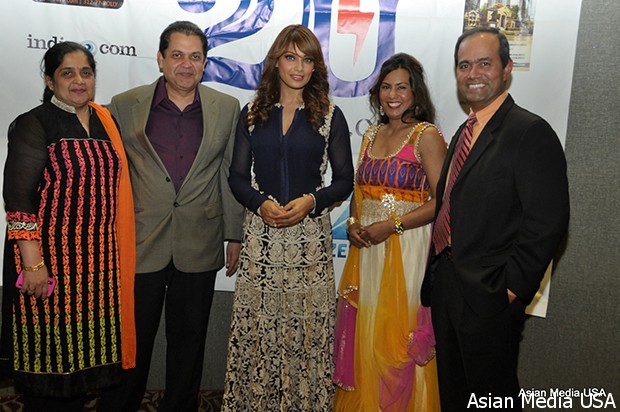 Event started with Social Hour, Appetizers and Dinner. Ryan Khan did excellent job as Master of ceromany for the entire show starting with bang and amidst gorgeous stunning Bollywood Song introduced himself as Host and Dost. He welcomed Katthakali Deshpande to sing song. She sang two songs namely 'Jadu Hai Nasha Hai madhoshiyan, Tujhko Bulake Ab Jaun Kahan' and 'Do Lafzonki Hai Dilki Kahani'. Then upcoming star singer of Chicago Mahijit Singh Virdi sang famous Bollywood Songs 'Kaho Na Pyar Hai…' and 'Jo Vada Kiya hai Who Nibhana Padega…' made the audience hilarious.
Then started star attraction of the event with Myssah Khan and her talented team making the audience dance even on stage presented array of Bollywood Songs with attractive, mind boggloing Dances with famou songs. They started with 'Jadu Hai Nasha Hai madhoshiyan, Tujhko Bulake Ab Jaun Kahan' with mesmerizing Dance and lovely dresses. And then they went on and on. Ryan Khan also sang and dance singing sol as well as with Myssah and different combinations of Dancers and Dresses.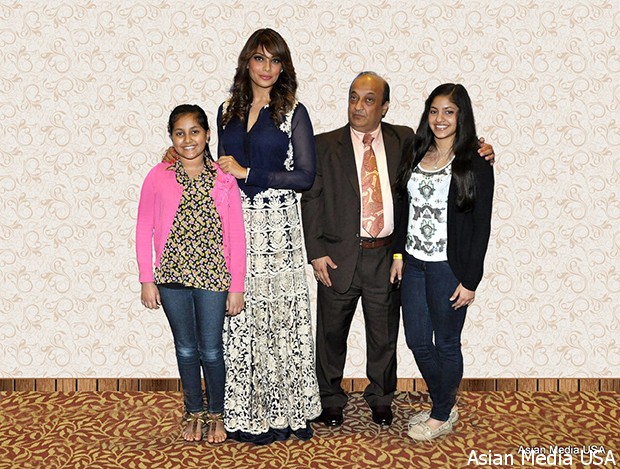 Canadian singing sensation "Myssah" steals the show in Chicago with Bollywood's beauty "Bipasha Basu" Loved the Chicago crowd… very lively… looking forward to coming back to Chicago and performing for them! Canada's Rock star "Ryaan" made the entire audience move and dance to his rocking performance.
Bipasha Basu entered with rousing welcome, she was impressed by Chicago disciplined audience. Vandna Walia put before her three questions namely: Impressions about IIFA Awards? She replied' This was a new experience with Indian American showing tremendous interest in Bollywood and also had experience and opportunity to meet and know Hollywood Actors.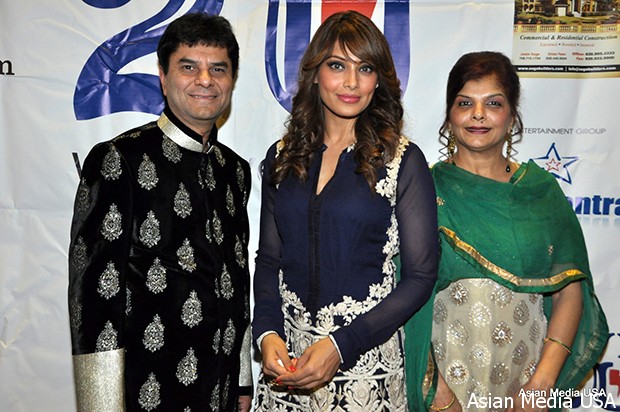 The stunning beauty Bipasha Basu, seems to have chosen a daring color this year for the Tata Motors IIFA Awards 2014. The actress is seen wearing a black number by designer, Rocky S. Now, we all know that black is the perfect color to wear for any occasion and being the Tata Motors IIFA Awards 2014, Bipasha Basu has opted for something way too much, which indeed is a perfect choice. The lovely lady's Rocky S designer dress will make you shiver in the knees. The pattern of the Rocky S dress is so seductive and sensational that she is surely going to break a lot of hearts as soon as she takes the stage at the IIFA 2014 in Tampa. Answering to another question about her health consciousness she replied, I do take care for my helth and everyone must do so. One may practice Yoga, Pranayam, Exercise whatever opt for but there must not be an excuse of getting no time.
When asked for her latest movie she said, 'I am currently busy shooting for the comic caper Humshakals, might be seen next in Siddharth P. Malhotra's production. She asserted that it is going to be love by all- a family movie. Bipasha is busy stretching her wings beyond Bollywood and has released her own accessories line The Trunk Label as well as fitness DVDs. After question/Answer session Photography session was held with all those were present, all were invited table wise as well as group wise.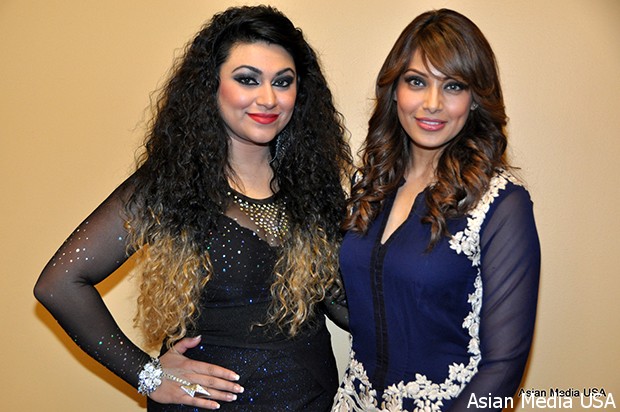 Bipasha Basu (born 7 January 1979) is an Indian actress who appears in Hindi language films. She has also worked in Telugu,Bengali, Tamil and English language films. She had a successful modeling career before venturing into films. Born in a Bengali Hindu family. After leaving successful modelling career, Basu made her film debut in Ajnabee, with Akshay Kumar, Bobby Deol and Kareena Kapoor. Her performances in Apharan (2005), Corporate (2006) and Bachna Ae Haseeno(2008) won her much praise and multiple nominations for several awards. She then appeared in commercial successful films such as All the Best: Fun Begins (2009), Raaz 3 (2012) and also her roles being highly praised by Film Critics. Having done so, Bipasha Basu has established herself as a leading contemporary actress in Bollywood and is a household name. Known for her bold on-screen image and candid confession of her private life, she is frequently named in the media as a "Sex Symbol". She has been nominated for the Filmfare Award for Best Actress and the Filmfare Award for Best Supporting Actress twice each along with one nomination for the Filmfare Award for Best Performance in a Negative Role. Apart from her film roles, she is renowned for her item songs like "Phoonk De" in No Smoking (2007), and "Beedi" and "Namak Ishq Ka" in Omkara (2006) amongst others. Basu made her international film debut with the 2013 Australian Film Singularity.
Bipasha Basu is an advocate of physical fitness. Apart from films, in 2010 she released her first fitness DVD which emphasized on being strong, healthy, and loving one's self. "A celebrity like Bipasha Basu, genuinely believes in staying healthy. She is also passionate about fitness. Bipasha Basu launched her much awaited third of her series fitness DVD Unleash, an advance training routine that includes plyometrics and focuses more on power and speed, while strengthening the bones and improving muscle coordination.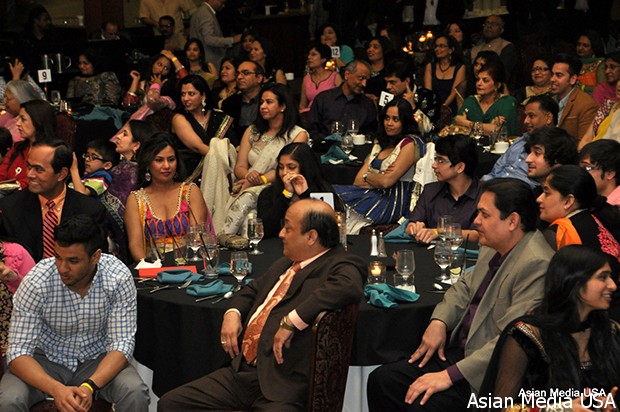 Sponsors: Suga Builders; Sai Saffron Chat House, V Chilli, Air India, Bollywood Groove, Asha for Education, Live2U, India.com, Manpasand, Z TV, Star Mantra Entertain Group, etc.