Outstanding Community Support for The Human Development Foundation (HDF)
Chicago IL: Human Development Foundation (HDF) Chicago Chapter hosted their 17th Annual Fundraising Dinner on Saturday, April 26, 2014 at Double Tree Hilton in Oakbrook, 1909 Spring Rd., Oak Brook, IL. This successful event was sold out, with over 400 attendees joining to support HDF's mission in fighting poverty through its Holistic Model of Development in Pakistan. HDF is presently proving vital services to over 800,000 beneficiaries.
During Social Hour, attendees mingled and browsed through a selection of unique vendors. A full silent auction table exhibited customized and unique gift certificates; exquisite jewelry; and designer outfits.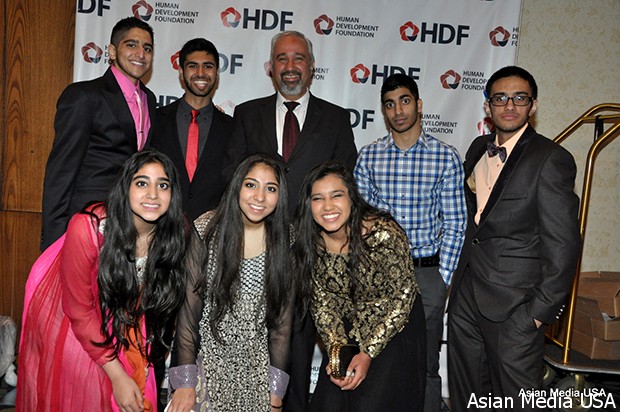 Program commenced with Quranic recitation by Azhar Ghumra. The Chicago community was welcomed by Humaira Abbasi, HDF's Chicago Chapter Chair and Dr. Sajjad Asghar, HDF, Board Member. Mrs. Abbasi thanked all the volunteers, supporters, exhibitors, auction sponsors, and event host committee members who made the event a grand success. A special thanks was extended to entertainment sponsor, Bentley Gold Coast Chicago and Henna Raza of Professional Party Planners for coordinating the event. Mrs. Abbasi also welcomed Chief Guest Hon. Faisal Niaz Tirmizi Consul General of Pakistan and Mrs. Haniya Tirmizi; Dr. Zeenat Anwar, Member of the HDF Board of Trustees from Michigan; Dr. Atiya Khan, Chair Person of the Board, HDF-USA; and Dr. Tariq Khan, HDF Board of Directors from Maryland.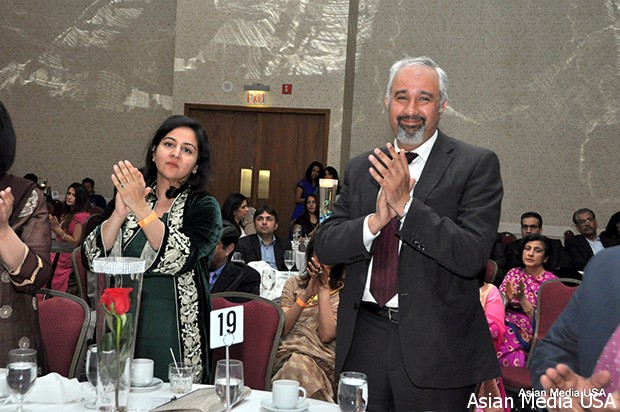 Dr. Sajjad Asghar, highlighted HDF's incredible milestones and achievements, and provided updates on projects that were funded by the generous Chicago Community in 2013. With the support of Chicago Community, HDF is providing vital services to over 48,000 people in Rahim Yar Khan including education, health, and economic development programs.
Other sponsored HDF projects include, HDF-Sonia Shah Memorial School in Charsada, Enoo Bhatti School in Lahore through Shami Memorial Fund, water hand pumps sponsored by Amera Rehman, Shuay Ummeed vocational and technical training project sponsored by Lateifa Gani fund, Rahim Yar Girls School sponsored by Fatima Khan among many other projects.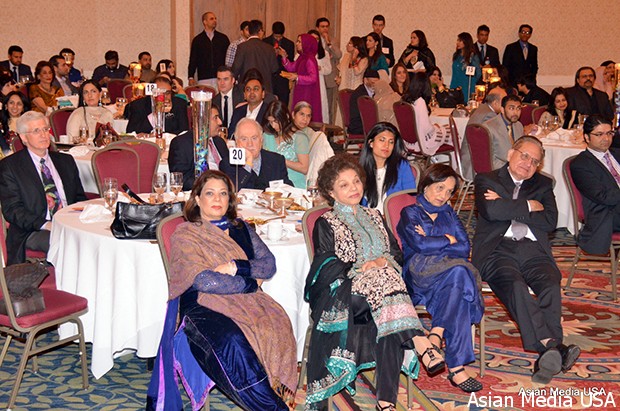 Master of Ceremonies was conducted by Ash-har Quraishi, Emmy Award-winning television journalist, writer, photographer, and film maker. On behalf of HDF, he welcomed everyone and thanked each and every person for their dedication and commitment to support HDF. He asserted that generous contributions help provide access to clean drinking water and vaccinations in regions where preventable diseases are taking unnecessary lives, give underprivileged children a chance to receive an education, and provide resources to families struggling to obtain one decent meal per day.
Ash-har Quraishi's welcome was followed by dinner. A variety of food stations comprised of popular Indian and Pakistani favorites including Haleem, Bun Kabob, and other mouth watering items, catered by Shabri Nihari restaurant.
A powerful Keynote Address was given Dr. Tariq Banuri, HDF Board of Directors, HDF-USA; Professor at University of Utah and expert on Sustainable Development Policy. Dr. Banuri in his thought provoking speech touched upon human rights and poverty eradication in context of Pakistan. He narrated various examples in support of his thoughts and reiterated that we can all play a role in fighting poverty and injustices in Pakistan especially through sincerity and perseverance.
The Keynote address was followed by a brief overview of HDF's work in Pakistan and fundraising led by Qasim Riaz, HDF Chicago Chapter member, and Zainab Khan, HDF-Development Manager.
HDF's out-going Executive Director, Fakhia Rashid was given an Appreciation Award for her commendable service to HDF by Dr. Atiya Khan, Chairperson of the Board-HDF-USA.
This event concluded with a live performance by renowned group, "Zaman Zaki Taji Qawwal." The beautiful Sufi music captivated and mesmerized the audience.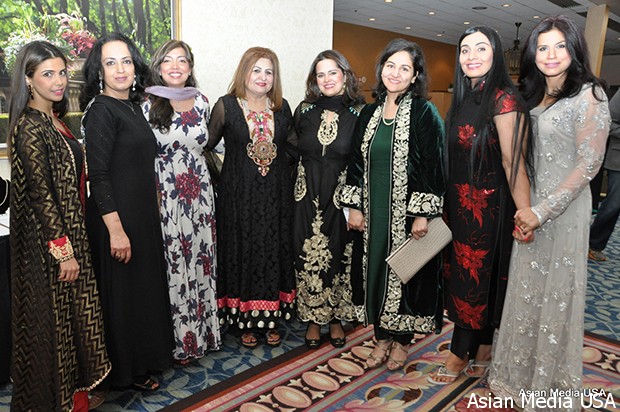 HDF is grateful for the tremendous community support received for this event. If you were unable to attend, you can still contribute and support HDF's work by visiting www.hdf.com or call 847-962-9077.
About HDF: HDF has been fighting extreme poverty through a unique holistic model of development focused on lasting change. The HDF Holistic Model includes programs in 5 key areas: social mobilization, education and literacy, primary healthcare, economic development, and sustainable environment. HDF's mission is to empower communities and individuals with the tools and resources needed to achieve and sustain a better way of life.www.HDF.com