Breathtaking Spectacular Dazzling Performances at PCA Rangla Punjab
Chicago IL: The Punjabi Cultural Society of Chicago (PCS) presented their flagship annual event "Rangla Punjab 2014" to celebrate Vaisakhi festival on Saturday April 19, 2014, at Meadows Club in Rolling Meadows, Illinois. More than 250 participants rendered nearly 30 spectacular variety acts in a talent show attended by more than 1000 guests.
It was 20th anniversary of PCS Chicago's incorporation and 30th year of the event "Rangla Punjab." Dr. Bhupinder Singh Saini of Advanced Pain Management Clinics in Wisconsin was the chief guest. State of Illinois Governor Pat Quinn proclaimed April 19, 2014 as Punjabi Cultural Society of Chicago Day in Illinois. The proclamation was read and presented to the PCS President Pardeep Singh Deol and PCS Chairman Dr. Hargurmukhpal Singh by Ms. Theresa Mah, Senior Public Advisor and Director of Asian American outreach to the office of Governor. The proclamation honored PCS Chicago for its 20th anniversary celebrations and marking the 30th anniversary of "Rangla Punjab" event.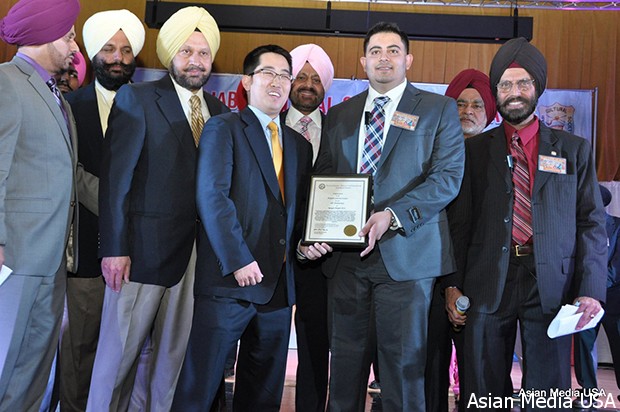 State of Illinois Comptroller Judy Baar Topinka also issued a similar proclamation honoring PCS Chicago and the proclamation was read and presented to PCS Officials by Thomas Choi, Comptroller's Public Affairs Manager. Laddi Singh a Democratic Candidate for Illinois State Representative, 54th District, endorsed by Cook County Democratic Party also addressed the audience and lauded PCS' work and appealed to the community to support her candidacy to become the first Punjabi, Indian, Asian, female to be elected to the Illinois State House.
The program divided in four segments included dazzling and spectacular performances of Bhangra and Gidha dances, delightful Punjabi songs, and music, by local and guest artists from Illinois, Wisconsin and Indiana.
Enthusiastic artists of all ages, talented teenage young boys and girls, college students, and exceptionally entertaining adult artists in a variety of colorful costumes from Illinois, Indiana, and Wisconsin performed their best on stage. Young children were trained by PCS who were practicing since January for this event.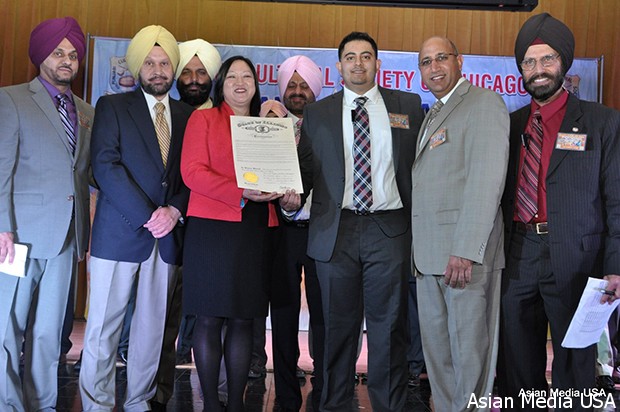 Very well choreographed, vibrant and high energy college competitive bhangra teams in colorful costumes, University of Illinois Chicago "UIC Bhangra," and "University of Chicago Bhangra" rendered breathtaking performances.
The Gidha dance moves by the colorfully dressed ladies from "Milwaukee Gidha" Team and "Chicago Gidhe Diyan Ranian," the young "Chicago Gidha" team, and "Shaunkanna Chicago Diyan" were nostalgic reminders of rural Punjab and won the hearts of the audience with their stellar acts.
Punjabi Youth Club of Milwaukee's "Malwai Gidha," with an authentic native flavor of Malwa region of Punjab, rendered awesome performances.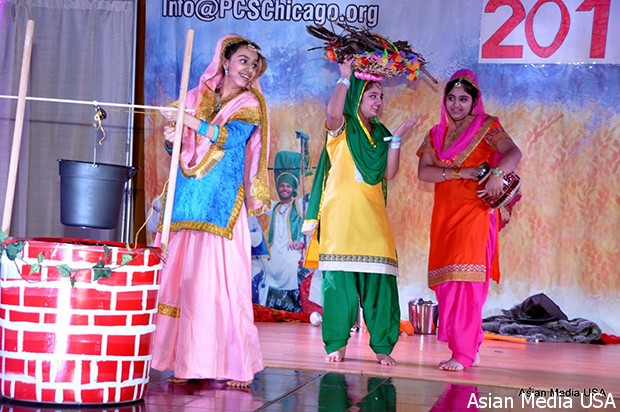 There were many other excellent Bhangra, Gidha, and dance items presented by the local community children and artists. It was really a festival of Punjabi culture and a delightful treat.
Several vendors had setup shop to sell novelty merchandise in the Club's lobby. Posters of Sikh soldiers in World Wars I and II were also displayed in the lobby.
PCS Vice President Ronny Kular welcomed the audience. The program opened with singing of a prayer "shabad" by a group of young children from Palatine Gurdwara Gurmat School, "O, God give us the boon that we never turn away from doing good deeds." (Deh Shiva Bar mohe ihe, shubh karman te kabhu na taron).
The variety program divided in four segments was emceed by Gagandeep Singh Multani & Ranjit Singh Bains; Mona Bhalla & Gurpreet Dhaliwal; Amardeep Kaur Deol & Harleen Kaur Saini; and Rajinder Singh Mago. The back stage coordination and event production activities were managed by Rajinder Singh Mago.
A variety of Punjabi songs delighted the audience. Kanchan ji a versatile singer rendered a melodious song "Akhaan Chham Chham Vasiyaan," Dalbir Kaur Chopra enticed the listeners with "Meri Chunni Diyaan Reshmi Tandaan," and Mahijit Singh Virdi made seniors dance to his song "Babe Bhangra Paonde," Mona Bhalla & daughters moved the audience with their energy, passion and the song "Aetbaar." Harsimran Singh sang "Jehdi Kudi Saade Naal Pau Bhangra," and Manmeet Kaur sang "Heer."
"A fast moving five hour long program with participants ranging from five to fifty in age was incredible, one of the best I have ever seen in community programs. My eyes were glued on stage and everyone around me loved it," said Amrit Mittal of Western Springs IL who came with his family.
P.C.S. also recognized its permanent Board of Governors and Board of Advisors.
Ronny Kular announced P.C.S. Board of Directors for 2014, as Dr. Hargurmukhpal Singh (Hon. Chairman), Pardeep Singh Deol (President), Ronny Kular (Vice President), Surinder Singh Sangha (Executive Secretary), Vick Singh (Finance Secretary), Gurmit Singh Dhillon (Sports Director), Manjeet Singh Bhalla (Inter-community Director), Bikram Singh Chohan (Youth Director), and Surinder Singh Palia (Inter-community Director).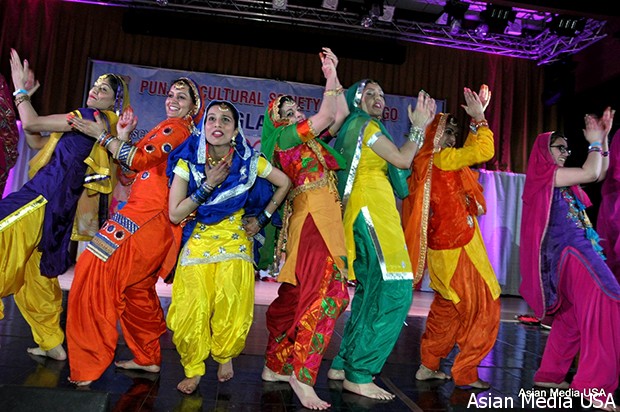 Pardeep Singh Deol is the first Punjabi American born and brought up in the U.S. to become the president of P.C.S. Chicago. The intent is to mentor and get the next generation involved in the management of the organization.
Rajinder Singh Mago was introduced on the stage as the co-founder of the 20 years old Punjabi Cultural Society of Chicago and the one who initially gave the name "Rangla Punjab" to this 30 year old Punjabi cultural event in Chicago.
Mago conducted the awards and recognition ceremonies in cooperation with Sunny Kular. Outgoing PCS president Surinder Singh Sangha was awarded a plaque for his excellent services during his term. Surinder Sangha thanked his team for their full support through the past year. Outgoing PCS Chairman Lakhvir Singh Sahota was similarly honored. Sahota praised the good works of PCS Chicago.
Dr. Bhupinder Singh Saini was honored with a plaque for his continued moral and financial support to PCS, by PCS Chairman Hargurmukhpal Singh, PCS President Pardeep Singh Deol, Past Chairman Lakhvir Singh Sahota, Past President Surinder Singh Sangha, and other PCS officials.
"I appreciate the wonderful work that PCS and its dedicated board members are doing," said Dr. Saini, and urged the community to support PCS activities to keep our culture alive.
Dr. Hargurmukhpal Singh said that he has been attached with PCS ever since his own children were growing up here and PCS has been instrumental in imparting Punjabi culture to community's next generation including his children.
PCS President Pardeep Singh Deol thanked the participants, coordinators, sponsors and the community members for their support, and also recognized in the audience. The Sikh Religious Society Palatine President Sokhi Singh made an appearance and conveyed the Vaisakhi greetings to the audience and congratulated PCS for the valuable community service it is doing.
The program was sponsored by Advanced Pain Management Milwaukee, Dr. Narinder S. Grewal – California, Dr. Surjit Singh Patheja, Mohina Ahluwalia, Harinder Singh M.I.T.S., Dr. Amarjit Singh, Bhagwant Kaur Sidhu, Amrit Mittal (New York Life), Suga Builders, Bhaura Transport (Indianapolis), Gurdeep Singh Nandra, among many others.
The program was organized by Pardeep Singh Deol, Ronny Kular, Surinder Singh Sangha, Vick Singh, Bikram Singh Chohan, Gurmit Singh Dhillon, Manjeet Singh Bhalla, Surinder Singh Palia, Sunny Kular, Balwinder Singh Girn, Mohinderjit Singh Saini, Baljit Singh Sidhu, Parminder Singh Ghotra, Jasbir Singh Palia, Thakar Singh Basati, Sukhmel Singh Atwal, Amarjit Kaur Atwal, Bhinder Singh Pamma, Yadwinder Singh Grewal, Harwinder Paul Singh Lail, Onkar Singh Sangha, and Rajinder Singh Mago.
The young community children performers were trained by many P.C.S. volunteers and item coordinators who worked hard for the last three months. The coordinators include, Raj Dhaliwal, Gurpreet Dhaliwal, Nalini Patel, Amrit Kaur Thind, Sukhwinder Kaur, Surinder Singh Palia, Simran Dhillon, Amrit Kaur, Ruby Kaur, Natasha Kaur, Jasleen Kaur, Amardeep Kaur Deol, Harleen Kaur Saini, Sukhvir Kaur Dhillon, Vicky, Hunny, Sukhi and Bawa, Beant Kaur Virk, Jaskaran Singh Saini, Gagandeep Singh Multani, Supreet Dulat, Nitesh Khetrapal, Taranpreet Nagra, Sukhwinder Kaur and Tejas Anturkar.
Many volunteers who helped in organizing and running the show included Sukhwinder Kaur, Amrit Kaur, Jeetu Kaur, Jaskarn Saini, Amrit Girn, Gurpreet Girn, Ranjit Singh Bains, Preeti Bains, Ajay Singh Bhangu, Rashpal Singh, and Surinder Singh Bhatia.
The VIP delicious dinner and participants refreshments were prepared by Meadows Club.
Punjabi Cultural Society of Chicago (PCS) was incorporated two decades ago, and this traditional annual Punjabi cultural program "Rangla Punjab" has been running for three decades. This is the single largest annual Punjabi cultural event in Chicago area that show cases the Punjabi performing arts and promotes the local community talent. Its purpose is to impart Punjabi cultural values to our next generation born and brought up here in America and also to share it with the American mainstream. It is also to unite and build the community living here through a common cultural bond and such celebrations.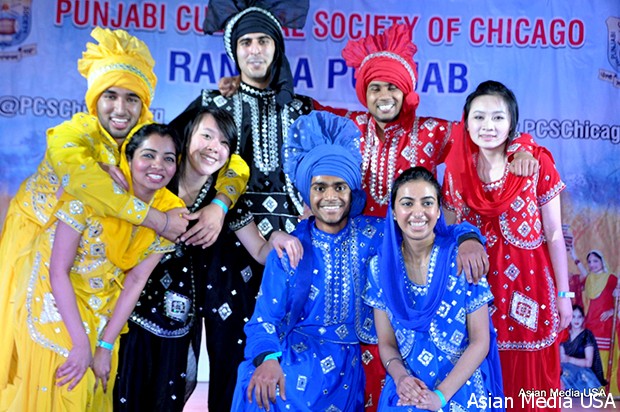 About Vaisakhi:
Vaisakhi is a very popular cultural festival in Punjab India. It is a harvest and spring festival, a new year, and signifies renewal and rejuvenation.
""Vaisakhi has a special significance for the Sikhs, actually it should be for everyone. On this day in 1699 the tenth Sikh Guru, Guru Gobind "Rai" became Gobind "Singh" and ordained the egalitarian order of Khalsa, said Rajinder Singh Mago, "This was an amazing act of unifying humanity by rejecting the caste system prevalent in India. Guru Gobind took five devotees, one Daya Ram of Khatri caste from Lahore Punjab, second Dharam Das a Jaat (farmer) from Hastina Pur U.P., third Himmat Rai a water bearer (Kumhar) from Jaganath Puri Odissa, fourth Mohkam Chand a tailor/calico printer (Chhimba) from Dwarka Gujrat, and fifth Sahib Chand a barber from Bidar Karnatka, and initiated them with Amrit Ceremony. Guru asked them to drop their cast affiliated last names, and all to drink Amrit (immortalizing nectar) out of the same bowl like a family, and become one human race where all males will have their last name as "Singh" and all females "Kaur." Thus he empowered those down trodden people in servitude to be equal to higher castes. Then he asked these "Panj Piyare" (five beloved ones) to initiate him with the same Amrit ceremony that he initiated them with, to remove any barriers between the Guru and the followers. So the first five Khalsas were not all Punjabis, they belonged to five different states of the country, and were people born in five different Hindu castes, including three from "Shudra" lower castes. This was way above national integration, this was integration of humanity,"" Mago added.
About P.C.S. Chicago:
The upcoming P.C.S. organized events are "Punjabi Youth Graduation & Scholarship Night" dinner and party on June 8, 2014 at Viceroy of India Banquets in Lombard, IL. All the Punjabi graduates are requested to register with PCS. The Rangla Punjab 2014 participants will also be honored.
"P.C.S. Sports Festival" a basketball tournament is slated in July, 2014.
"PCS Chicago Bhangra & Gidha Competition" is scheduled for November 8, 2014.
The Punjabi Cultural Society of Chicago is a volunteer not-for-profit community service organization devoted to promoting Punjabi culture, language, performing arts, education, good citizenship, healthy life style, and sports in the metropolitan Chicago area.
For further information please contact:
Punjabi cultural society of Chicago, P.O. Box 1244 , Palatine , IL 60078
Ph: 847-359-5727, e-mail to info@PCSChicago.org / PCS website www.PCSChicago.org