Hari Om Mandir celebrates 27th Anniversary and Baisakhi with great pomp
Chicago IL: Hari Om Mandir celebrated its 27th Anniversary and Baisakhi on 13th of April with great pomp and show. A large number of devotees attended including many founder members and seniors who helped grow the temple. On this occasion our both priests Shastri Yogesh Pandya and Pandit Dinesh Kumar did a Havan for the well being of all members who contributed in many ways towards the growth of the temple. We also did the Shanti Path in the memory of our beloved ones who work hard for the growth of the temple and went to Lord`s feet.
Mandir celebrated the Baisakhi with exuberance and gaiety. Pratibha Jairath, Raju Bankapur and other singers sang bhajans and Punjabi songs. Baisakhi is the time when the new spring year begins and the harvesting of the rabi crop ends in various parts of India. The festival is thus filled with enthusiasm, vibrancy and absolute color especially in the northern and many other parts of India. Farmers thank Mother Nature for the bountiful harvest and together pray for the welfare and prosperity in the coming year.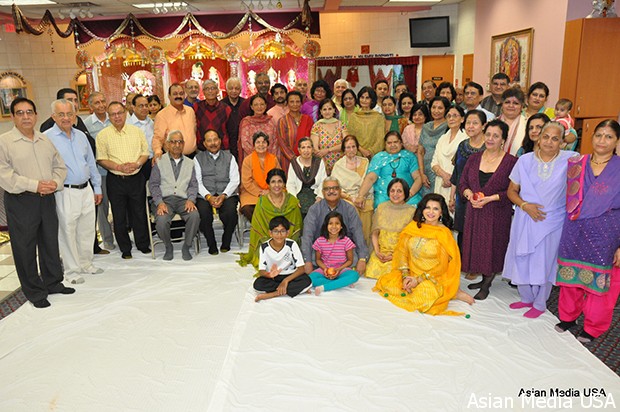 Ayodhia Salwan (Chairman) and Indrajit Sarkar (President) greeted everyone on the occasion of Baisakhi and thanked all the founder members and senior members for helping hand in hand to grow Hari Om Mandir. Recognition award was also given to Brij Sharma and Sham Rawal for their services in the past term by Mr. Salwan and Mr. Sarkar.
Hari Om Mandir extends its thanks to all the devotees for their generous donations. All are welcome to the Hari Om Mandir for the upcoming event of Akhand Ramayan Paath and Mothers day celebration.
Executive Board: Indrajit Sarkar;President, Anil Saxena; Vice President, Sneh Chaudhary; Secretary, Gopal Tiwari; Treasurer, Rajeshwari Rawat; Special Events, Sham Taxali; Inside Property Management, Ramesh Bhardwaj; Outside Property Management, Jeetu Patel; Publication, Usha Verma; Food & Prasad.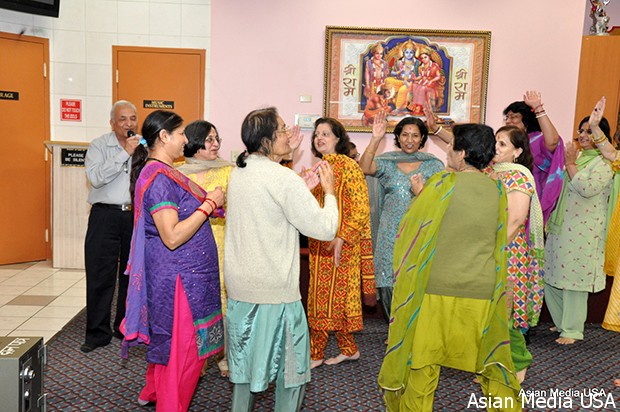 Board of Trustees: Ayodhia Salwan; Chairman, Nirmal Bagga; Vice Chairman, Mohan Karamchandani; Secretary, Naveen Paul; Ram Verma; Mahendra Thakkar; Subhash Sharma; Amar Singla
Priests: Shastri Yogesh Pandya & Pt.Dinesh Kumar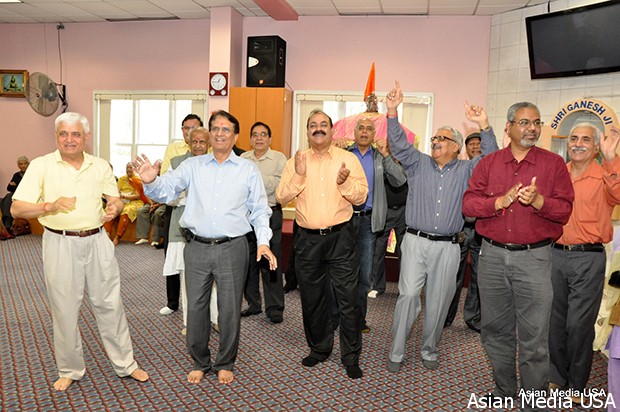 About Hari OM Mandir
Hari Om Mandir located at DuPage County in the heart of Chicago land. The Mandir has statues of all major North Indian Gods & Goddesses. Every Sunday there is a Havan and general congregation followed by Aarti and Bhojan Prasad. On every first Saturday of the month we have Devi Jagran from 7 – 10pm. Every Monday there is Shiv Puja and every Tuesday we have Hanuman Challis Path. There are two learned priests available in temple, for Poojas, Havan, Kathas etc in the temple and at home. Please visit Hari Om Mandir at 6N020 Medinah Rd, Medinah, IL. Phone: (630)980-0900 http://www.hariommandir.org/