FIA Chicago celebrated Holi with colorful function at Waterford banquet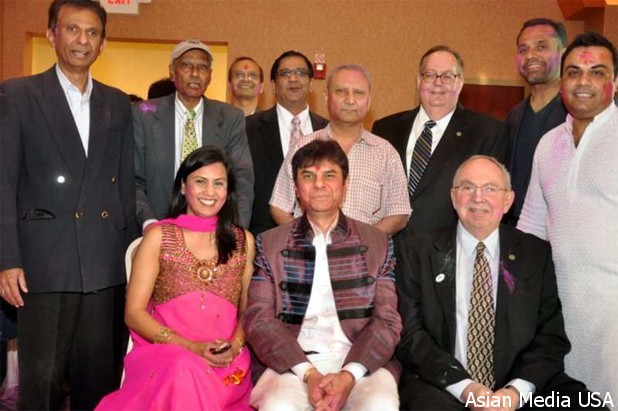 Elmhurst, IL: Federation of Indian Associations [FIA-Chicago / New] celebrated the colorful festival of Holi at Waterford Banquet & Conference Center, 933 S. Riverside Drive, Elmhurst, IL 60126, on March 20, 2011.
Attended by over 200 members of the Indian American community the function was graced by several dignitaries, including the Schaumburg Mayor Al Larson, Village trustees and the Executive Committee, Dilip Patel of Six Gam Patidar Samaj, Suryakant Patel and Kamleshbhai of Gujarati Samaj, members of the FIA Chicago, viz., Sunil Shah (President), Onkar Sangha (Exec. Vice President), Babu Varma (FIA Vice President & Indian Christen Federation of Midwest community leader), Sunny Kular (Vice President), Monty Saiyed (Vice President), Shahid Razvi (Secretary), Jaswant B. Singha (Joint Secretary), Nilesh Khot (Youth Director), Sahaj Shah (Youth Director) and Swapnil Shah (Youth Director).
In his welcome address Sunil Shah, expressed his special thanks to the esteemed dignitaries who have taken time out of their busy schedules attend this event. He pledge that he would endeavor to bring about unity of Indian community of Chicago offering opportunity to the organizations and people to come together to enjoy their common heritage shared for centuries. The messages received from the well wishers and politicians were read out. Lavishing praise on the accomplishments of Indian Americans Mayor Larson in his message said, "On the colorful festive occasion of Holi, I would like wish the Indian community in Schaumburg and at large colors of happiness, colors of friendship, colors of love, Happy Holi!"
In recognition of the excellent services rendered by the Indian American Community, he said, "My office has declared Feb 20th the "Federation of Indian Association Day" in Schaumburg." A proclamation was given to Mr. Sunil Shah the President of FIA-Chicago.
He also acknowledged that Neil Khot Youth Director of FIA-Chicago, Dhitu Bhagwakar and Sunil Shah President of FIA-Chicago were very helpful in organizing fundraisers, meet and greet with the community. He urged voters to take advantage of the facility offered by the village to vote in advance. An excellent entertainment program with blend of classical and Holi dances was beautifully choreographed by versatile dance director Falguni Rana of Suhani Dance Academy comprised of 6 different dances such as Holi dance, folk dances, classical Indian dances by girls from age group 5 to 18. DJ Ruckiss (Sahaj Shah) had the crowd dancing non stop on the spell bounding music and songs for about 2 hours. An entertainment program with a mix of Indian music and dance followed.
In an interview with Suresh Bodiwala, chairman of Asia Media USA, Sunil Shah said: Bright colors, water balloons, lavish gujiy as and melodious songs are the ingredients of perfect Holi. Wish you a very happy and wonderful Holi. May God gift you all the colors of life, colors of joy, colors of happiness, colors of friendship, colors of love and all other colors you want to paint in your life. Happy Holi, "This was like a Holi Milan," Sunil Shah President told to Suresh Bodiwala, chairman of Asian Media USA.
The Federation of Indian Associations (FIA) of Chicago is a non-profit umbrella organization of other Indian associations in the Chicago land and Mid-West area for the Indian community.
The FIA Chicago, in cooperation with the other Associations are working with various local, State and National gencies to protect the interest Asian-Indian in the fields of Immigration, Social Welfare and Business Commercial Interest. The Indian communities concern on various issues is continuously communicated to the government and to various political leaders. FIA Chicago will celebrates various events that bring together all Asian-Indian like Indian Republic Day, Indian Independence Day and Diwali. The annual Indian Independence Day Parade will be held around the Shamburg Area to showcase progress and unity of many diversified ethnic Indian communities.
Bharti Desai was the Master of ceremony. Bharati immigrated to USA in 1986 and has performed in over 300 garba and Hindi film song programs in the United States. She has to her credit many albums creating a a niche for herself in the cultural life of Chicago Indians.
Holi event was supported by Vishwa Gujarati Samaj, United Senior Parivar, Six Gam Patidar Samaj, Punjabi Cultural Society and Gujarati Samaj of Chicago. Vote of Thanks was proposed by Babubhai Varma. Delicious Indian dinner was served.
Shaila Khedkar is professional singer and hails from musical family of parents and siblings who has been also well known singers in India. She continues the tradition here.
Recently, she was awarded "Versatile Singer" Award at MAAC function held on Oct 2, 2010 at India House. She performs on Karaoke and with live band and sings Guajarati Geet, garba, wedding songs, old and new songs, Marathi's Bahvgeet, ghazals and bhajans.
Raju Bankapur, who is known to many as Kishore Kumar of Chicago, has been performing all across the United States for more than 15 years and in more than 300 Shows. He has sung on stage with many Bollywood singerssuch as Mahendra Kapoor, Suresh Wadkar and Sharada of "Titli Udi" fame.
Photographs and Press release by: Asian Media USA
Suresh Bodiwala
Chairman
Asian Media USA
Bus: (847) 679-8583
Fax: (847) 679-5336
Cell: (847)420-4789
sbodiwala@sbcglobal.net
Copyrights (c) 2010 – Asian Media USA
No one shall download or otherwise duplicate the graphics, images, press release and written content from the PDF without our express written permission. Likewise, no one shall reuse the aforesaid things, as the same are the intellectual property of the Company, we hereby reserve all rights
Disclaimer: – Asian Media USA
"The information in this e-mail and any attachments is confidential and may be legally privileged. It is intended solely for the addressee or addressees. If you are not an intended recipient, please delete the message and any attachments and notify the sender of misdelivery. Any use or disclosure of the contents of either is unauthorized and may be unlawful. All liability for viruses is excluded to the fullest extent permitted by law. Any views expressed in this message are those of the individual sender, except where the sender states them, with requisite authority, to be those of the Asian Media USA