Dhwani Entertainment presents Tribute to Legendary Bollywood Singers
Chicago IL: Dhwani Entertainment (Promoters of Local Talent) presented "Fabulous Six- Tribute to Legendary Singers of Bollywood" at Elgin Community College, Art Center Building, H, 1709 Sparten Dr., Elgin IL. on Saturday, March 8, 2014 starting from 3:00 pm. It was a breathtaking on stage show. Fabulous Six Legendary Singers of Bollywood are Kishor, Manna Dey, Rafi, Mukesh, Asha and Lataji. There were talented artists with Live Orchestra by M3 Group of Chicago- Amit Kumar on Key Board; Ken D'Souza on Guitar; Sudhir Krishnan on Drums; Puranlal Vyas on Tabla/Dholak and Dances were performed by Tarana Kathak Dance Academy by girls under guidance of Shital Dhanani. They presented various Dances along with songs compiled by Legendary Music Directors.
Shaurin Thakkar was MC of the program. One after another Melodious Songs close to our hearts for every mood, Happy, Sad, Romantic, Masti, remembering Six eternal Bollywood Legendary Six Singers- Lata Mangeashkar, Asha Bhonsle, Mohammed Rafi, Kishore Kumar and Mannadey were vocalized by Chicago's very best singers like Shaila Khedkar Rajesh Chalam and Padmini Rao. Other presenters were voice of 'Manna Day', Mr. Virendra Kothariji and another very popular Versatile Singer Sreepathyji, and Nipa Shah. Joining the chorus were Chicago's very own Amazing M3 band including Midwest's Legendary Tabla player Puranlal Vyas. Fabulous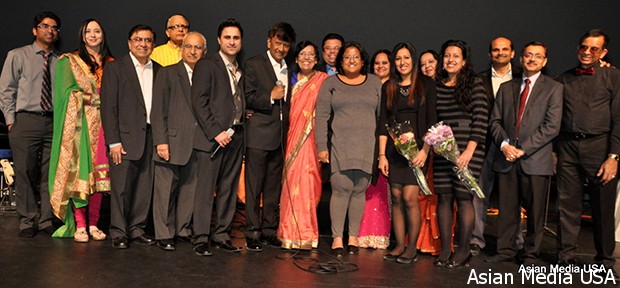 Dhwani is a conception of Virendra Kothari who is a gifted talented born singer in Musical programs for more than 15 years. After settling down in Chicago, he started 'Dhwani' to foster Indian music. According to Virendrabhai, "Dhwani's main goal is to promote upcoming artists and provide them platform to air their talent". This was his second program since inception. Due to overwhelming response, Virenbhai is determined to organize such singing and dance programs in future. In future, Virenbhai wants to promote artists from all over USA by inviting and promoting them to participate in such event.
There were two beautiful Dances presented by Tarana Kathak Dance Academy Choriographer Sheetal Dhanani is the founder and director of this organization. CPA by profession, and with the goal of promoting Indian Culture in America, Sheetal is a Master Choreographer and Music Composer., Sheetal Tarana Kathak Dance Academy was started in 1994. Today Tarana Kathak Dance School is the Oldest and the Largest Kathak Dance School in the Chicago land area.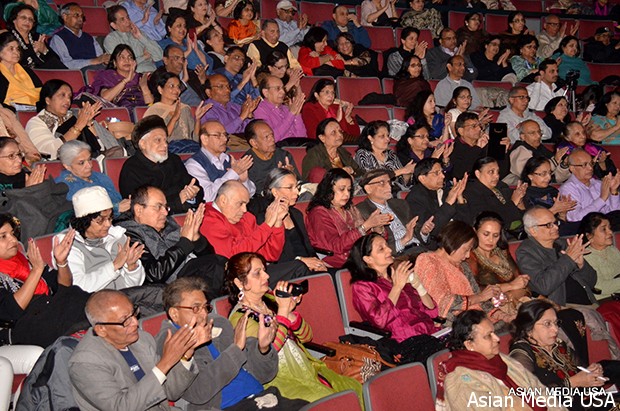 Incidentally it was 38th Wedding Anniversary of Virendra Kothari, who called on his wife on stage along with their three daughters. Virendra Kothari paid tribute to his wife by singing 'Hamen Aur Jineki Chahat Na Hoti Agar Tum Na Hote'.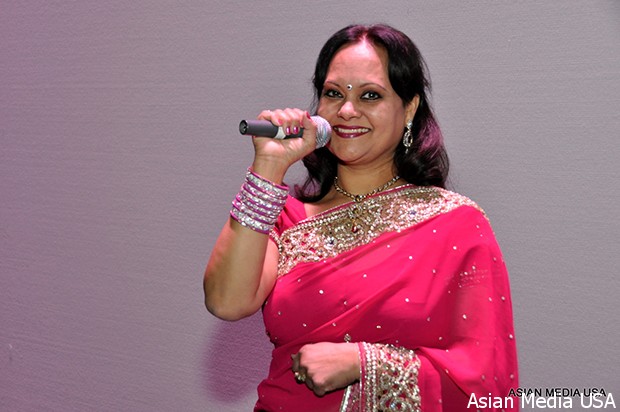 Suresh Bodiwala, Chairman, Asian Media and Jyotikumar Chokshi, Editor, Asian Media had covered the entire event.