Consul General Dr. Ausaf Sayeed hosts a rousing welcome reception to Ambassador Dr. S. Jaishankar
Chicago IL: In spite of the inclemency of the arctic weather, the exquisite welcome reception for His Excellency Dr. Subramanyam Jaishankar, Indian Ambassador to U.S. hosted by Chicago Consul General Dr. Ausaf Sayeed was profoundly warmed by the presence of Chicago's stellar leadership echelon who collectively exhibited a spirited rousing welcome to the new Ambassador at the Union League Club in downtown Chicago on February 27, 2014.
In glowing terms, host Dr. Ausaf Sayeed, Chicago's Consul General of India welcomed Ambassador Dr. Jaishankar and defined Ambassador as a brilliant diplomat enriched with three decades of shining international diplomatic experience. Dr. Ausaf Sayeed eloquently outlined Ambassador's luminous credentials replete with milestone accomplishments that evoked goodwill applause from the guests.
This finely elegant reception assumed a greater significance as Dr. Subrahmanyam Jaishankar took charge as the Ambassador at a challenging time in the Indo-US relations strained by the Indian diplomat episode in New York.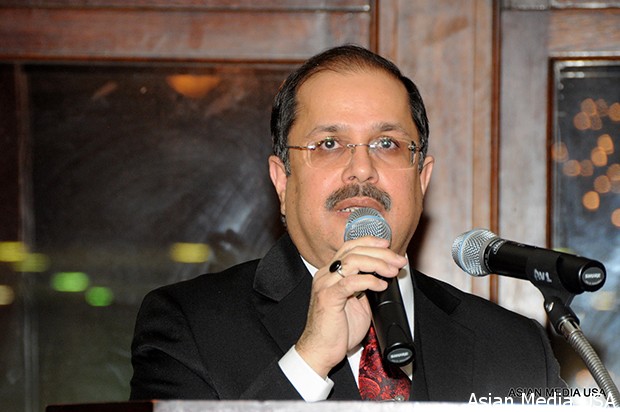 In his address His Excellency Dr. Subrahmanyam Jaishankar heaped praises on the Indian American community as a 'model community' for their remarkable achievements. He that 'romance phase of courtship' has ended, and hard work is ahead. Speaking in sub-zero temperatures outside and against the backdrop of cooling of ties between the India and the United States, India's new ambassador to Washington S Jaishankar told American diplomats, corporate and strategic elites on Thursday that although "current sentiment seems less than positive," the two countries "can neither afford dilution of attention nor weakening of faith" in ties that were always fated to come together.
S. Jaishankar, India's ambassador to the U.S., says he wants to aim high to elevate confidence of the India-U.S. relationship. As you would say in the markets, the fundamentals are good, it's the sentiment that needs improving,' he said. India has warned the United States of negative consequences for its future economy if lawmakers tighten visa rules on high-tech firms as part of an immigration overhaul.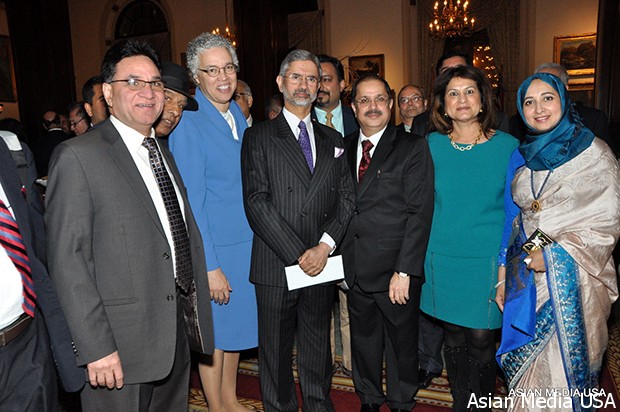 At the conclusion of his address, Hon. Ambassador of India Subramanyam Jaishankar thanked Dr. Ausaf Sayeed, Consul General of India to host the memorable event. He emphasized the need and importance of close mutually beneficial relationship between India and US mainly because both are world's old and leading Democratic Nations.
On this occasion, present on Behalf of Governor of Illinois Quinn, Ms. Theresa Mah Senior Policy Advisor & Director of Asian American Outreach read welcoming and congratulatory message.
There were many dignitaries present in the audience which included Swati Dandekar,State Rep. Iowa; Tony Preckwinkle, President, Cook County Board of Commissioner; Ameya Pawar, Alderman, 47th Ward; Divya Sarang, Public Prosecutor, Chicago City Hall; Daniel Goff, Dy. Dir. Trade & Investment, State of Illinois; Andrew Spinelli, Dy, Dir., Mayor's Office; Amardeep Kaleka, Candidate, Congressman; Manju Goel, Candidate, Congressman; Dorothy Brown, Cook County ; Douglas Druick, President, Art Institute; Dr. Bharat Barai, Oncologist and Leading Community Leader; Naren Patel. CEO Medstar Laboratories and Leading Community Leader; Sanosh Kumar Executive Director MAFS; Team of Indian Association of Indiapolis; Hemant Shah, President, Jain Society; Rajinder Singh Mago; Harijinder Singh Khaira; Balvindersingh; Basanti Banerjee; Niranjan Shah; Dr. Asit Sen; Dr. Bharat Barai, FIA PresidentKeerthi Kumar Ravoori, Kanti Patel, Sohan Joshi and many more.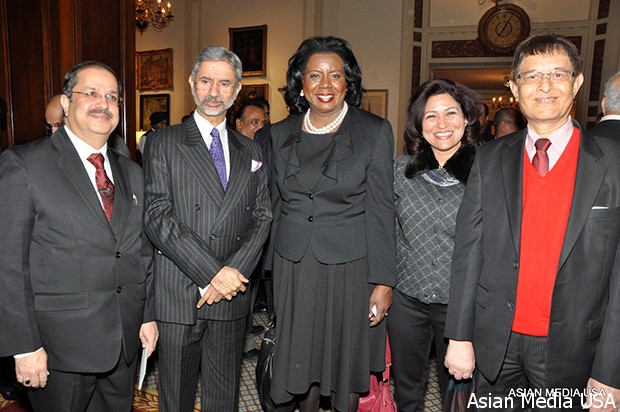 Born on 9 January 1955 Dr. Jaishankar is a career Indian civil servant and diplomat with impeccable credentials. His previous appointments included India's Ambassador to the People's Republic of China and Czech Republic, High commissioner to Singapore etc. During era of President Bush he played a key role in negotiating the US-India civil nuclear agreement.. He is a graduate of St. Stephen's College at the University of Delhi, and has an M.A. in Political Science and an M. Phil. and PhD in International Relations from Jawaharlal Nehru University , where he specialized in Nuclear Diplomacy.
Dr. Subrahmanyam Jaishankar has been appointed as the Ambassador of India to the United States of America in succession to Smt. Nirupama Rao. As India's Ambassador to USA, he has a great challenge and opportunities ahead to build new bridges of friendship and strengthen relations in spite of current blip in our relations.
Suresh Bodiwala, Chairman; Dr. Chandrakant Modi, President, Jyotikumar Chokshi, Editor and Vipul Patel Videographer from Asian Media USA covered the entire event. During Reception of Indian Ambassador of USA Dr. Jaishankar, Asian Media USA had a privilege to interview many Dignitaries where they were asked to give their personal views about the event organized by CG Chicago to welcome Ambassador.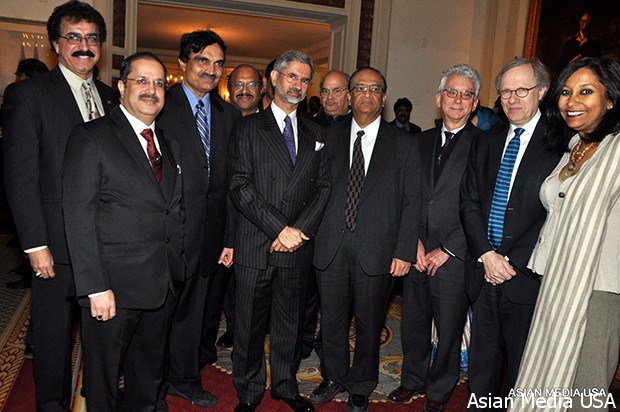 Following are public response:
Dr. Bharat Barai most prolific personality of Chicagoland Area, a well-known Oncologist by Profession and Always available person when community needs said, "I am honored to be here on this occasion. I had the privilege of meeting Dr. Jaishankar at his residence in a dinner hosted in favor of Congressman Ami Bera and Crowly. Dr. Jaishankar is a knowledgeable and humble man and he knows the issues of Indo-US relationship and I am confident that he will bring India and US closer during his term. Consulate General Office at Chicago is doing commendable job."
Naren Patel another most efficient personality and CEO of Medstar Laboratory said, "The event went wonderful. Views presented by Dr. Jaishankar were really thought provoking and impressed all. He is a right person at Washington and I am confident that he will succeed in his mission of bringing India and US closer. He has vast experience and I wish him grand success."
Rishikant Singh, Manager Midwest of Air India who has been attending almost all events and works for success of Air India said, "It is a great pleasure to welcome Dr. S Jaishankar in Chicago and wished him success in his mission to USA and he will succeed in his mission to bring India-US closer in politically and in Business."