Aashiqui Valentine's Day Party with Bollywood music and Dance
Chicago IL: Love is like a magic dollar, they say "Lend it, spend it, and give it away, and you'll end up having some more" now that's the way the Desi community in Chicago related to this emotion. Valentines' Day is always celebrated with much romp and fun in every nook and cranny of the city. Though many couples headed for various clubs and watering holes to make the occasion grand and memorable, several others rushed to Aashiqui Forever Valentine's Day Party which was organized by Manpasand (Bhavna Modi and Sanjay Modi) and India House Banquets (Ravi Rawat) on Friday February 14, 2014 at India House Banquets, 521, W Schaumburg Road, Schaumburg IL.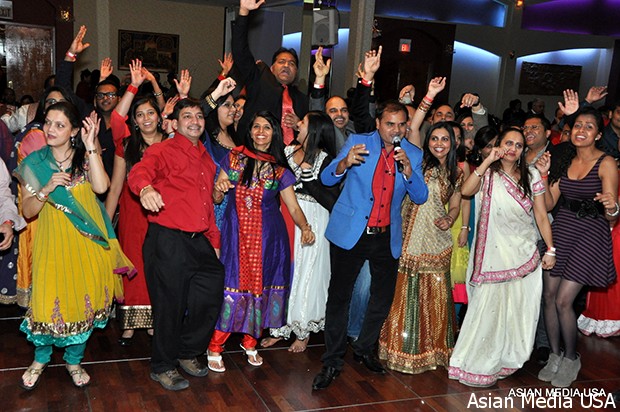 For couples, romantics and sky-watchers, Valentine's Day 2014 was perfect. A full moon greeted lovers and sweethearts on this special day. Saint Valentine's Day, also known as Valentine's Day or the Feast of Saint Valentine is observed on February 14 each year. It is a festival of romantic love and many people give cards, letters, flowers or presents to their spouse or partner. They may also arrange a romantic meal in a restaurant or night in a hotel.
Chicago's Restaurant of Romance, India House Banquet had arranged Aashiqui for Ever Valentine's Day Party. A Bollywood Theme Party' which included the greatest Love Songs of Bollywood performed by Swar Sarita Group led by Samsuddin Vaghela and accompanied by Madhuri Goswami and Krunal Mahant, Jayesh Rawal (key board) and Pankaj Rawal (octapad) that made the audience dance on their feet with their uplifting and inspiring music. Their eclectic blend of percussive music coupled with positive messages created an infectious blend of original Bollywood Music with Heart and Soul.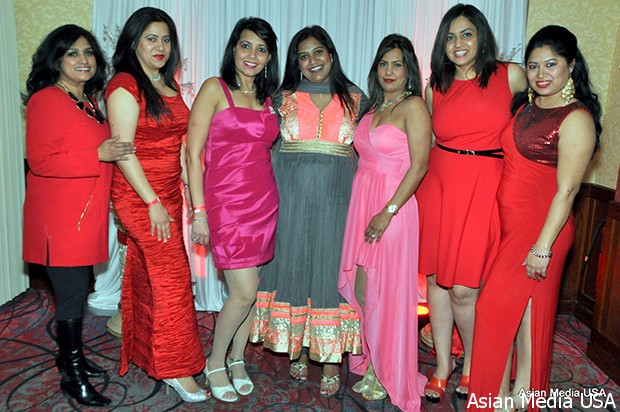 Vipul Patel, said, "I am happy to be here on this occasion as this gives me an opportunity to impress my girl friend." "Due to our hectic schedule, we hardly get quality time to spend with each other," Sonia Shah , an IT Engineer from Schaumburg IL told Asian Media USA . "Valentine's Day is a good excuse to make that time and get the romance back."
There were many dignitaries present who enjoyed the day. Some of them are: Jasbir Suga, Kantibhai Patel; John Lawson; Dr. Harjendra Khaira; Karl Karla, Suryakant Patel; Heena Trivedi; Rita Singh; Raji Modi; Dr. Indrajeet Patel; Dhitu Bhagwakar; Ravi Rawat; Bharat Thakkar and many more.
There was Royal Dinner, Mood Lighting and Huge Dance Floor. There were Prizes for the 'Best Valentine Couple' and Free Photo session with your Valentine, where Asian Media offered their services to take Romantic Photos.
Sponsors were; Suga Builders, Medstar Laboratories, Air Tours Inc., Axiom Builders and Developers, Shree Restaurant and Catering, Sai Saffron Chat House and Print Point.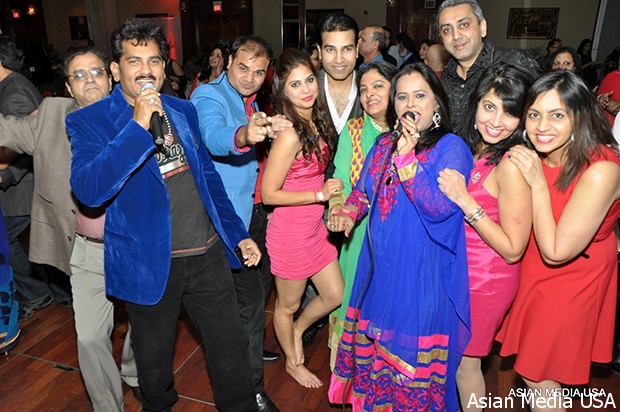 Many creative classic and fusions dances were presented. The spellbound audience sat through the whole program. Guests participated in couples' games; they enjoyed an appetizer session in the beginning and delicious dinner, live music and dances and went home in a romantic mood. The key planners of this Valentine event were Bhavna Modi and Ravi Rawat whose entire team ensured this evening was a memorable one for everyone