Hari Om Mandir celebrates Lohri with traditional cultural dance and Bonfire
Chicago, IL: Hari Om Mandir located at 6N020 Medinah Rd, Medinah, IL celebrated Lohri with traditional cultural dance and Bonfire on Saturday, January 12, 2014. The festival of Lohri was celebrated on 12th of January with traditional fervor and enthusiasm. The devotees witnessed a lively night of blazing bonfire. Lohri was distinguished to honor the day of harvesting crop. The time was considered very auspicious and special to a farmer as it rewarded him of his toil all the year round.
A week before the Lohri preparations started including decorating the Mandir. A nicely decorated Punjabi Beda (Village) was created by Shastri Yogesh Pandya, Pt. Dinesh Kumar, Vikrant , Babu and Suchitra Sarkar; giving the real feeling of being in a Punjabi pind. It was decorated with Straw blocks, Chullah, Charkha (Spinning wheel), fresh vegetables, and 6 foot long sugar canes and many small decorative items creating a Punjabi village atmosphere. Lohri is also one of the most celebrated harvest festival in Punjab. It is the time for people to thank God for his kindness and for a plentiful harvest in the coming season. It is a time for communion celebration.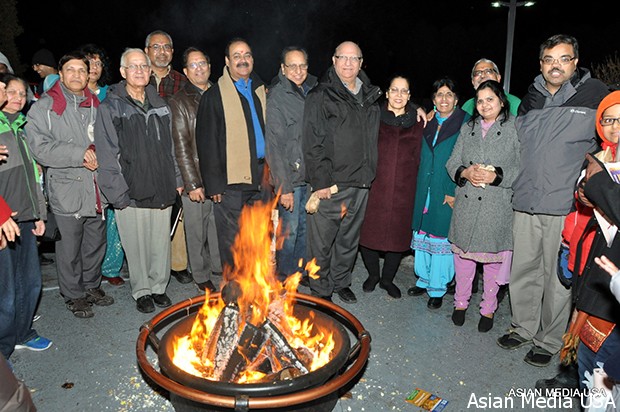 A large number of devotees attended the Lohri function in the mandir. Folks started coming from 4.00pm and stayed until the Bonfire and Aarti at 9.00pm. However, the celebration was not only limited to lighting bonfire but the traditional dances; Ladies group lead by Anshu Paul did Jago and Gidda (Punjabi folk dance), traditionally dressed ladies danced through the hall carrying a pot gaggar decorated with lighted candles and singing jaago song"Jattan Jag Bhai hun Jago Aaya".. Special tappaas or to be specific, punjabi verses were performed by the ladies to mark the day. Our Dhol player Ajay Ghai was on all the times and his melodious DHOL beats could not stop folks to start Bhangra. Everyone in the hall started dancing and celebrating the festival with immense joy and pleasure. Prayers were done for families with newly weds , the new born babies and everyone by our learned priest Shastri Yogesh Pandya and Pt. Dinesh kumar.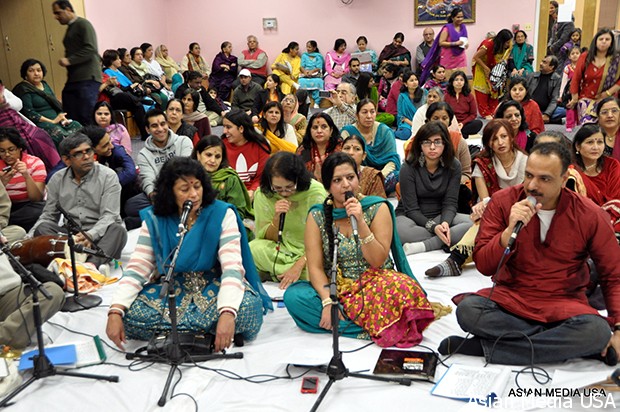 Ayodhia Salwan (BOT Chariman), wished 'Happy Lohri' to all and explained the importance of Lohri and Dullah Bhatti. He sang the traditional Lohri Song " Sunder Mundriya…ho". President Indrajit Sarkar greeted everyone and said "May this harvest season bring everyone prosperity and help fly high like a kite". He also thanked everyone for their generous donation.
At the time of Bon fire- both priests chanted prayers for Agni devta to seek abundance and prosperity and asked president Indrajit Sarkar and chairman Ayodhya Salwan along with other board members to light the Bon fire. People gathered around the bonfire and threw rewari, chidwa, peanuts & popcorns into the flames of the bonfire and make merry by dancing & singing traditional folk songs.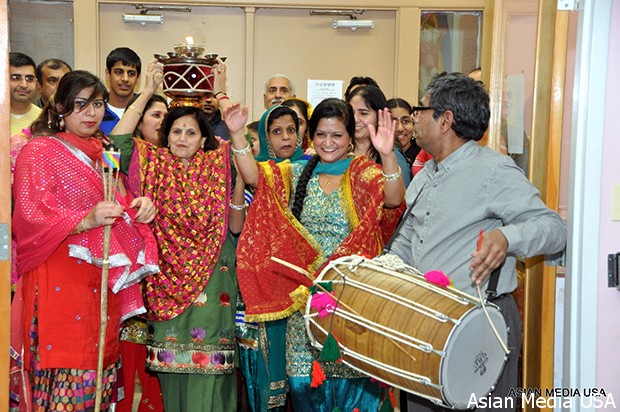 Special thanks to India House, Star Foods and various devotees for arranging sarson ka saag, Makki ki Roti,Kheer etc. under the guidance of food and Prasad incharge Ms. Usha Verma. Ms. Verma did excellent work managing the food for more than 1500 devotees attending the lohri function. Also kudos to the parking team led by Ramesh Bhardwaj for managing the parking situation with Rajeev Bharel, Virender Kalsi and other volunteers.
Devotees relished popcorns, gajak, revari, bhugga and peanuts as the prashad.
Next event: Maha Shiv Ratri on Thursday, Feb 27, 2014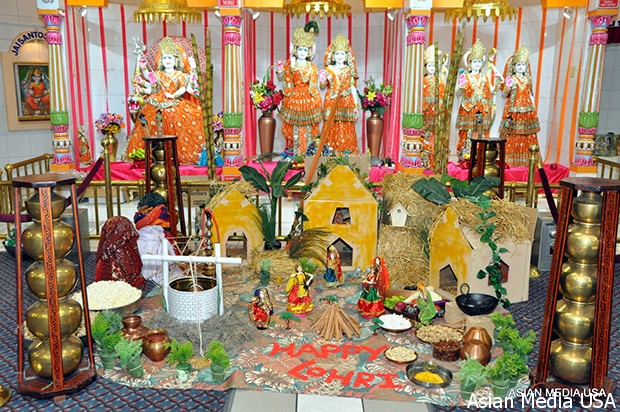 Executive Board: Indrajit Sarkar;President, Anil Saxena; Vice President, Sneh Chaudhary; Secretary, Gopal Tiwari; Treasurer, Jeetu Patel; Special Events, ShamTaxali; Inside Property Management, Ramesh Bhardwaj; Outside Property Management, Vikas Choudhary; Publication, Usha Verma; Food & Prasad.
Board of Trustees: Ayodhia Salwan; Chairman, Nirmal Bagga; Vice Chairman, Mohan Karamchandani; Secretary, Naveen Paul; Ram Verma; Mahendra Thakkar; Subhash Sharma; Amar Singla
Priests: Shastri Yogesh Pandya & Pt.Dinesh Kumar
About Hari OM Mandir
Hari Om Mandir located at DuPage County in the heart of Chicago land. The Mandir has statues of all major North Indian Gods & Goddesses. Every Sunday there is a Havan and general congregation followed by Aarti and Bhojan Prasad. On every first Saturday of the month we have Devi Jagran from 7 – 10pm. Every Monday there is Shiv Puja and every Tuesday we have Hanuman Challis Path. There are two learned priests available in temple, for Poojas, Havan, Kathas etc in the temple and at home. Please visit Hari Om Mandir at 6N020 Medinah Rd, Medinah, IL / Phone: 630-980-0900 / Website: http://www.hariommandir.org/