Shree Jalaram Mandir Celebrates 4th Volunteer Appreciation Day with Bollywood music
Hoffman Estates, IL: Shree Jalaram Mandir located at 425, Illinois Blvd , Hoffman Estates , IL, celebrated 4th Volunteer Appreciation Day with Bollywood music on Saturday, January 11, 2014 at 6:00 pm. A sentimental evening was performed by talented artists in filmy style with old and new songs, which made the whole atmosphere joyful. More than 235 volunteers enjoyed the special evening.
Saturday, January 11, 2014, was a day to appreciate every single person who had devoted their time towards the Mandir's progress. In honor of such commitment, Jalaram Mandir Board decided to have a beautiful way to say thanks to all the volunteers with a Musical night and splendid dinner. At present, Mandir has team of approximately 235 volunteers, who are involved in various activities and perform duties with all their heart. There are lots of Temple in Chicago however Shree Jalaram Mandir is only Mandir that celebrates Volunteer Appreciation dinner with Bollywood style music and mastic. Rajendra Thakkar who is the volunteer coordinator, assigns volunteers whenever necessary. He requested the executive board of the Mandir to organize this event to recognize all the volunteers for their tireless service. Several volunteers prepared decorations for this event.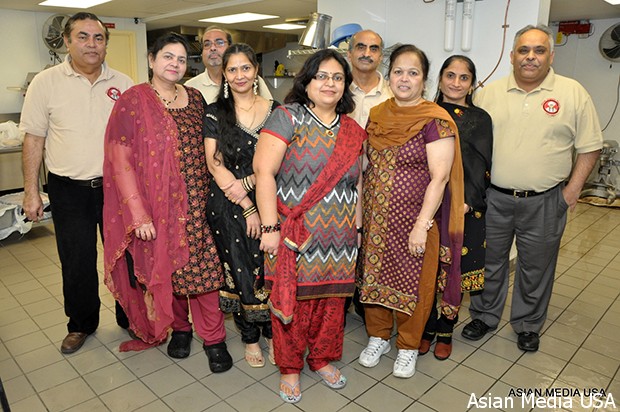 Prior to Musical program, delicious Gujarati dinner was served. Rajendra Thakkar, Coordinator of Volunteers and Vice President welcomed all. The program was started with Deep-Pragatya by Priest Shree Katenbhai Jani. Normally, the Chief Guest participate in the Deep-Pragatya Ceremony, however this year, the Executive Board Committee decided a different method. All the Board Members performed Deep Pragatya. Shree Katenbhai Jani recited Swasti Vachan Mantra. Vipulbhai Thakkar did excellent job as Master of ceremony.
Musical Program was started by Devoted Singers Rajesh Chalan, Shaila Khedkar, Sreepathy and Music provided by Garvish.
They specialize in presenting musical programs, singing both old and new Bollywood Melodies. They customize their offerings for any kind of celebration or occasion for individuals or groups including professional, cultural or other associations. Each singer brought depth in terms of the singer(s) they specialize in. Together they exhibit a unique blend of vitality, melody and emotions which add to the depth and breadth they show in their performances.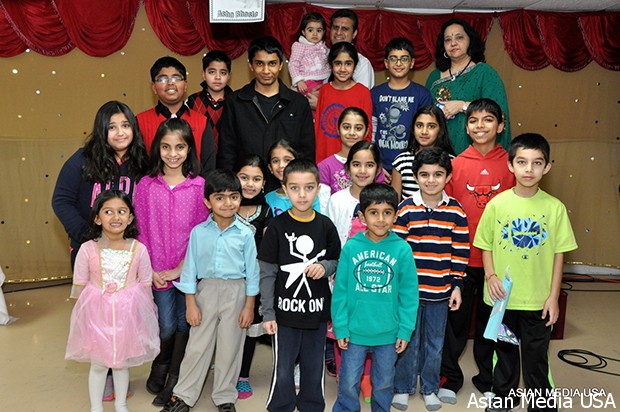 Shree Jalaram Mandir was inaugurated on the March 8th, 2008. It was a dream of many devotees and followers of Jalaram Bapa to establish Jalaram Mandir. With a determination to realize that dream, Jalaram Organization was established in December 2006. With the help of Generous Donations from many Donors and Volunteers $1.25 Million Dollars worth property was purchased. Kitchen is renovated, Elevator also provided and Murti Pratishtha with extension is on way.
In between the program, there was break for Appreciation program. All Committee member were called upfront and proved Ham Saat Saath Hai.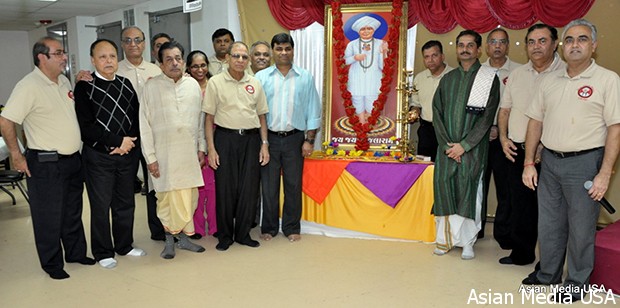 All the Artists were invited and introduced and were offered flowers and Shawls. Rajendrabhai, Vice President and coordinator of Volunteers was invited. He said in his speech addressed the audience with details of the services provided by volunteers and recognized them for the excellent work by all of them.
Rajendra Thakkar welcomed the guests and volunteers on behalf of Jalaram Mandir Trust Board and Executive board. He thanked all those who have helped in Mandir improvement work and those who assisted in accommodating the devotees with daily parking and seating arrangement. (In his speech there was lots of humorous jokes. Due to his love and respect with fellow volunteers plus the team oriented hard work; everybody welcomed him with lots of claps).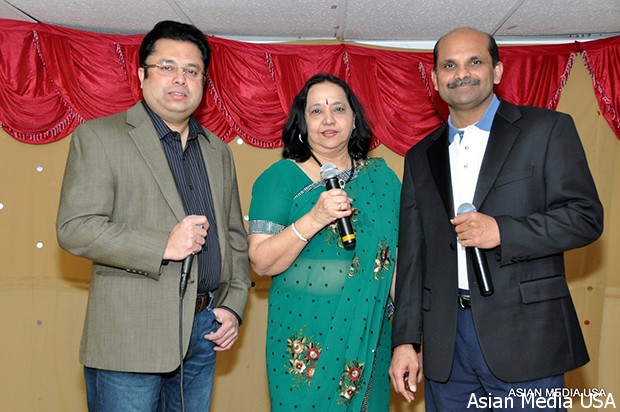 "There is no age requirement to perform Mandir Sava. Volunteers age group from 5 years to 75 years are working hard to full field Mandir daily task. Ramanbhai is 75 years old he make daily packages for prasad another person daily make "Devate for Aarti". Age group 5 and up such as Nidhi Patel, Yash Thakkar and Jay Thakkar help in miscellaneous Mandir work" said by Volunteer Coordinator Rajendra Thakkar.
Musical program continued past midnight with a lot of songs requested by the audience. President Bhupendrabhai delivered Vote of Thanks starting with Thanking Pujya Bapa for giving the opportunity to serve him, all the artists for their voluntary services and sparing their valuable time, Garvish Damania for his voluntary services providing audio system, all the volunteer families who came tonight to support the event and their continued support to the Mandir, everyone who helped with the setup and decoration for the event, Kitchen team for providing a wonderful Dinner and last but not the least-Dipakbhai for Organizing this event.
Shree Jalaram Mandir governing board has an Executive Committee and Trust Board. Trust Board is mainly involved in construction, expansion and fund raising efforts, whereas Executive committee organizes and maintains activities related to religious festivities, Bhajan, satsang, cultural, kitchen and youth committee. Among many kitchen volunteers, 6 committed members are, Chandrakantbhai, Bhupendrabhai, Rameshbhai, Dakshaben, Bhavnaben, Kokilaben and Rupaben.
Trustees and Office Bearers of Shree Jalaram Mandir 2013-2014
Trust Board: Hashmukh Thakkar, Chairman; Yogesh Thakkar, Vice-Chairman; Chirayu Parikh, Secretary; Jashwant Patel, Comptroller; Dharmendra Thakkar, Tresurer; Chandu Thakkar; Ashwin Thakkar; Jigar Thakkar; Rajesh Thakkar; Madhusudan Thakkar; Harivadan Thakkar
Executive Board:
Bhupendra Thakkar, President; Rajendra Thakkar Vice-President; Vipul Thakkar, Secretary; Gopal(dipak) Thakkar, Jigna Thakkar; Rakesh Thakkar; Rajesh Thakkar; Bakul Thakkar; Chandrakant Thakkar; Ramesh Thakkar
About Shree Jalaram Mandir:
Regular activities at the temple include Bhajans on every Thursday, first and third Sunday, Sunderkand path every Saturday, Abhishek on Mondays and on Ekadashi, group Satyanarayan Katha, Jalaram Jayanti, lectures of saints from India and celebrations of all religious events like Ram Navami, Janmashtmi, Navratri, Holi, Diwali and others. Ekadashi. On the humanitarian side the temple arranges annual health camp, provides free flu shots, arranges blood donation. Mandir provide monthly clinic Seva, which will include doctor's consultation, laboratory tests and providing free generic medicines on an ongoing basis. Educationally, the activities include Math classes, Bharat Natyam, yoga classes, music teaching, India Culture (Indian History), Gujarati classes and religious classes. For more information about the Mandir and its activities, please visit Shree Jalaram Mandir, 425 Illinois Blvd, Hoffman Estates, IL 60169 Ph: 847.490.5252 or www.shreejalarammandir.org
May the divine grace of Lord Shree Ram and Shree Jalaram Bapa shower your family with peace, purity,
prosperity and happiness!!!