Dazzling 33rdAnnual Meeting of Indian American Medical Association
Chicago IL: The Indian American Medical Association of Illinois held its 33rd Annual Meeting and Banquet on Saturday, November 16, 2013 at the classy Meadows Club reflecting on the highlights of this year and focusing on its future in the coming year. IAMA is a non-profit professional organization comprised of Illinois Physicians of Indian Origin committed to professional excellence in quality patient care, teaching and community education. Their motto is Unity of purpose, collegiality in action, commitment to excellence and compassion towards fellow beings.
Dignitaries present were: His Holiness Sant Rajinder Singh ji, his wife Rita ji and his son Dr. Kunwarjit Singh and his wife, Mr. Ken Busch, President Elect Chicago Medical Society; Mr. Mickey Straube, Mayor of Burr Ridge; Dr. Gopal Lalmalani, Mayor of Oakbrook; Dr. Ramanathan Raju, CEO Cook County Health and Hospitals System; Mr. Yash Amin, Director of Drug Compliance, Illinois Professional Regulation; Ms. Manju Goel, Candidate for Congress from 8th District and Ms. Swati Dandekar Candidate for Congress from IOWA and many others.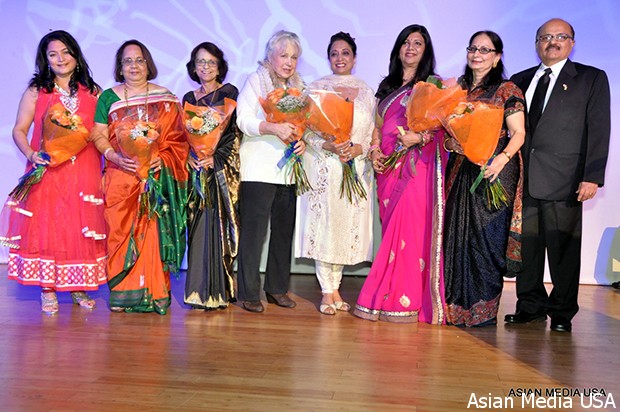 Cocktail Reception started from 6-00 pm onwards. There were different booths of Vendors which included I-med IT; Atlantic Realty Associates & Property Services; Global Financial Group; Manju for Congress; Aishwarya's Kreations; Angel Health Care; Caring Community Home Health, INC.; Transitions Hospice; Computer Trouble Shooters; Origin Healthcare Solutions; US Bank; Therapy Providers; Novo Nordisk etc.
Master of Ceremonies were Anita John, MD and Balu Natrajan,MD. American National Anthem was recited by Christine Phillip and Indian National Anthem was recited by Dr. Raj and Sujata Arora and Dr. Samir Shah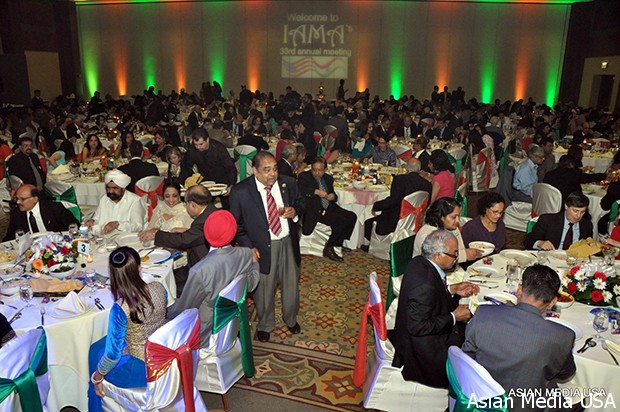 President Dr. Raj Arora in his Presidential Speech welcomed all and wished everyone a healthy and prosperous 2014. "As a Physician Community we are having to learn to incorporate new technologies as we take care of our patients. Changes are happening and we are only seeing the downstream end points. We need to come together to help guide how these changes should be incorporated into our profession. Promoting awareness of our charitable activities, continuation of community educational activities and participation in Community Health Screenings and Health Fairs etc. are important" he said.
Guest of Honor was His Holiness Sant Rajinder Singh ji, Spiritual Head, Science of Spirituality. His Holiness Sant Rajinder Singh Ji Maharaj's life and work can be summed up as a continuous journey of love and selfless service. He has helped people from all walks of life, from every corner of the earth, to connect to their true selves by learning the art of meditation on the inner Light and Sound of God. He takes nothing for himself, but gives freely of his time, compassion, and endless store of divine love. His well of inner peace is so deep and profound that he transforms the lives of those he meets. He is an internationally recognized Spiritual Master and expert teacher of Meditation. He is the spiritual head of Science of Spirituality, a multi-faith, International Organization dedicated to Personal Transformation through Meditation. Born in India on September 20, 1946, and educated as a scientist in the United States, Sant Rajinder Singh Ji Maharaj has a keen understanding of both mysticism and science.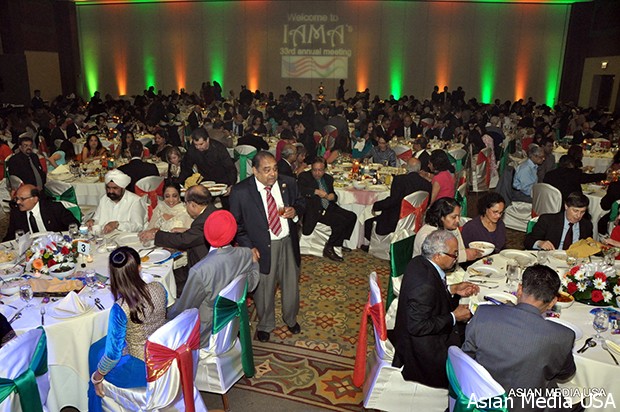 Presentations of Awards were performed: following Awards were given:
• Distinguished Physician Award to Dr. Ramanathan Raju
• President's Appreciation Award was given to Dr. Birinder Marwah
• Golden stethoscope Awards were given to Dr.Trinadha Pilla-1st. Prize and Dr. Abhishek Reddy-2nd. Prize.
• Special Award was given to His Holiness Sant Rajinder Singh Ji.
• Special guest: Dr. Kenneth G. Busch, MD
Passing of the Gavel: Dr. Raj Arora passed on the Gavel to Incoming President Dr. Hemlata Bakane.
Dr. Hemlata Bakane said in her Speech, recollected Swami Vivekanand's speech which was delivered 120 years ago at the parliament of worlds' religions in Chicago. "We are indebted to Swamiji for building a bridge between east and west and for introducing India and Indian culture to America. Swamiji was well known for his humanity. He sacrificed his health and ultimately his life for betterment of mankind. Dear friends, we physicians also work long hours and dedicate our life for the similar goal that is betterment of human life/ human health" she added.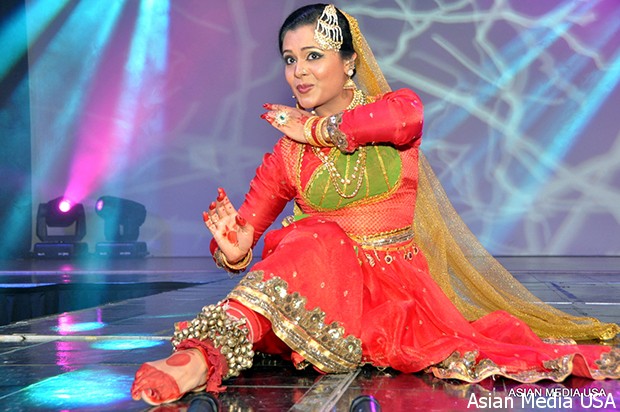 2014 Executive committee
President elect : Kamal Patel, MD; Secretary : Samir Shah, MD; Treasurer: Deepak Bakane, MD Secretary Elect : Manoj Duggal, MD; BY-LAWS COMMITTTEE Chair: Kirti Talsania, MD; Communications and Public relations committee Chair: Bapu Arekapudi, MD; Entertainment Committee Chair: Tapas Dasgupta, MD; Health awareness Committee Chair : Urmila Talsania, MD; Academic affairs Committee Chair : Alka Waiker , MD; Young Physician Committee Chair : Jay Joshi, MD; Liaison Committee for CMS/ISMS Chair: Roger Rodrigues, MD; Resident physician Committee Chair: Tejas Patel, MD; Membership Committee Chair: Kiran Bais, MD Education committee Chair: Parag jain, MD; Auxiliary Committee Chair : Kathakali Dasgupta; Presidential Advisor : Aruna Vade, MD;
Vote of Thanks was performed by Dr. Priti Singh
The Entertainment program was planned and presented in gorgeous manner having Synchronized all facets of Entertainment-Direction, Choreography, Video Presentation, Digitization. Dhrishti was established in Chicago, IL in June 2001 by Madan and Shebani Kulkarni to present creative theme-based events incorporating music, performing arts, fine arts, fashion and literature. Eleven years and over 150 presentations later, Dhrishti has gained a reputation for its unique, artistic and professionally presented events.
MKM Bollystars presented 'Dola Re Dola and Dum Dum, before Dinner and thereafter presented Style, Kathak Haa E Dil, Hip Hop, Masakalli, Tore Matware Naina, FolkDance, Spirit of Rangeela, Barso Re,Lavani, Maston Ka Jhund, Salsa, Desi Girl Desi Boy, Apni To Jaisi Taisi, Cabarat video and Performance, Jab Tak Hai Jan,Taali Ho and Jai Ho in array of performances.
"This was one of the finest shows we have ever seen, the lighting and dances were just amazing". "The whole evening was very tastefully done and was incredibly enjoyable". "We wished the entertainment could have gone on for another hour" These were the remarks heard from the audience.