BAPS Shri Swaminarayan Mandir in Bartlett, IL Celebrates Diwali
Chicago IL: For Hindus, the festival of Diwali presents an opportunity to renew the rich traditions of their roots with great fanfare as well as a chance to reflect and introspect. Realizing these important facts, His Holiness Pramukh Swami Maharaj, the spiritual leader of BAPS, inspires programs across BAPS centers worldwide to celebrate Hindu festivals, such as Diwali. With a beautifully decorated mandir, fireworks lighting up the night sky, and displays of various types of sweets and food dishes, a festive ambiance was created at the BAPS Shri Swaminarayan Mandir in Bartlett over the course of the past week to observe one of the most renowned Hindu festivals of the year.
The foundation of Diwali is based in the belief of dispelling darkness with light. While candles are lit to remove darkness, more important is the recognition of the darkness within human nature manifested through destructive emotions such as anger, envy, greed, arrogance, and hatred. The festival of Diwali is celebrated over five days, with each day carrying its own unique significance and form of celebration. Festivities began on Saturday, October 26th where hundreds of kids and parents alike gathered for the Children's Diwali Celebration. The program included fun-filled games and activities to help children not only celebrate Diwali, but also learn more about their cultural traditions. Carnival games were set up to illustrate traditions and teachings from the epic story of Diwali. Reflecting on the day's events, Paresh & Ushma Patel said, "We love bringing our children to this celebration every year. It's helped them become better connected with our traditions and customs, and has always given us a great opportunity to spend quality time with our kids."

Celebrations continued on the actual day of Diwali with a grand fireworks show on November 3rd. A unique production that combined inspiring videos, traditional dances, and energetic music was organized in conjunction with the show. As fireworks soared over the mandir, children waved glow-in-the dark wands while enjoying the breathtaking colors of the mandir. Sapna Jadav, a young mother from Hanover Park said, "My children love the fireworks show here every year. It is just one of the many aspects of Diwali that my husband and I, my kids, and my parents – three generations of Jadavs – have always celebrated together!"
The day after Diwali, Monday, November 4th, marked the very first day of the Hindu New Year. As a time of renewal, reflection, and resolution, it is also an occasion for giving thanks, and is traditionally celebrated with the Annakut – literally, 'a mountain of food'. This is a grand offering of hundreds of different vegetarian food items, prepared lovingly by devotees, to thank God for His providence over the past year and to seek His blessings for the year ahead. Each year, the BAPS mandir in Bartlett also holds a themed exhibition showcasing important values and Hindu traditions that give a deeper meaning to the significance of this holiday and how Indian-Americans can share their heritage with the larger community. This year, in a technology-driven exhibit with laser equipment, videos, social media, and environment-friendly decorations, traditional values were combined with modern science to celebrate the theme of "Mandir Inspires…". The Mandir represents a place where everyone, regardless of ethnicity or creed, can experience peace and spirituality. The message of "Come to the mandir, become a mandir, and make your home a mandir," resonated with attendees and participants throughout their visit. The idea of spreading peace to one and all, and being involved with the community and charity work to become a better person, inspired many to change their lives as they started the new Hindu year.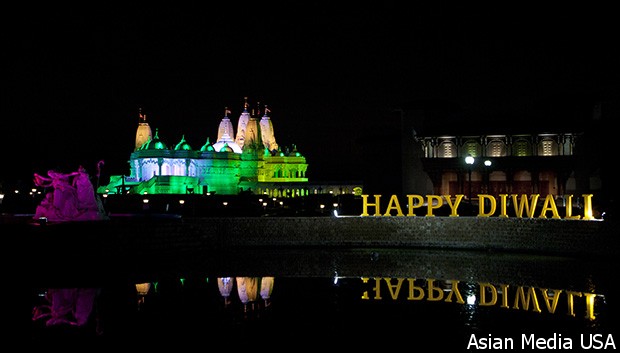 Adults, community members, and young children eagerly visited the mandir to view the colorful décor, various food dishes, creative fruit carvings, and innovative artwork. Several of the attendees included school groups from the surrounding DuPage County. Dr. Vieille, a teacher at Carpentersville Middle School, has started a globalization program at the school to teach students more about diversity. She especially made sure that her class came to the BAPS mandir on a field trip during Diwali to learn more about Hinduism and Indian traditions. She said, "I'm really glad I had the chance to visit the mandir today with my class and appreciate the cultural diversity that this community has to offer. By coming to the mandir today, I was really able to develop an understanding of Hinduism and Indian culture and the children really gained an appreciation for it as well."
Reflecting on the scenes of the day compared to celebrations back home in India, Consul General of India, Dr. Ausaf Sayeef said, "I am so amazed by seeing how Diwali is being celebrated here and how it has been spiritualized. The use of modern-day technology to explain the importance behind the mandir is a great message to give to young children today and everybody deserves great appreciation for putting together this celebration! This is my first Diwali in the U.S. and it has been an extremely humbling experience and a bonding factor in the Indian community. In this world, we are often separated by our different ideologies, but at the mandir here today, a message of peace is given to everyone and it is great that everyone can experience it."
The dedication and tireless efforts of the volunteers was evident in every aspect of the celebration as well. Peter Roskam, U.S. Congressman from the 6th District, was extremely impressed with the festivities and seeing participation from youth in particular. "Today I really enjoyed seeing the youth being so active and getting involved in putting together the exhibition. The BAPS mandir has really made it a point to reach out to the community and become proactive in getting involved. By fostering a spirit of volunteerism, BAPS has found a nice balance with community members helping each other and also helping others outside their Indian community – that's really the spirit of America!"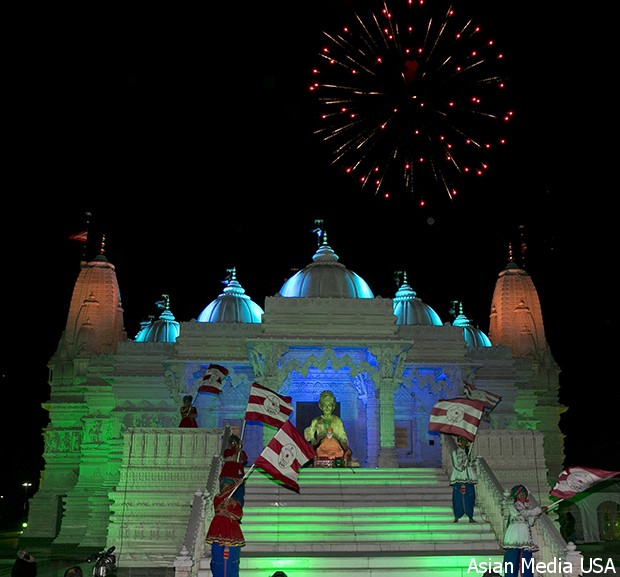 About BAPS
The BAPS Swaminarayan Sanstha (BAPS), a worldwide socio-spiritual organization is dedicated to community service, peace and harmony. Motivated by Hindu principles, BAPS strives to care for the world by caring for societies, families and individuals. Through social and spiritual activities, BAPS endeavors to produce better citizens of tomorrow who have a high esteem for their roots. Its 3,300 international centers support these character-building activities. Under the guidance and leadership of His Holiness Pramukh Swami Maharaj, BAPS aspires to build a community that is morally, ethically and spiritually pure, and free of addictions.
About Pramukh Swami Maharaj
His Holiness Pramukh Swami Maharaj, the fifth spiritual successor of Bhagwan Swaminarayan, has inspired millions of people across the world to lead a God-centered, morally pure life. As the present leader of BAPS, Pramukh Swami Maharaj has traveled extensively, emphasizing the importance of family harmony, community service and spiritual progress. He embodies the essence of Hindu life. His compassion for humanity, universal wisdom and striking simplicity has touched many world religious and national leaders.