Air India's Onboard Menu and Meal Presentation
Chicago IL: Air India Chicago invited Media Partners to "Air India's Onboard Menu Presentation and meal sampling for 2013-14" being held on Friday, November 15, 2013 at Flying Food Servair inflight caterers, 4330 N Trans World Road, Schiller Park at 12-00 Noon. Manager Rishikant Singh, District Passenger Sales Manager Katherine Thorat, Deputy Manager Airport, Sonny Thomas welcomed the members of the Media.
Sonny Thomas invited all to the area where meal service tray for each of the three classes of service in appropriate crockery were on display for inspection. Vasant Pakhiddey, the Indian chef of Flying Foods held forth on different items being served in the flight and types of meal which included Jain, Continental, Vegetarian and Non vegetarian foods. He fielded all queries regarding the preparation, time taken, various processes, the kitchen facility regarding hygienic care, quality, and certification. He praised the high standards of Inflight catering in US and that of Air India.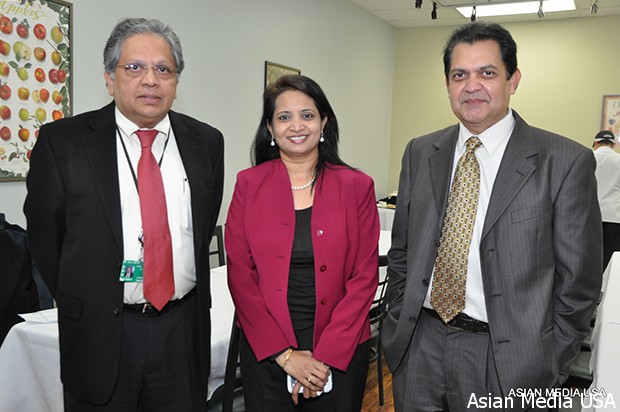 Rishikant Singh advised the constant research on menu for stomach times of flyers depending on the route flown, the food preparation process, health and hygiene standards, quantum and number of services, besides menu changes and improvement of tastes. The inflight menu does try to cater to different culture and tastes of different parts of India and of international passenger mix that fly Air India. Hygiene in food service and safety of passenger is paramount. The option of choosing in advance of one of the dozens of meal type me for the journey is possible through Air India website www.airindia.in, in addition to the offices and reservations unit on phone. Air India is noted for its onboard cuisine, the choice of beverages and hot and cold food served with traditional hospitality. It did believe that a passenger's heart is through his stomach. The choice of cheeses, wines and aperitifs are a delight to experience on their non-stop flights to Delhi.
Air India has been an innovator of sorts, flying chef-on-board as early as 1987 when the four best restaurant chefs of them world flew on board AI flights serving delectable food to First and Business food on order. It may be noted that celebrity chef Sanjiv Kapoor was with Centaur group of hotels owned by Air India till mid-90s, and consulted on menu design and food preparation. India's best chefs are routinely consulted and often fly on VVIP flights operated by Air India.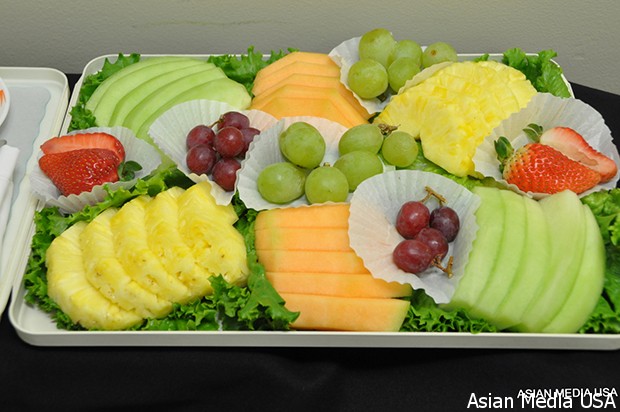 Flying Food Servair was represented by General Manager Daryl Bottenhagen highlighted different facets of food preparation and facility management, along with his team of executive chefs and cooking experts.
The meal sampling that followed from the myriad choice in the menu served onboard was a great experience. Not only was the taste very good, the health issue was attended by no visible oil or heavy spices. It was a gastronomical delight for all media participants.
Rishikant Singh has 25 years of airline commercial activities since 1987 at Air India. He has held management and internal advisory roles in flight operations, passenger services system upgrades, revenue enhancement, revenue accounting, MIS projects. His vast experience includes areas of route rationalization, revenue optimisation, commercial marketing, pricing, sales promotion, special projects, passenger handling and traffic at airport, employee training, salary and compensation negotiations, sales & marketing of regions in Middle East, US and India, aircraft acquisition and bilateral traffic right negotiations.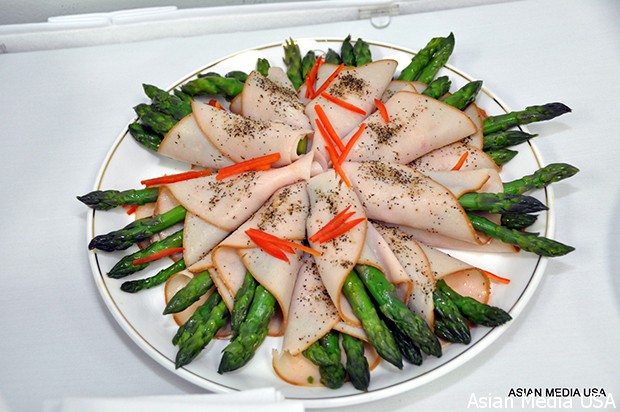 Talk about a nation that prides itself in having nature's bounty, the earliest civilizations, a rich and varied cultural heritage, a glorious past… and you can expect the perpetuations of a great legacy. That's India. Home to the Aryans, Moguls, Arabs, Persians, Portuguese, French and British, India was and is a veritable melting pot of the world's finest philosophies, sciences, arts and skills. But more than one religion, the sculpture, the architecture, dance and music which weave a common fabric, it is the cuisine, a refined sense of taste that defines Indian people.
Indian cuisine is an assortment of zealously guarded culinary skills that have descended down generations from a host of regions and communities. Yet, each is distinct in flavour, ranging from the sharpest to the subtlest.
Despite its unparallel dietary range, there's something mystical and intrinsic about all Indian food, the reverence and thoughtfulness with which it is prepared. The exotic blend of herbs and spices, and the intricate preparatory methods, are all intended to let the aromas and flavors sink into the fare and your senses. Not only does the food smell or look gorgeous, it fires your appetite until you and your taste buds succumb to temptation. And the seduction is total! Efforts to resist indulgence often prove futile. But you will feel no remorse because such sublime experiences are a step closer to spirituality.
Air India lets you savoir the very essence of India that has transcended boundaries to gain worldwide awe and recognition.
Following is the list of Types of Meals Offered by Air India.
• Vegetarian Hindu Meal/Asian Vegetarian/Hindu Vegetarian
• Baby Meal/Infant Food (Vegetarian/Non-Vegetarian)
• Bland Meal (Vegetarian/Non-Vegetarian)
• Child Meal (Vegetarian/Non-Vegetarian)
• Diabetic Meal (Vegetarian/Non-Vegetarian)
• Fruit Platter Meal
• Gluten Intolerant Meal (Vegetarian/Non-Vegetarian)Hindu Meal
• Kosher Meal
• Low Calorie Meal (Vegetarian/Non-Vegetarian)
• Low Fat Meal (Vegetarian/Non-Vegetarian)
• Low Salt Meal (Vegetarian/Non-Vegetarian)
• Moslem Meal
• Low Lactose Meal (Vegetarian/Non-Vegetarian)
• Vegetarian Raw Meal
• Seafood Meal – (only in first & executive classes)
• Special Meal –(needs to be specified)
• Vegan Meal – (vegetarian meal without dairy products)
• Jain Meal – (vegetarian meal without roots & tubers)
• Lacto-Ovo Meal (vegetarian meal with dairy products & eggs)
• Vegetarian Oriental Meal
Note
• All Special Meal (SPML) requests need to be made minimum 48 hours prior to departure, especially for economy class.
• Vegetarian or non-vegetarian choice needs to be specified with all Special Meal (SPML) requests in all classes
.
About Flying Food Group
The food is really flying in this company's kitchens. Flying Food Group is a leading US provider of in-flight catering services to the airline industry. It supplies prepared meals to some 70 airline customers (primarily long-haul carriers) from more than 15 kitchen facilities located throughout the US. (The company also has one flight kitchen location in Shanghai.) In addition to in-flight meals, its Fresh Food Solutions unit supplies prepared snacks, salads, sandwiches, desserts, and meals to other food service companies and specialty food retailers. With six US fresh food operations, it serves customers such as HMS Host, Aramark, and Starbucks. Flying Food Group was founded in 1983 by CEO Sue Ling Gin.
As anyone who has flown in the past decade knows, airline meals on US domestic flights are largely a thing of the past — with the exception of first class and business class service. To stay in business, Flying Food Group has had to expand beyond airline catering to other sales channels, such as specialty eateries and retailers. Today, its airline catering business is focused on international flights operated by mostly foreign carriers.
In 2009 Flying Food Group and its joint venture partner Servair (the catering arm of Air France) launched Flying Food Servair JKF, a new, $30-million kitchen to serve the many international flights originating there. (The two airline caterers have been partners since 1988, when they teamed up at O'Hare in Chicago, and in Seattle.) The new kitchen has an output capacity of 40,000 meals per day. Initially the kitchen operated at half capacity.
Now with the economy recovering from the global financial crisis — and resulting steep decline in airline travel — Flying Food Group is cautiously optimistic for 2014. More first class and business class seats are being sold, increasing the demand for meals per flight on domestic routes, while international air traffic is also on the rise.