Pratham Chicago Gala a Grand Success
Chicago IL: Pratham Chicago celebrated its 2013 Annual Gala on November 16, 2013, at the Best Western Plus Hotel in Schaumburg. The theme of the Gala was "Educate a Child and Empower a Community". The Gala Co-Chairs Prabha Ravi and Komal Patel organized an exciting evening focusing on the children and college students in Chicago who have volunteered to raise money for educating the poor children in India. Kamal Hans of Rasaka Theater Company was the Master of Ceremonies and helped with the pledge drive to collect $95,000 during the evening.
The evening began with a classical Bharat Natyam fusion dance performed by the students of University of Chicago(UC). It was followed by a short summary of Pratham activities in India, presented by Dr. Raj Rajaram, President of the Chicago chapter. He mentioned the following four major programs conducted in 19 states: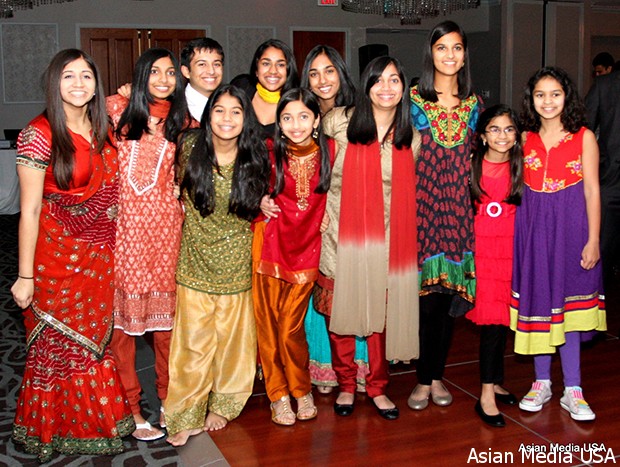 1. Annual Status of Education Report (ASER) based on data from 595 districts (out of a total of 600 districts) which is used by the government of India as a benchmark of Education Quality in India. The ASER survey method is being followed in 7 other countries.
2. Read India program in 250 districts which emphasizes reading, writing and math education through community and government schools.
3. Vocational Skilling programs in 7 states which is now reaching 15,000 students and training them in construction, hospitality, nursing, banking, automotive and agriculture.
4. Pratham Open School of Education (POSE) program which gives a second chance to girls and women who have dropped out of secondary schools. With assistance from POSE, these girls and women complete their secondary education or obtain entrepreneurship skills to open their own business.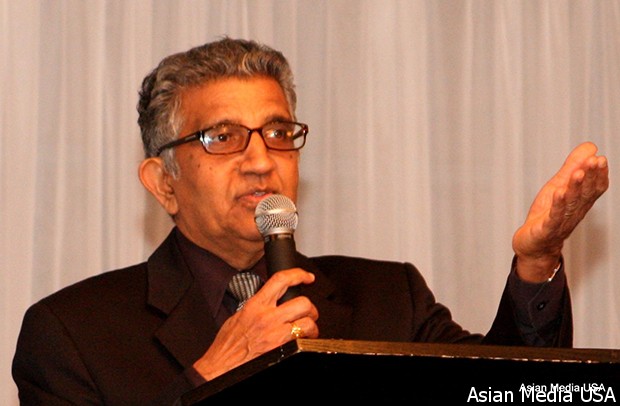 He also mentioned that several exciting programs are planned for 2014, with emphasis on a national tour of the Tagore play being organized by Kushal Bose, Creative Director and Pratham Chicago Board member.
The keynote address was delivered by UC Distinguished Service Professor Dr. Dipesh Chakrabarty. He spoke of the importance of education mentioned in the Upanishads and in the teachings of Swami Vivekananda. In addition, he stressed the importance of telling children in India to "Chase Their Dream". He mentioned that Pratham is helping children in India chase their dream and urged the audience to support this by contributing generously during the evening.
The keynote address was followed by an exciting Raas dance by the UC students. It was a high energy dance which was loved by all. The Pledge drive was initiated by the children of Pratham supporters who participated in the Read-a-thon. Arjun Nageswaran has raised $4200 this year with the read-a-thon, and when asked how he did it, he said "I read a lot of books and bugged my friends and relatives to donate money to the Pratham children in India". Anya Agarwal and Sahil Akolawala, Lead Reading Coordinators, described how they enjoyed recruiting children for the read-a-thon and the reason for their enthusiasm being the realization that the money they raised "is helping a lot of poor children in India since Pratham spends $25 per child per year to provide quality education".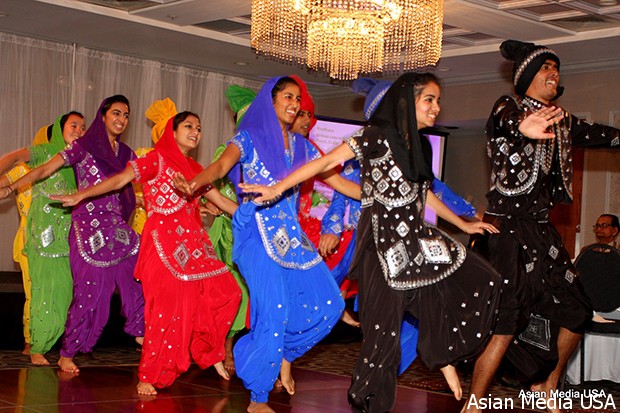 The adults donated generously and it was heartening to see participation at all levels, from $25 to over $5000. The evening concluded with a talk by UC students Asya Magazinnik and Meagan Smith relating the interesting time they had in Delhi doing the Pratham internship helping the ASER program. An exciting finish was provided by the energetic Bhangra dance group of the UC. The three dances performed by the students captivated the hearts of all.
The gala was made possible by many sponsors and volunteers who worked tirelessly to produce an enjoyable evening while raising money for education of poor children in India. Sponsors were Allstate Insurance, Air India Chicago, Kraft Foods Group, and Vinakom.
For volunteering or donating to Pratham Chicago, contact
Dr. Raj Rajaram at 630-915-6176 or rrajaram510@gmail.com.
About Pratham
Pratham was established in 1994 to provide pre-school education to underprivileged children in the city of Mumbai. Madhav Chavan and Farida Lambay co-founded the organization with support from UNICEF and the Mumbai Municipal Corporation. Together, they built a grassroots team around a simple mission: "every child in school and learning well." Today, Pratham is India's largest non-governmental organization in education, working in 20 states across India, reaching over 1.5 million children annually.
About Pratham USA
Pratham USA is a 501c3 nonprofit organization dedicated to building awareness and raising resources for education reform in India. Pratham USA has chapters in 14 US cities, with supporters representing a range of individuals and organizations that share a strong personal commitment to improving child literacy. For more information, visit us at www.prathamusa.org.