Shree Jalaram Mandir Presents Dazzling Garba-Raas
Palatine, IL: Shree Jalaram Mandir, 425 Illinois Blvd, Hoffman Estate, IL organized 'Raas Garba Ramzat' on eve of Navratri Celebration in outstanding fashion with International Artist Mayuri Patel and Group on Friday, October 18, 2013 from 8:00 pm to 1:00 am at Harper College, 1200 W Algonquin Road, and Bldg. M Palatine, IL. Jalaram Mandir has been organizing events in mind boggling fashion depicting unique example of Team Work and credit goes not only to Board Members but to every individual that participates with zeal be an executive or volunteer. The entire venue was overcrowded and to the spectacular audience danced and enjoyed Raas Garba with enthusiasm and fervor. The crowd was more than 2000 strong and many had to return without enjoying participation due to limitations. This annual holy event is celebrated in honor of Goddess Durga Mataji.
Garbas and Raas were performed by Mayuri Patel and Group. The college gymnasium was transformed in to a huge dance floor to accommodate hundreds of bare feet moving in to thunderous drumbeats in swirling circles around deity Hindu Goddess "Durga".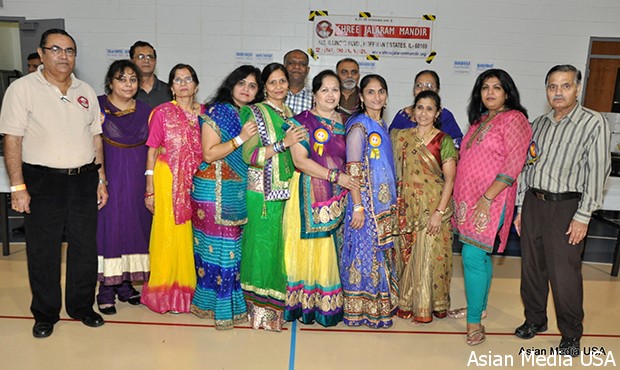 "We Guajarati, who are main participant in this festivity, have Garba in our blood". There was overwhelming participation from predominantly young audience of about 2000+ enjoyed the memorable evening. Many in the audience, especially ladies and children wore very colorful and dazzling traditional dresses for this special juncture with appropriately matching ornaments and extravagant hairstyles. Navaratri Garba is very special as it honors Shakti in very rhythmic ways. "We all love the whole atmosphere of colors, the clothes and of course, the music and then there is always the fun of dressing up". Western dress is replaced by Lengha-choli, matching jewelry and foot wear. "Some prefer to wear traditional outfit while others go for modern look" When asked main purpose of organizing such event, members of executive board member replied that "this type of organized event promotes Indian culture to new generation who are born here"
Mayuri Patel and Group started the program by offering a prayer. This was followed by mesmerizing rhythmic conventional Garba music with equally passionate and energetic performance by the audience of traditional swirling dance around Mataji's heavenly symbolic presence turned in to shrine adorn with flowers and decorations. After the brief break and Aarti, the festive music of Dandiya-Raas commenced with again enthusiastic participation by audience which lasted till early hours of the morning.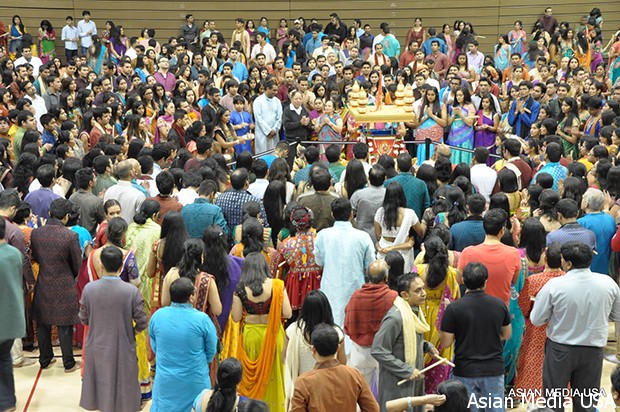 Board of Trusty and executive committee members and volunteer's good planning and durable work were evidenced by excellent security safety and parking arrangement. They all demonstrated well organized dedicated team effort with solid work under. This multidimensional celebration of such a festive day of Navaratri would not have been possible without many sponsors, donors, and advertisers. With Devine blessing from Jalarambapa and Mataji combined with devotional hard work and enthusiastic support and participation by the community the event was a grand success.
Sponsors were Suga Builders and Construction; Maaco; Subway; Auto Repair; Papa Johns and Big Ruchir.
Trustees and Office Bearers of Shree Jalaram Mandir 2013-2014: Trust Board Members: Hasmukh Thakkar-Chairman; Yogesh Thakkar – Vice Chairman; Chirayu Parikh – Secretary; Dharmendra Thakkar – Treasurer; Jasvant Patel – Comptroller; Harivadan Thakkar – Event Coordinator; Raju P. Thakkar – Construction Coordinator; Chandulal Thakkar – Maintenance Coordinator; Jigar Thakkar – Information Technology; Ashwin Thakkar – Fund Raising Coordinator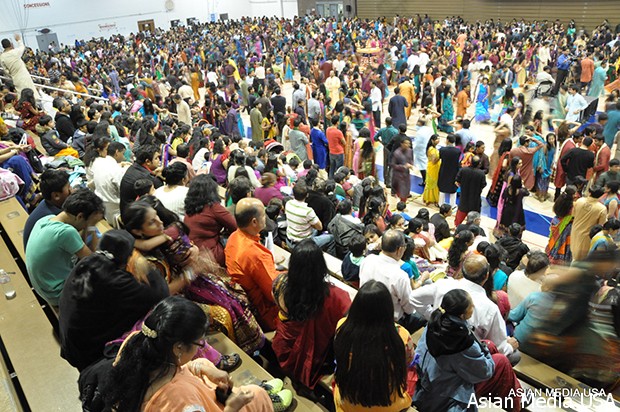 Executive Board Members: Bhupendra Thakkar – President; Rajendra J. Thakkar – Vice President; Vipul Thakkar – Secretary; Ravi Thakkar – Treasurer; Bakul Thakkar – Joint Treasurer; Jiga Thakkar -Cultural Secretary; Dipak Thakkar – Jt. Cultural Secretary; Chandrakant Thakkar – Kitchen Coordinator, Ramesh Thakkar – Kitchen Coordinator; Rajesh Thakkar – Printing & Publications, Mailing & Fundraising Co-op;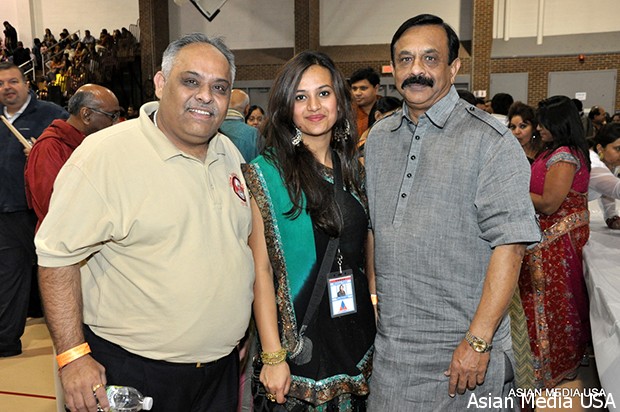 About Shree Jalaram Mandir
Regular activities at the temple include Bhajans on every Thursday, first and third Sunday, Sundarkand path every Saturday, Abhishek on Mondays and on Ekadashi, group Satyanarayan Katha, Jalaram Jayanti, lectures of saints from India and celebrations of all religious events like Ram Navami, Janmashtami, Navratri, Holi, Diwali and others. Ekadashi. On the humanitarian side the temple arranges annual health camp, provides free flu shots, arranges blood donation. Soon, there are plans to provide monthly medical clinic Seva, which will include doctor's consultation, laboratory tests and providing free prescription medicines on an ongoing basis. Educationally, the activities include yoga classes, music teaching, Gujarati classes and religious classes. For more information about the Mandir and its activities, please call or visit Shree Jalaram Mandir, 425 Illinois Blvd, Hoffman Estates, IL 60169 Ph: 847.490.5252 or www.shreejalarammandir.org