Diwali, The Festival of Lights Celebrated by Gujarati Samaj Chicago
Chicago IL: Gujarati Samaj Chicago organized a Gala Diwali Dinner and Dazzling Bollywood Masti 'Kal Aaj Aur Kal' on Saturday, October 26, 2013, at India House Banquet in Shaumburg located in 1521, Schaumburg Road, IL Illinois from 6-00 pm. onwards. The evening was attended by more than 600 guests.
Diwali- the festival of lights- is being celebrated with religious ferver and gaiety by people of all ages. The evening started with social hour with many choices of delicious tasteful appetizers and soft drinks to neutralize sting of spicy dishes. MC for the occasion was Xama shah, who kept the crowd fluid, attentive, and involved for total length of the program. MC Xama Shah started wishing Good evening everyone, and Namaskar, Happy Diwali and Prosperous new year to all of you. On behalf of Gujarati Samaj of Chicago she welcomed all to celebrate Diwali in today's pleasant evening. She hoped all to enjoy this evening. Gujartai Samaj's president Mr Suryakant Patel and his fellow members had worked very hard to bring the best Diwali for all.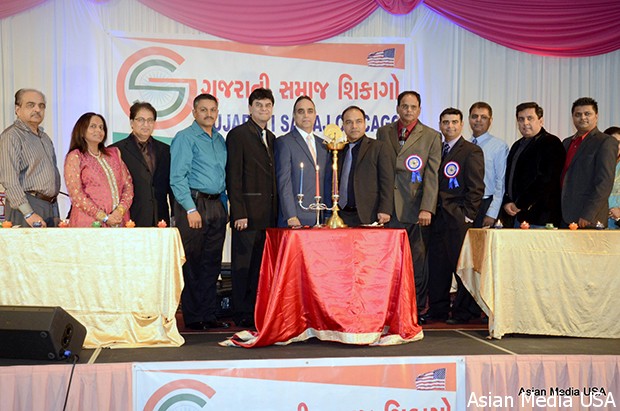 This program won't be successful without our help of our Sponsors. She invited Sponsors on stage and recognized them. Thanking the response given by the sponsors for this event they were called on stage and lighted Diwa befitting beginning to Diwali Celebrations.
Bhavna Modi is known to all. Her organization, Manpasand Inc is a USA based event management organization, which promotes Indian culture through Stage and Music. They organized Entertainment program with the help of Bollywood Masti Group. Program started with Ganesh Stuti Dance performed by two small girls from Rudra Academy. Diva Lighting ceremony was performed by President Suryakant Patel who wished Happy Diwali to all and invited Arvindbhai Modi, Manubhai Shah, Jaswantbhai Sheth and Chandrakant Patel for Diva Lighting.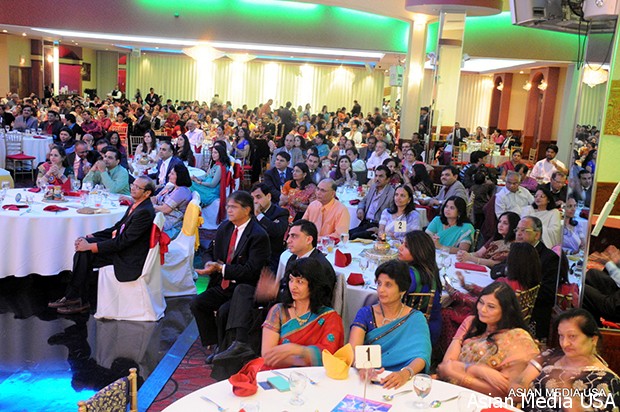 Vinod Sutaria anchored the Entertainment Program on behalf of Bollywood Masti Group. Singer Sunny started singing a spirited Gujarati song' Aaj Bapuni Punyabhoomi Par Ugyun Suvarn Prabhat Jai Gujarat Jai Jai Garv Gujarat'. Then onwards program went on making all age group to dance with flurry of songs sung by talented artists, Sunny, KK,Alka and kept the audience zooming till late night.
Addressing the gathering, current President Suryakant Patel wished everyone a Happy Diwali and Happy New Year! He said, "Diwali marks the attainment of moksha or nirvana and to rejoice conquering of evil Ravan by Lord Ram. He further said,' "We are glad to be serving the Chicago Metropolitan area for many years. Our goals are to encourage people to explore and learn about rich Gujarati culture. Together let us keep this light lit for life and joy for many years to come." Suryakant Patel, also outlined successful past events organized by Gujarati Samaj. The speech concluded with thanking the event's sponsors.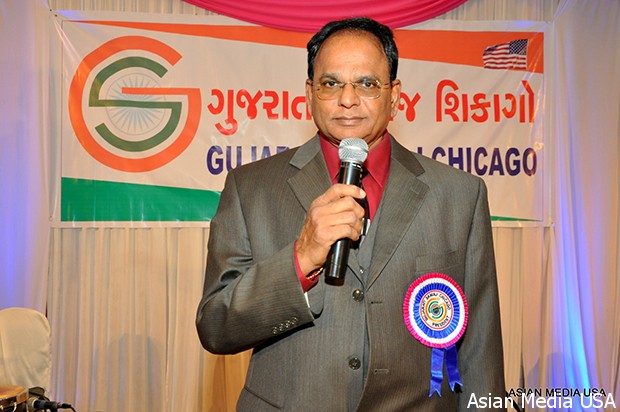 Gujarati Samaj of Chicago formatted in 1972 the oldest and largest community of Chicago. In today's age, networking and whom you know is very important. GSC is one of the few organizations in Chicagoland area that provides an excellent platform for socializing among all age groups as well as personal & professional networking.
The program included sumptuous dinner. All dispersed at late night cherishing sweet memories of the program