Hindu Community Celebrates Swami Vivekananda's 150th Birth Anniversary
Chicago IL: Some 30 religious organizations joined hands on September 27, 2013 under the banner of the Vishwa Hindu Parishad of America (VHP-A) to celebrate Swami Vivekananda's 150th Birth Anniversary at The Meadows Club, Rolling Meadows, Ill. These included Gayatri Gyan, Manav Seva, Hari Om, Shree Jalaram temple. Among the speakers at the banquet were Swami Sharanananda (Chinamya Mission), Stephen Knapp, Jeffrey Armstrong, and Subramanian Swamy. Distinguished guests included Raja Krishnamurthy, Swati Dandekar, Rajiv Malhotra, Nimish Tolia, Bharat Barai (grand sponsor), Ashish Sen, and Ratan Tata.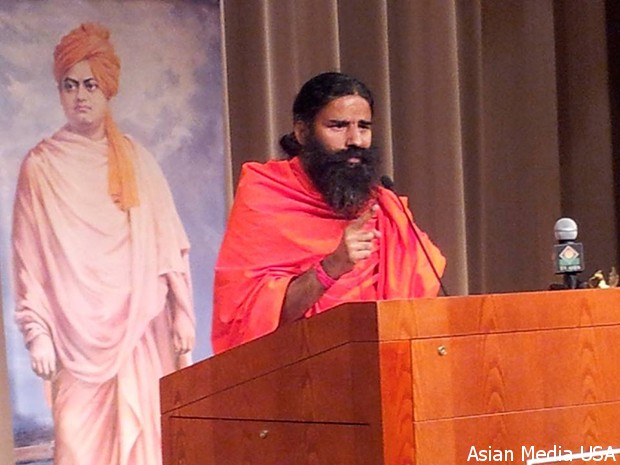 The three MCs were Parth Mangrola, Birva Trivedi, and Harshil Patel. Event chairman Harendra Mangrola introduced Vivekananda. Theresa Mah read out a message on behalf of Illinois Governor Pat Quinn commending the Swami for having secured Hinduism's place on the map of the world religions. There were video recorded messages of support from Sri Sri Ravishankar and Dr. Pranav Pandya head of Gayattri Shanti Kunj (Rishikesh). A message from Mohan Madhukar Bhagawat, chief of the Rashtriya Swayamsevak Sangh (RSS), was also read out.
President Obama's speech before the Indian Houses of Parliament in November 2010 was shown: "Instead of succumbing to division, you have shown that the strength of India—the very idea of India—is its embrace of all colors, castes and creeds. It's the diversity represented in this chamber today. It's the richness of faiths celebrated by a visitor to my hometown of Chicago more than a century ago—the renowned Swami Vivekananda."
Denis Falk from Wisconsin, whose guru is a Native American Eagle Woman spoke of 400 bhakti yoga organizations across his state. He rendered a bhajan to Ganapathi on the guitar.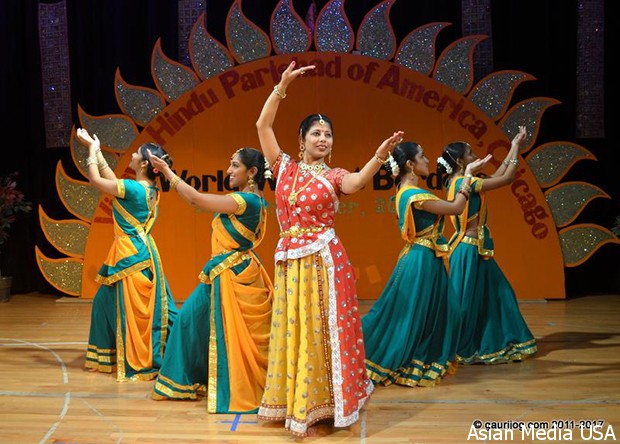 Amar Upadhyaya introduced Stephen Knapp as having embraced Hinduism through the Bhagavad Gita (BG), after not having been able to find the answers he was searching for in his Bible and other religions. He received his Hindu name Shri Nandanandana Das from his guru Bhaktivedanta Prabhupada. As exemplified by Vivekananda, "we do not convert but convince others by sharing what we have learned as Vedic ambassadors," Knapp said. However, Hindus "need to know how to stand together in an organized manner." Words like karma that were unknown when the Swami arrived have been so popularized that they no longer need translation. Knapp has written 25 books to simplify Vedic philosophy, for "I was convinced of what India has to offer. Westerners accept only what they understand and not simply by tradition as do most Hindus. What's in it for me?" is their first question.
Jitendra Digankar introduced Jeffrey Armstrong, also known as Kavindra Rishi, as the founder of Vedic Academy of Science and Arts in Vancouver. Shree Narayan Chandok and his wife Asha had made Armstrong's participation possible. "Something is in the air amidst the Indian diaspora," he declared. "Like a banyan tree dispersing seeds far and wide, Vivekananda brought a bag of seeds that are only just sprouting." With his irresistible sense of humor, Kavindra observed that India has "conquered the world in 50 years with curry powder, and not over 500 years with gun powder like the British." Clarifying why he is a Hindu, he spoke of "the vow I took to spread the dharma for the rest of my life." Drafted into the Vietnam War at age 19, "my life looked like that of Arjuna and I finally understood the BG." Dodging to India, he spent five years in Prabhupada's ashram. "You need to finally speak up in your own voice, especially in a democracy like here" he told the assembled Hindus, for "Macaulay replaced Sanskrit, which is your voice, with English." Parents earlier insisted correctly on the five "sacred" professions, but their children have yet to learn how to speak up on their own culture in English. Citing Krishna from the BG, he advised "never to preach to the antagonistic or the indifferent but only to the undecided swing vote."
Vinita Gulabani introduced Sadhvi Bhagawathi Sarasvathi, a white psychologist who left the US permanently to live at Paramartha Niketan in Rishikesh, where she took the vow of renunciation from Swami Chidananda Maharaj. She is President of Divine Shakti Foundation, secretary of his India Heritage Research Foundation, and the managing editor of its 11-volume Hindu encyclopedia, the culmination of a 25-year academic effort. "We've created imaginary but all the more effective borders," she declared quoting Gandhi: "What's the point of running so fast, when we are running in the wrong direction." She observed the pandemic of mental illnesses across America and the increasing reliance on drugs. India, she said, drawing on her long experience of hospitality there, "is a culture that feeds first and eats later," referring to the woman of the house receiving an unexpected guest. Sadhvi rejected the contemporary Indian fascination with the West and everything foreign. "Indians take India with them, and Vivekananda did not leave Mother India but took Her with him to America," she concluded.
Vandana Jhingan introduced Swami Chidananda, who loved this theme of "World Without Borders" (vasudhaiva kutumbakam) and praised the organizers. For Vivekananda, "India is not a large bazaar but a large family (parivar," and its quest is the "conquest of the soul and not of others." His message to Hindu youngsters was "wear jeans but don't forget your genes."
Subramanian Swamy spoke on the theme of the reawakened self-confident (virat) Hindu that he elaborated at greater length the following day as special guest speaker at the Jain Center.
Between breaks in the program, kids came up on stage to read out their favorite quotations from the works of Vivekananda. A Ganesha puja was danced by Yati Patel.
At the World Parliament of Religions, Vivekananda preached a universal message of tolerance and inclusion that was also profoundly Hindu. As such, he has been embraced by those of other faiths and is also the spiritual fountainhead of Hindu reawakening and even nationalism. The tension between these two tendencies came to the fore, earlier in the week, with the Council for the World Parliament of Religions (CPWR) publicly withdrawing their endorsement of this VHPA-hosted celebration, and the two Hindu representatives at CPWR resigning in protest and under pressure. Can this tension to be resolved before his legacy is permanently marred?