Festival Showcases Diversity and Evolution of South Asian Cinema
Chicago IL: The annual Chicago South Asian Film Festival (CSAFF) treated movie buffs downtown over the entire weekend of Friday, Sep. 20, 2013 to the most recent wave of features and shorts by Desi and American film-makers from the subcontinent, North America (especially Los Angeles), and Europe. The opening ("Oass") and closing night ("Club 60" and "The Reluctant Fundamentalist") features were screened at the Showplace Icon Theater, and the rest at festival partner Columbia College's Film Row. On Saturday morning, several film-makers participated in a press conference at Film Row, ably moderated by local Producer Snehal Patel, to speak about their respective creations, choices, techniques, and receptions.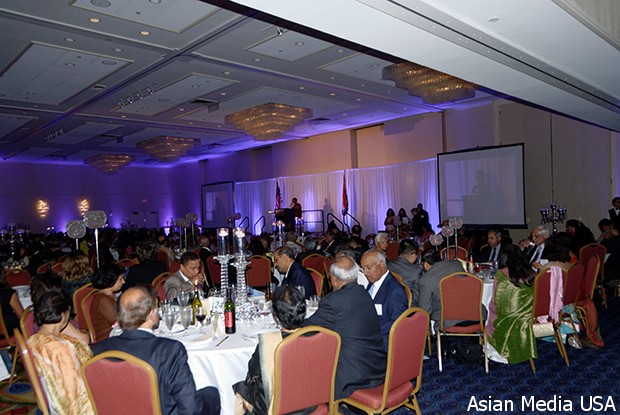 Debut Director Abhinav Shiv Tiwari's US Premier of "Dew Drop" (Oass) portrays the disturbing plight of South Asian girls caught up against their will in the flourishing merciless flesh trade. The Hindi movie is fictionalized around the true story of Kiku, a Nepali abducted at the tender age of eleven from her idyllic rural playground by a trusted aunt under false pretenses to be drugged, raped, practically imprisoned, and brutalized in realistically portrayed Delhi brothels, before managing to escape through sheer perseverance. It was scripted and fleshed out with materials drawn from pan-South Asian case-histories recorded by NGOs, often foreign-funded. Two significant themes were police complicity (even of politicians in high places) and woman-upon-woman violence, as when the prostitute becomes a "madam" profiting from the exploitation of former co-workers. Many female viewers could not bear the crude obscenities, let alone the gratuitous violence, and left the hall quite early. Those who remained till the end plied Tiwari, Producer Jimeesh Gandhi, and Producer Partner Raaj Rahhi with questions in a session, moderated by K. Sujata, President and CEO of Chicago Foundation for Women. In introducing the movie, Chicago psychologist and past President of Apna Ghar Surinder Nand had aptly assimilated girl-trafficking to "soul-murder that destroys the very capacity to love" for the prolonged nightmare "produces changes in the body chemistry down to the molecular level."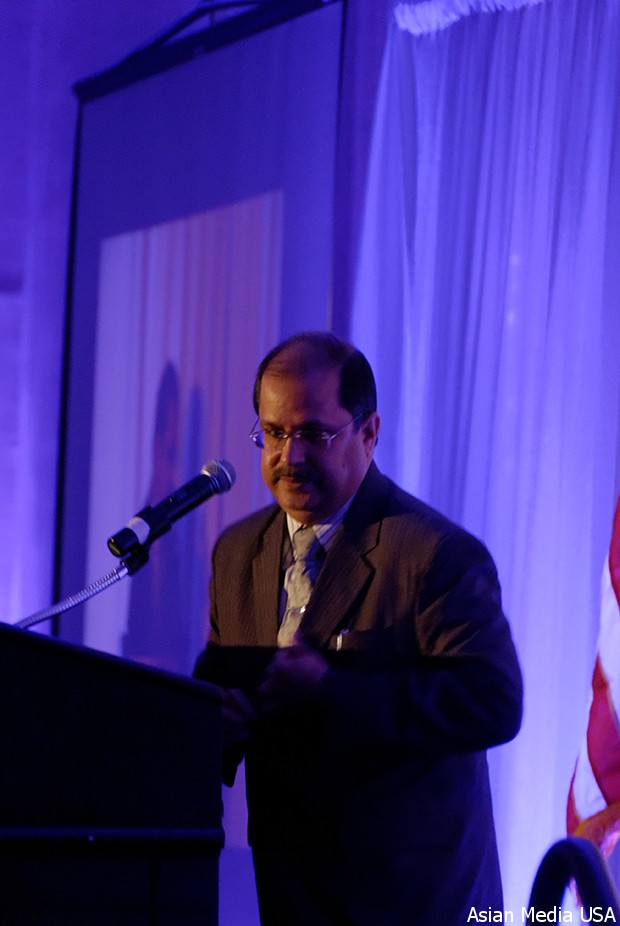 Director Brayden Yoder's film noir "Breakdown" portrays the seamy side of Tamasha dance- opera discovered by an American tourist in Pune upon accidentally killing a pedestrian with his motorcycle. The theater owner, who pimps and tortures his own wife, is killed by the horrified foreigner whom he attempted to blackmail. However, several shorts treat prostitution with greater sympathy and even a humorous twist. "Oass" was prefaced by "Shameless" where the publicly shamed woman reveals the village council, one-by-one through forgotten mementos, to be her prized clients. Scandalized by this dishonor heaped upon the menfolk, the headman's wife (Reena Dutt) nevertheless runs after the exiled prostitute when revealed to be her lesbian lover. In "Khuli Khidki" a failed insurance agent, who is persuaded to lose his overdue virginity in a brothel, finds not only romance but a bevy of clients eager for his policies. Director Reena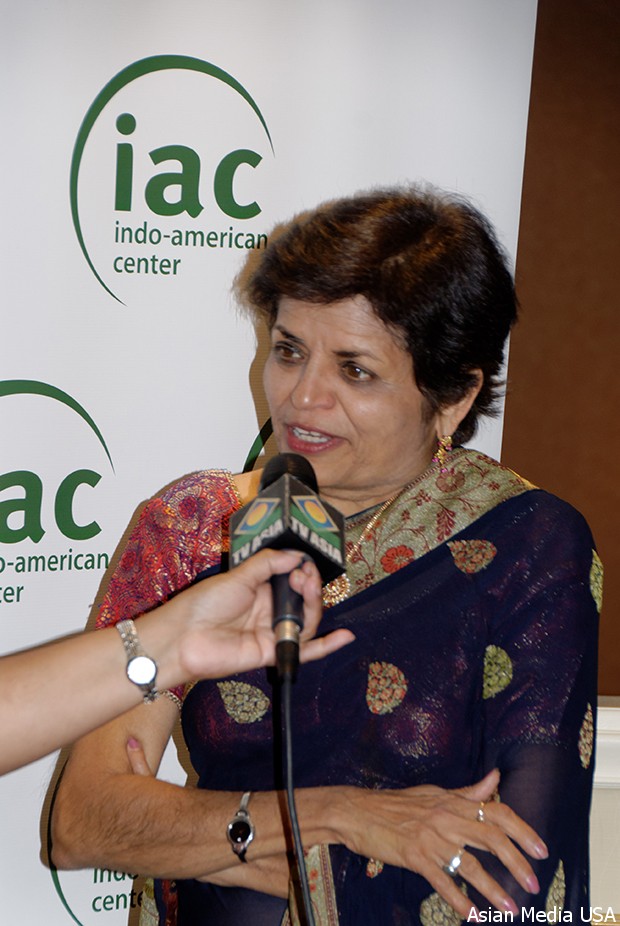 Dutt's "3 Puffs of Gold" is about a survivor of sexual assault breaking the silence, typical of South Asian society, and confronting her aggressor on the initiative of their mutual friends. Director Meera Menon's feature "Farah Goes Bang" is instead about a Desi desperate to lose her virginity while on Kerry's 2004 presidential campaign trail across six states. In Chicago Director Ryan Logan's short "The Queen of My Dreams," actress Fawzia Mirza adores the "patriarchal" heroine (Sharmila Tagore) of Aradhana (1969) in her now own "queer" way. "Nightlife" (Urdu) on male child sex-workers in Lahore (Pakistan) interrogates the ambiguous role of artistic work. Director Sankhajit Biswas' "Dui Duharnir Golpo" (Bengali) depicts the transgendered plight.
The tribulations of contemporary Islam, Pakistan in the Taliban shadow, and the predicament of diaspora Muslims were not neglected. Sana Haq's documentary on "The Other Army" offers firsthand insights on the civil war raging over the understanding and application Islam, whether perpetrators of terror may be considered Muslims. Mira Nair's film adaptation of "The Reluctant Fundamentalist" by Mohsin Hamid (2007) explores the psychological loop through which the hostile perceptions of others conspire to make their unfounded suspicions almost come true. Hansal Mehta's feature "Shahid" traces the true story of slain lawyer and human rights activist Shahid Azmi, who defended Muslims falsely accused of terrorism and often won their acquittal.
Director Vivek Budakoti's feature "Pied Piper" transforms the ancient moralistic fable of the washerman and his donkey into a socio-political satire on the great circus of Indian democracy.
Debut Director Sanjay Tripathi also wrote the script for "Club 60" starring Farookh Sheik, a celebration of life by five seniors around a tennis club that had its world premier here. Despite the vacuum in their own lives, they revive a depressed couple. Tripathi's first audience comprised the real-life members of the sports club, who carried him together in appreciation.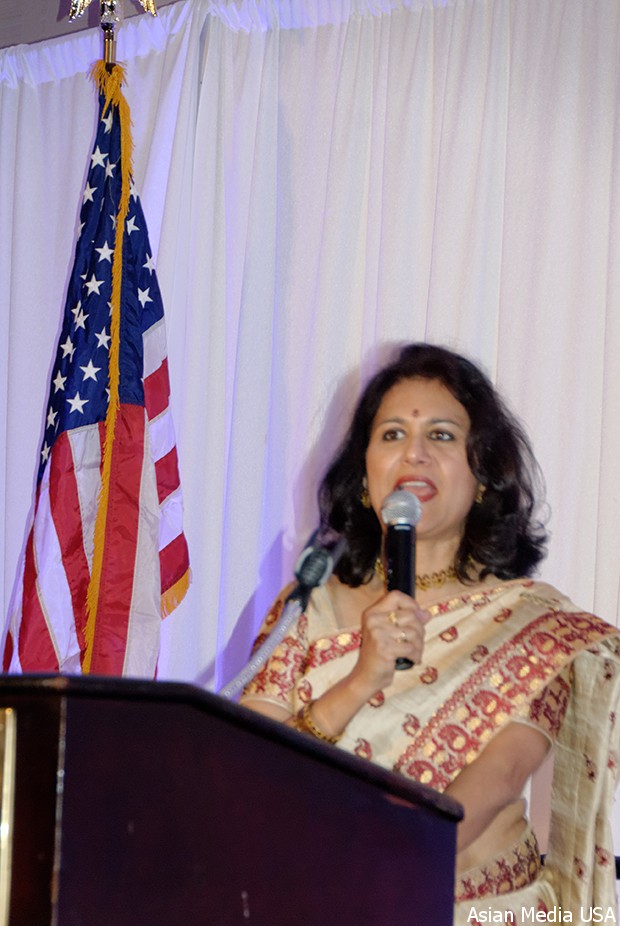 Presented with disarming honesty by its heroine Trupti Bhoir, Marathi feature "Touring Talkies" depicts the cinema culture of the traveling tent when conservative rural folk were still hesitant to accept its novelty. Shantanu Suman's "Horn Please" is an excellent self-funded first ever documentary about the regionally diverse truck art of India, produced by ill-paid masters in graphic design and now on the verge of extinction.
Harsshil R. Patel's "Free Ka Refill" is a hilarious short on what the explosion of communications technology can do to one's sense of social identity. An infuriated owner, who has to respond to the recipients of prank calls to strangers made on his cell-phone that had been lost for a day, soon gets into the act himself.
Other movies shown were Tasher Desh, Chor Chor Super Chor, Much Ado About Knotting (on matchmaking) Bansuli (Nepali), Indian Summer, There She Is, and Or Die,
Photo captions (in order of priority):
#44 = Makers of "Oass" respond to audience questions after screening of the opening night movie at Showplace Icon Theater (L to R): True Cinema Producers Raaj Rahhi and Jimeesh Gandhi (CEO), Director Abhinav Shiv Tiwari, and moderator K. Sujata, President and CEO of Chicago Foundation for Women
#03 = Directors, producers, and actors speak about their respective films at the press conference on Sep. 21 (L to R on the panel): Director Abhinav Shiv Tiwari and Producer Jimeesh Gandhi of Oass, lead actress Trupti Bhoir (Touring Talkies), Shantanu Suman (Horn Please), Director Ryan Logan (Queen of My Dreams), Director Vivek Budakoti (Pied Piper), Director Brayden Yoder (Breakdown), Director-Actress Geeta Malik (Shameless), Director-Producer-Actress Reena Dutt (3 Puffs of Gold, Or Die, Shameless), and moderator Snehal Patel (standing extreme right).
#24 = Los Angeles based Reena Dutt, Director of "3 Puffs of Gold" and Producer of "Or Die," who also acted in "Shameless" (all three were shorts).
#29 = Consul General of India in Chicago Ausaf Sayeed and his wife Farha being interviewed just before opening night movie at Showplace Icon Theater.
#16 = Discussion after Saturday screening of shorts at Columbia College's Film Row (L to R): Snehal Patel (CSAFF), Parvesh Cheena and Reena Dutt (Or Die), Brayden Yoder (Breakdown), Harsshil R. Patil (Free Ka Refill), moderated by Sandeep Sharma at Columbia College.