Midwest Asian American Center Raises fund for Needy Immigrants
Chicago IL: The Midwest Asian American Center (MAAC) hosted an informational fundraiser that conferred awards on distinguished members and offered an evening of food and entertainment. The dinner, which allowed MAAC board members to meet 400 people under the same roof, was held at India House Banquets in Schaumburg, on Friday, September 27, 2013. Six government departments set up booths in the lobby to provide the public information about their respective services for "community awareness" was this year's theme.
They were the Secretary of State mobile unit provides services as renewal of driver's licenses, State ID, change of addresses, and vehicle plate stickers. U.S. Citizenship and Immigration Services (USCIS), represented by the Director Lori Petropolis and Public Relations Officer Amy Stern; Department of Human Services, represented by Jean Miller and Sara from Illinois Coalition of Immigrant Refugee Rights, explained Medicare and Medicaid; Attorney General's Office, represented by Eric Salsado, to warn against consumer fraud and identity theft; Cook County Clerk's office; Social Security office, represented by Doug Nyugen, advised seniors facing reductions in their supplementary income.

MAAC Executive Director Vandana G. Dalal welcomed the guests and introduced Emcees Laurie Martin (MAAC board member) and Noman Khan (from Yeh Cheez entertainment). The program began with a prayer sung by local community activist Rita Shah, followed by the US and Indian national anthems by Karen Joseph and Jodh Rawat respectively.
Having greeted the assembly, MAAC President Ravi Rawat highlighted the MAAC activities and programs across its various Chicagoland locations. He was overwhelmed by the huge response by the community and government departments. MAAC Board member Martin then presented a slide show showcasing these MAAC activities.
Showed his full support, keynote speaker Illinois Secretary of State Hon. Jesse White praised the efforts of MAAC and Vandana Dalal in helping new immigrants become mainstream citizens through offering educational courses. Ravi Rawat invited Mayor of Hoffman Estates William McLeod, Vice Consul General of India Anuradha Negi, Director of USCIS Chicago Lori Petropolis, Theresa Mah, who is Senior Policy Advisor at Office of Illinois Governor Pat Quinn, and Past President of MAAC Pankaj Patel, along with the seven awardees to join them on the stage, while Mah read out the Governor's message of support. Ravi Rawat and Dalal recognized the dignitaries and MAAC board members Raj Patel, Nand Balani, Kishore Chug, Suresh Raheja, Stella Pillay, Shirley Hathaway, Laurie Martin, Jagmohan Jayara, Jairaj Bhatia, and Raman Patel.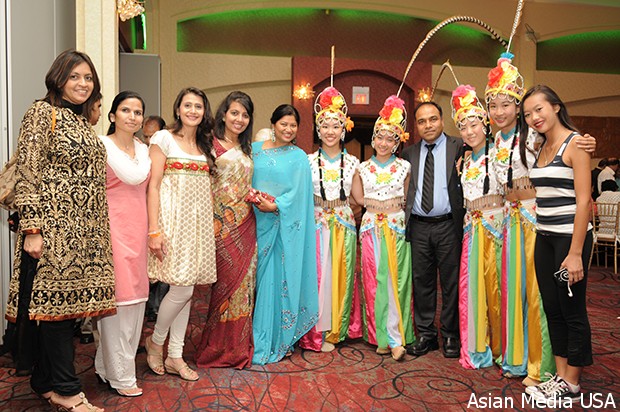 Secretary of State White presented MAAC awards to Prem Mehta and Doug Nyugen for community service, Sunil Shah for community leadership, Ketu R Amin for technology, Rocky Bhalla for small businesses, Anil Pandya for financial services, and Pritesh Gandhi for the service industry. Awardee Bhalla said that he is fortunate to have all his businesses in Illinois and thanked White for ensuring such a business-friendly environment. Awardee Sunil Shah, who is founding president of the Federation of Indian Associations (FIA) based in the Chicago suburbs, complimented MAAC for hosting a very successful event and extended his support.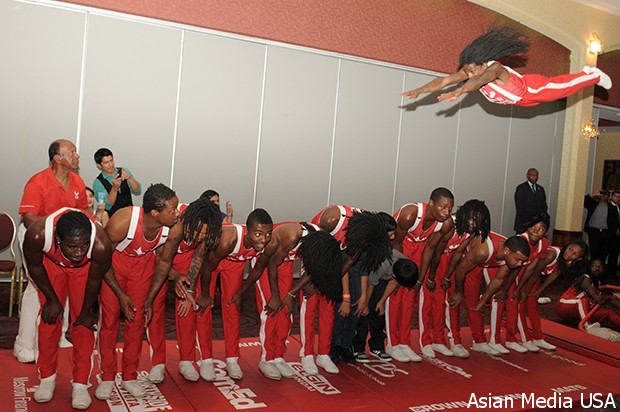 The live acrobatic performance by the renowned Jesse White Tumbling Team, led by White himself in person, shook everyone out of their seats into putting their hands together to the thrilling rhythm of the music. The full array of entertainment, all of which was greatly appreciated by the audience, included Bollywood dance by Yeh Cheez, Indian classical dance from Nrutyaakalashree Academy (Indian Classical & Bollywood), R.K. Academy offering both, Chinese dance by Xilin Association, and Brazilian dance by the Gingante Capoeira.
Winners of the raffle prizes, gifts donated by friend of MAAC, were announced, and the audience was kept abreast of the progress of the fundraising initiative by Sunil Shah.