Indian Community Joins Celebration of Mahatma Gandhi's birth anniversary
Chicago IL: Members of Gandhi Trust of Skokie, Illinois, along with company of many dignitaries admirers, celebrated Gandhi Jayanti on the occasion of his 144th birth anniversary on October 2nd 2013, Wednesday. The event took place at the memorial of a larger than life statue of Bapu located at Heritage Park, Skokie, Illinois. The event kicked off by offering flowers and singing Mahatma's all-religion prayers, lighting candles and reciting Bapu's famous quotes, and speeches including paying homage to Father of the Nation. The favorite hymns of Gandhi were also recited on the occasion.
The event was highlighted by the presence and blessing of Bhagvan Sri Sri Sri Viswayogi Viswamjee Maharj, founder of Viswayogi Institute of Medical Sicense in Gantur, Andhra Pradesh, India. Swamiji took special time to attend the ceremony during his world tour. He meditated and offered prayer and gave brief speech indicating the significance of Gandhi Jayanti celebration which transcends beyond commemorating Mahatma Gandhi's birth and his life. He emphasized to follow and renounce violence and entirely devote themselves to Gandhi's philosophy and principles of Ahimsa i.e living a life by following non-violence.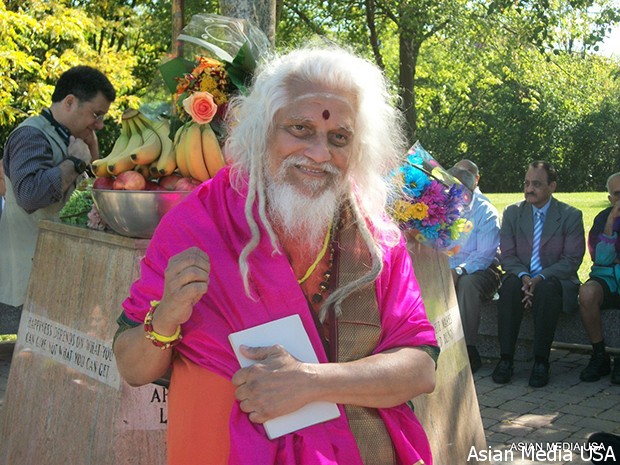 The day now is also commemorated by many nations and cities including city of Skokie, Illinois, and the United Nations as the International Day of peace harmony and Non-Violence Among the attendees present included Board of Trustee of Gandhi Memorial Trust, wife of Skokie Meyer and many others.
It was also announced plan for grand celebration of Gandhi Jayanti next year on the occasion of 10th anniversary of Inauguration of Mahatma Gandhi's statue in Skokie, Illinois. Mrs. Usha Kamaria requested that everyone is welcome by contributing the ideas to make that a memorable occasion.