Gujarati Samaj Celebrated Navratri with Traditional Fervor
Bensenville, IL: The Guajarati Samaj Chicago (GSC) Board of Trustees, Members of Executive Committee and Volunteers hosted colorful Raas Garba festivity on the occasion of Navratri on September 28th, 2013 Saturday from 7:00pm. Onwards. This annual sacred event is celebrated in honor of Godess Durga and Amba Mataji. The event was held at Manav Seva Mandir located at 101 S. Church Road, Bensenville, IL. Attendance was houseful. Garba by: Orchestra SaReGaMa of Chicago Rita Patel & Atul Soni; Aanand Master on Keyboard; Kafi Khan on Octopad; Andy Patel – Percussion
Backless Cholis, Embroidered Chania, Colorful Dhotis and Kurtas and a Kaleidoscope of Saris were all out as Gujaratis in particular and others in general danced to the tune of loud music in Somerset as Navratri began with the usual gusto throughout the United States. The Mahalaxmi hall of Manav Seva Mandir was transformed in to a huge dance floor to accommodate hundreds of bare feet moving in to thunderous drumbeats in swirling circles around deity Hindu Goddess "Durga and Amba Mata".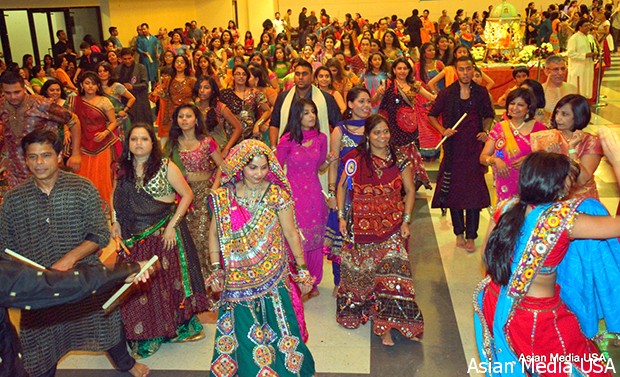 The most fascinating was the Dandiya Raas. Colorful Dandiyas, some of them specially ordered from India, had modern looks. While the traditional Dandiyas are made of wood, it is now the age of aluminum and even colorful plastic. Some of the Dandiya s change color with every beat making it all the more fascinating. The nonstop Dandiya for almost 90 minutes not only drains the participants but the musicians also. The viewers are left spell bound by the fast rhythm and pace.
The beautiful music is one of the most foremost pillars of the Navratri Garba celebration. The drums, dholak and all sort of instruments coming together with melodious voice by group leader and singer Rita Patel & Atul Soni. Music for Navratri festival has to keep balance between devotion and entertainment." said Rita. "We Gujratis, have Garba in our blood" said lead female vocalist singer Rita Patel.
There was overwhelming participation from predominantly young audience enjoyed the memorable evening. Many in the audience, especially ladies and children wore very colorful mesmerizing and dazzling traditional dresses for this special occasion with appropriately matching ornaments and extravagant hairstyles. When asked main purpose of organizing such event, Mr. Suryakant Patel, president of executive board member replied that "this type of organized event promotes Indian culture to the new generation who are born here"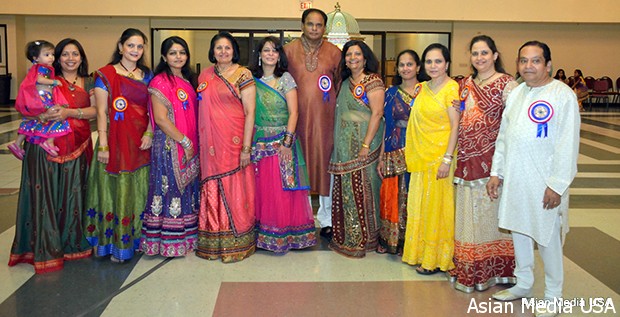 Lead Vocalist and band leader and members of executive board started the program by offering a prayer. This was followed by mesmerizing rhythmic conformist Garba music with equally passionate and energetic performance by the audience of traditional swirling dance around Mataji's heavenly symbolic presence turned in to shrine adorn with flowers and decorations. After the brief break and Arati, the festive music of Dandia-Raas commenced with again enthusiastic participation by audience which lasted till early hours of the morning.
One of the specialties of Navratri is the Prasad, distributed at the end of the Garba (singing devotional songs) to all the people. The word Prasad means the food offered to GOD (after preparation, it will be placed before the idols of Gods and Goddesses without anyone touched or tasted it). Later, after the Puja, it is believed that GOD will shower his blessings on all the people and the food offered to him, making the food as a sacred one. This sacred food is later distributed to people as Prasad, as the mark of the end of Puja for that day. The Navratri special Prasad are varieties of Shiro, Panda, any kind of sweet, and fruits.
Board of Trusty and executive committee members and volunteer's good planning and durable work were evidenced by excellent security safety and parking arrangement.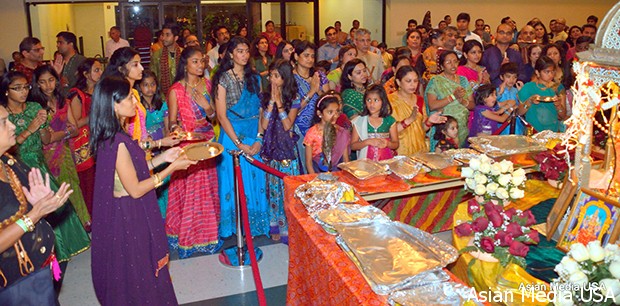 Sponsors and vendors participated by displaying their Banners and advertisement. Lahni prices were distributed during the event. This multidimensional celebration of such a festive day of Navratri would not have been possible without many sponsors, donors, and advertisers.
Current president Surkantbhai thanked the committee heads and volunteers that made the event possible. With entire well organized dedicated Gujrati Samaj Chicago (GSC) team effort with solid work and with Devine blessing from Mataji combined with devotional hard work and enthusiastic support and participation by the community the event was a grand success.
Honorable contribution by: Jayesh & Harshida Parikh; Best Brains; FMSI- The Modi Group Investment Manish & Reema Pandya; Suryakant & Urvashi Patel and Kamlesh & Sandhya Shah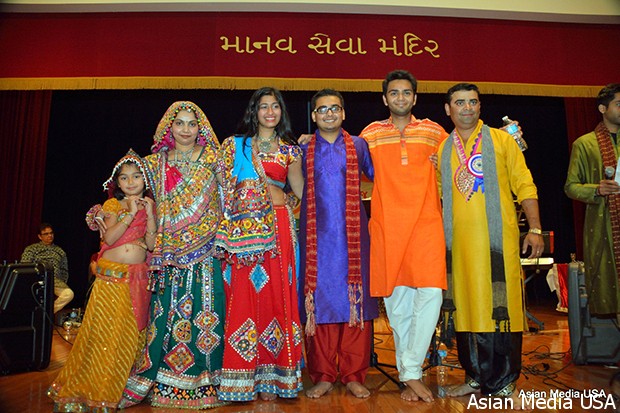 Garba Prizes: There were 16 Trophies awarded for the following categories:
Under 25 Years
Best Costume Male, Best Costume Female, Best Garba Raas Male, and Best Garba Raas Female
Over 25 Years
Best Costume Male, Best Costume Female, Best Garba Raas Male, Best Garba Raas Female
Executive Board:
Suryakant Patel (President), Kamlesh Shah (Vice-President), Jayesh Parikh (General Secretary), Bhavesh Shah (Jt. General Secretary), Manish Pandya (Cultural Secretary), Deepen Modi (Treasurer), Sandip Shah (Jt. Treasurer),
Past President
Mukesh Shah (Past President),
Board Member
Ashok Shah, Vibha Dave, Payal Shah, Maulin Parikh, Umang Shah and Dakshesh Modi
About Gujarati Samaj Chicago (GSC):
Gujarati Samaj Chicago is glad to be serving the Chicago Metropolitan area. The goals of GSC are to encourage people to preserve, promote, explore and learn about Gujarati culture, literacy, social and academic activities. GSC is one of the oldest organizations who provides a community to find joy in encouraging, promoting, and celebrating the Gujarati culture, especially among 2nd and 3rd generation Gujaratis here. The main activities include but are not limited to the following: Bowling, Summer Picnic, Navratri Garba Raas event, and the Diwali Gala Party. Our Youth Program includes activities that provide networking, fun, and social 'get-together and know' opportunities such as the Mix and Mingle, outdoor activities, and various other events yet to come. For further detail information visit our website (http://gujaratisamajchicago.com/index.html) and facebook to learn more about the Gujarati Samaj Chicago, a non-profit organization. If you need to contact us, you can do so by phone (630-455-0280), email (gujarati.samaj@yahoo.com), or conventional mail (Gujarati Samaj Chicago, 6816 Fieldstone Drive, Burr Ridge, IL 60527).