The Consul General of India, Chicago Dr Ausaf Sayeed Meets and Greet Ethnic Media
Chicago IL: The newly appointed Consul General of India, arranged meet and Greet the Ethnic Media based in the Chicagoland area primarily to introduce himself, address the concerns, imbibe their ideas and convey brief details of the forthcoming events which the Consulate intending to organize. The event took place on Wednesday, September 25,2013 from 5-00 to 6-00 pm at the office of Consulate General of India, 455 N Cityfront Plaza Drive, NBC Tower Building,Suite No. 850,Chicago, IL 60611.
Media Personnel present included Prashant Shah from India Tribune, Bhailalbhai from DesiTalk, Ramesh Sopariwala from India Post, Hemant Brahmbhatt from Hi India, Vandana Zigan from TV Asea, Tausif Malik from Desi Times, Dr. Chandrakant Modi,Jyotikumar Chokshi and Nagesh from Asian Media USA, Suresh Shah from Gujarat Samachar and few from others.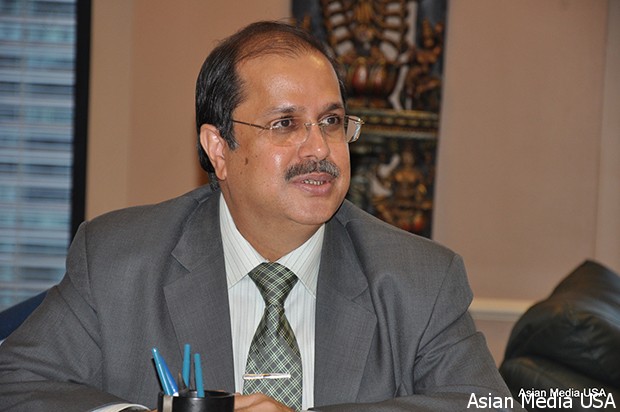 Dr. Sayeed accompanied by his two Colleagues Consuls Gangte and Banerjee informed all that his purpose of keeping this meet is to appraise the media of working of Counsel, its volume of work, limitations and understand the difficulties and problems of public in general and try to find its amicable solution. There were many problems regarding awareness in public about working of CG office and subsequent need to have proper liaison and clearing any misunderstanding or also to have proper understanding of grievances and its redresses some platform be raised and suggestions accrued, CG assured of arranging town hall type meeting for addressing problems associated with acquiring, renewing Indian Passport etc. like events to reach to the public and try to explain their He also appraised about services rendered by CG Office and time taken/required for each issue and reason for the same and also assured he will try to reduced period to the minimum possible barring certain formalities required to be fulfilled and necessary to get them done at India. There were many problems and incidences were cited related to Visa and other services delegated to new agency, all were discussed and assured by CG to amicably try to resolve them.
Following data was given to have idea about CG office work load.
Number of Visas Issued: 2012 — 45,357 2013 (up to 24th Sep) — 30,427
Number of OCI Cards Issued: 2012 — 11,367 2013 (up to 24th Sep) — 5,620
Number of Passports Issued: 2012 — 1830 2013 (up to 24th Sep) — 1304
Number of PIO Cards Issued: 2012 — 4957 2013 (up to 24th Sep) – 3292
Number of Miscellaneous services Issued: 2012 — 11164 2013 (up to 24th Sep) – 8927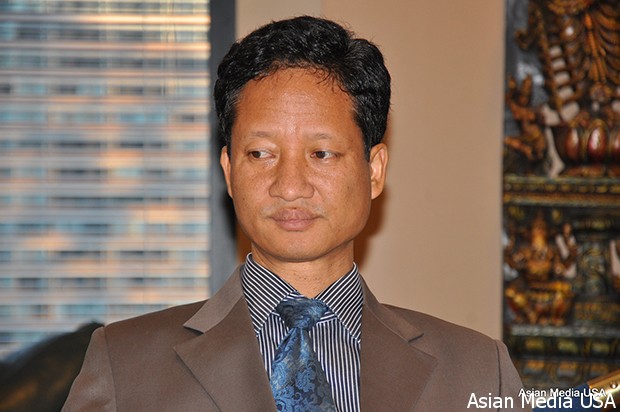 TRADE FIGURES: 2012
India's Exports to Midwest Region (9 states of Illinois, Indiana, Iowa, Michigan, Minnesota, Missouri, North Dakota, South Dakota)
US$ 4,013 million
India's imports to Midwest Region
US$ 2,389 million
Two way trade between India and the Midwest
US$ 6403 million
Dr. Ausaf Sayeed, who just completed a three-year stint as Indian Ambassador in Yemen, came to Chicago to succeeds Mrs. Mukta Tomer. " Dr. Sayeed has handled different areas of work in his 24 years of diplomatic service, including political, economic, consular and cultural work, besides Haj management. Earlier he served in sevral important posts all over the world including Ambassador of India in Sana'a, Yemen (September 2010 to July 2013), as Joint Secretary (West Africa) in the Ministry of External Affairs, New Delhi (August 2008 to August 2010) and Consul General of India in Jeddah (August 2004 to July 2008). Since joining the Indian Foreign Service (IFS) in 1989 Dr. Ausaf Sayeed has held various diplomatic assignments in Egypt, Saudi Arabia, Qatar and Denmark, besides serving as the Regional Passport Officer in Hyderabad. Dr. Ausaf Sayeed holds a Master of Science and Ph.D. in Geology from Osmania University in Hyderabad, India and an Advanced Diploma in Arabic from the American University in Cairo. He is a Competent 'Toastmaster' (CTM) and recipient of the Shri Y.G.K.Murthy Gold Medal from Osmania University.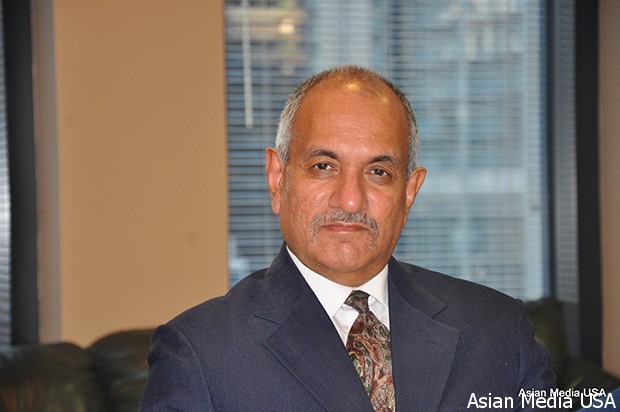 Dr. Sayeed has published three books: (i) 'Trends in Objective Geology for Civil Services and Other Competitive Examinations'(1990), (ii) 'Trends In Indian Culture And Heritage: For Civil Services(2011)and(iii)'Indian Art and Culture' (2011). He also compiled and edited the Urdu book 'Kuliyaat-e-Awaz Sayeed' (2009).Dr. Sayeed is married to Farha Sayeed, an accomplished painter and egg artist. The couple has three sons, Faateh, Faaleh and Azhaan. How does he cope with the hectic schedule? Dr. Sayeed attributes it to his wife, Farha, and said, "It's all because of her support
As many as 150 of the Fortune 500 companies are located in Midwest region. Dr. Sayeed sees greater scope for boosting Indian trade and business here. Another priority for him is addressing the issue of illegal Indian immigrants in Chicago. "Right now, I don't know the dimensions of the problem. But definitely we will guide the immigrants in the conversion of their status so that they can live legally," he adds.
Consular Services offered inlcude: Visa; PIO card; OCI card; Renunciation of India Citizenship/Surrender Certificate; Passport Related Services; Miscellaneous Services; Life Certificate; Marriage Certificate; No Obligation Letter for Child Adoption; Power of Attorney; Registration of Birth; Change of Address; Attestation of Will; Attestation of Documents; Attestation of Death Documents; Birth Certificate or Non-availability of Birth Certificate; Commercial Documents; Affidavit for Child Support to be issued in India; Academic Qualification Equivalence; Certificate; NRI Certificate; Police Clearance Certificate; No Obligation to Return to India; Statement of Need; Emergency Certificate.
Dr Ausaf Sayeed launched several business groupings during his assignment in the Gulf (GCC) countries to promote trade and economic relations between India and th Gulf countries. Some of these include the Indian Business Network (Riyadh -1996/97), the Professionals of India, Saudi Arabia (POISA), Dammam (1996/97), the Indian Business and Professional Network (IBPN), Qatar (1998), the Saudi Indian Business Network (SIBN), Jeddah (2005), the Indo-Saudi Medical Forum (ISMF), Jeddah (2006) and the Indian Education Council(IEC), Jeddah (2006).
Dr Ausaf Sayeed has contributed in promoting India's rich cultural heritage abroad. He was associated with the inauguration of the Maulana Azad Cultural Centre in Cairo (1992). In 1997, he organized the "Satyajit Ray: in retrospect", a one-week film festival of renowned director Satyajit Ray's films in Riyadh, Saudi Arabia. As Coordinator of the Indian Cultural Centre in Qatar, he was instrumental in organizing several cultural and literary events. In 1999, he organized a 9-day festival 'India Week in Qatar' in association with the National Council of Culture, Art and Heritage in Qatar in which several leading artists from India participated. In 2003, he organized joint Painting Exhibitions and Workshops involving leading Indian and Danish painters in various cities in Denmark.
During his tenure as the Consul General of India in Jeddah, he organized the first-ever 'India Festival in Jeddah' (September 2005), followed by the 'First Asian Festival in Jeddah' (October 2006) and the 'First Asian Film Festival' (February 2008). He was closely involved with the formation of the Saudi-India Friendship Society in 2006 under the patronage of the Saudi Ministry of Information and Culture. He was also associated with the Saudi-India Civil Society Dialogue. He formed the 'Asian Consuls General Club' (ACGC) in Jeddah in 2005, which comprised of Consuls General of thirteen Asian countries. He was instrumental in the publication of the book 'Historic Indo-Arab Ties' (September 2005) by the Indian Consulate.
Dr Ausaf Sayeed belongs to a literary family of Hyderabad. His father Shri Awaz Sayeed was a renowned Urdu writer and humorist who has seven books to his credit. His uncle Dr Mughni Tabassum was a well-known Urdu poet and critic and formerly Head, Department of Urdu, Osmania University. His aunt Mrs Siddiqua Shabnam, based in London, is a well-known Urdu poetess. His only sister Dr Seema Nishat, a US citizen, is a leading physician in Brookesville, Florida.