Sriranga School of Dance Showcases Young Talent on Annual School Day
Aurora, IL: Sriranga School of Dance celebrated its school anniversary on September 21, 2013 at Sri Sai Baba Mandir in Aurora, IL, according to its press report. Organized by artistic director Srivani Vokkarane, the evening showcased young talents in Kuchipudi, semi-classical, and folk dances.
After an invocation song by Manasa Sarma, a Sanskrit verse (shloka) invoking Lord Ganesha, goddess Saraswathi, and the teaching lineage (gurus) was performed by dancers Akshita Mogulla, Anagha Surampalli, and Vokkarane in classical Kuchipudi style. A semi-classical "Lamp dance" by young budding talents Akhila Kamasamudram, Anitha Konda, Ridhi Diddi, Saahithi Pebbati, and Suhanidatt Seeryada followed. A classical "flower-offering" (Pushpaanjali) in Raaga Naatai, set to Aadi taala, was then presented by Mogulla, Surampalli, and Rainisha Doddikindi.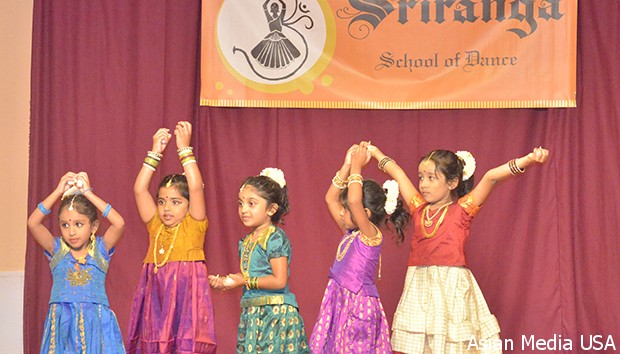 Abhilasha Kashyap, Bhavni Yalavarthy, Bhriti Harish, Myra Chowdhary, Pooja Nadiger, and Saagarika Kiran, went to perform Kolata, a traditional folk dance from the South Indian state of Karnataka with colored sticks set to a fast paced song. Doddikindi returned with a classical Kuchipudi solo in praise of the "Wonderful Spectacle (Kauthuvam) of Ganesha" dancing in Raaga Hamsadhwani set to Aadi thaala.
The highlight was Vokkarane dancing Tarangam on a brass plate to the well-known Krishna Leela Tarangini describing Lord Krishna. The evening concluded with the auspicious Mangalam in Raaga Madhyamaavati set to Mishra Chapu thaala.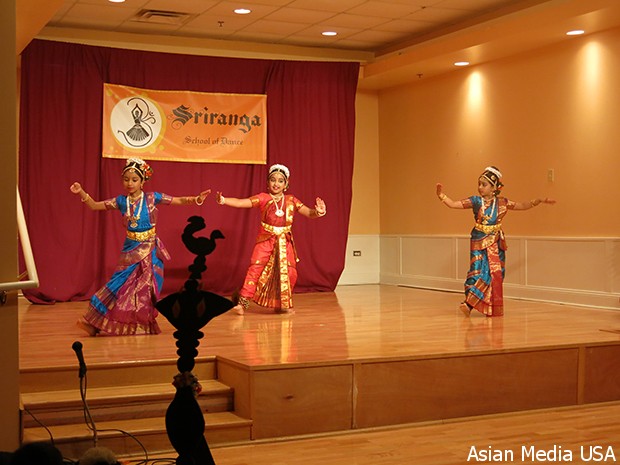 Beginning her dance-journey at the age of six, Vokkarane's formal training started with Bharathanatyam under gurus Sunanda and Premakumari. Fascinated by the quick silver and scintillating steps of Kuchipudi, she trained under renowned guru Vyjayanthi Kashi. She has choreographed classical, semi-classical, and folk dances for Kannada Koota, Chicago Tamil Sangam, and Vasavi Association, and has given solo performances and ballets throughout India.
Sriranga School of dance is dedicated to preserving and promoting the rich cultural heritage of India, through training students in the traditional art form of Kuchipudi. The school provides opportunities to perform at various events across Chicagoland.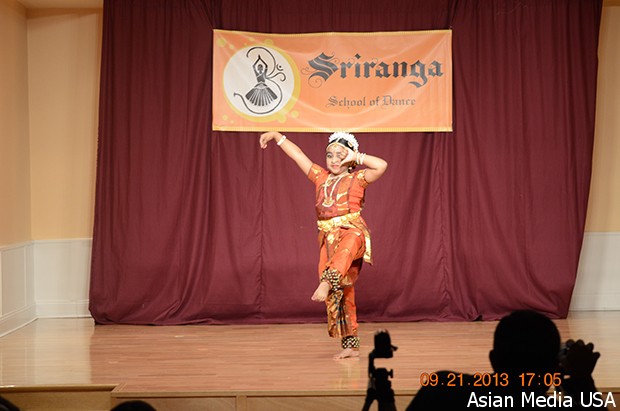 Photo captions:
1) Vokkarane dancing Tarangam on brass plate to the well-known Krishna Leela Tarangini.
2) Pushpanjali (L-R) : Anagha Surampalli , Rainisha Doddikindi, Akshita Mogulla
3) Kolata, a traditional folk dance from Karnataka (L to R): (sitting) Abhilasha Kashyap, Saagarika Kiran, Bhavni Yalavarthy, Myra Chowdhary; (standing): Bhriti Harish and Pooja Nadiger