FIA-Chicago reaches new milestone as it hosts towering India Independence Day Celebration
Chicago IL: FIA-Chicago's magnificent journey of nearly three decades has reached a new milestone this weekend as the outsized crowds deluged the streets of Mahatma Gandhi Marg with a sense of nationalism and patriotic fervor as its grand spectacular India Independence Day parade set out its pageant with dazzling fanfare on Saturday August 17, 2013 from the corner of Devon Ave. & Western Ave. in Chicago.
FIA-Chicago President Hina Trivedi Joined by Illinois Governor Pat Quinn, Parade Grand Marshall & Bollywood actress Soha Ali Khan the colorful parade set out its majestic march with a colorful convoy of artfully-decorated floats marching down with teeming visitors lined up on both side of the streets cheering, applauding and waving tri-color flags thus culminating the 3-day exciting celebrations hosted by FIA-Chicago in commemoration of the 67th Indian Independence Day. The 3-day festivities not only honored India's Independence; but celebrated the India's pluralism, reigning spirit of Indian democracy, enduring cultural heritage and thriving Indo-American friendship.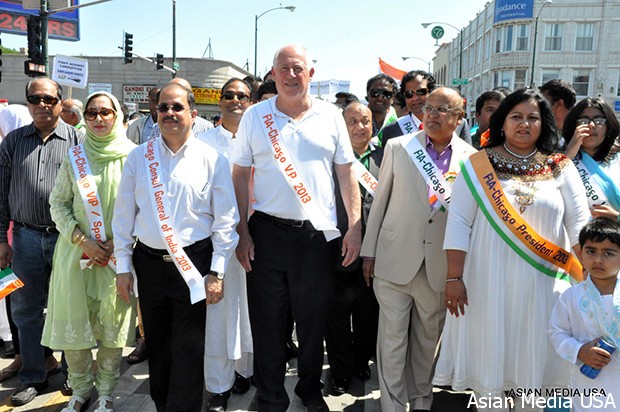 After the flag-hoisting and singing of the national anthem, the parade gently set in motion with a VIP line-up replete with high-ranking elected officials that included former White House Chief of Staff Bill Daley, Cook County President Toni Preckwinkle, Circuit Court Clerk Dorothy Brown, County Clerk David Orr with newly appointed Consul General of India Dr. Ausaf Sayeed along with Farah Sayeed , Niranjan Shah, Smita Shah the Executive Director Delhi-Chicago Sister City Relations Committee leading the front line.
The parade advanced through the streets of Mahatma Gandhi Marg led by the Scottish Pipe Band music which was preceded by a large Tri-color Indian flag carried by a host of women and youth. Around 27 colorfully decked floats have gently snaked through the heart of the India Town with enthusiastic crowd cheering as each float passed depicting unique cultural, social and regional identity of India. Dressed in colorful costumes depicting various Indian states and its traditions, the parade showcased the rich history and traditions of the rich diversity of India.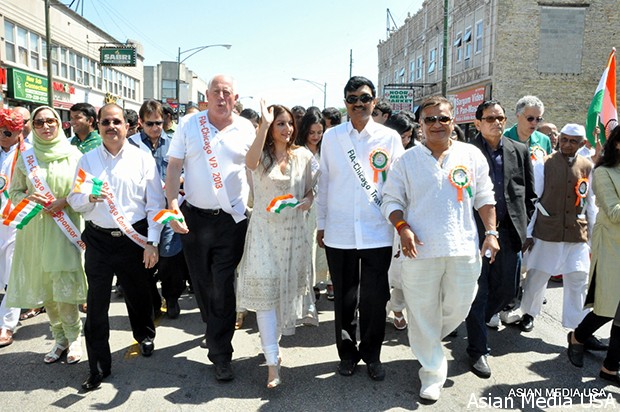 While the parade was in full progress, Governor Pat Quinn enthusiastically greeted crowds on the street; while Bollywood actress Soha Ali Khan freely greeted and shook-hands with her fans. The drum-beats of Malayalee groups represented by Indian National Congress party floats enthralled the audience, while Bengali songs filled the air with sublime music. The Jesse White's Tumbler Team took the pride of place with its breath-taking acrobatic jumps providing a grand finale to the colorful India Independence Day parade.
Among the contingent of FIA leadership participated in the line-up included FIA's Trustee Chiar Iftekhar Shareef, with trustees Niranjan Shah, Mr.Babu Marsha Patel, Kanti S. Patel, Ajai Agnihotri, Anil Pillai, Satish Gabhawala, Ranjit Ganguly, Hetal Patel and Sitaram Patel, Sohan Joshi, Harish Bhatt, Sitaram Patel, Prahlad Patil later by Dr. Bharat Barai ; the members of the executive board Keerthi Kumar Ravoori, Ravi Harsoor, Veenod Patel, Vandana Walia, Kalyan Andula Reddy, Minhaj Akhtar and Chris Christian joined the parade line-up. Other prominent community figures marched in the parade includes Dr. Ram Gajjela, Dr. Ashish Sen of Indo American Democratic Organization [IADO] and Dr. Basanti Sen Banerji, president of Indo American Center; while Sanhita Agnihotri, Iftekhar Shareef and Keerthi Kumar Ravoori served as the Emcee's on the parade reviewing stand.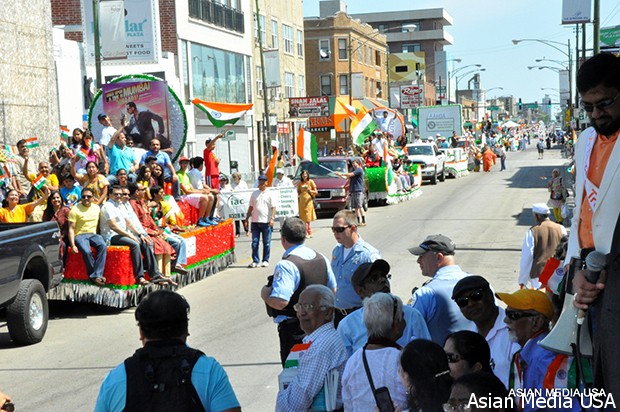 Bollywood sensation Soha Ali Khan speaking at the parade was overjoyed with her patriotic spirit and said "I am excited and honored to be here in Chicago and celebrate with you this grand Indian Independence Day. Soha Ali Khan said she travelled all the way from Mumbai India and said she feels the warmth and love of the people of Chicago and added that she feels at very much at home being in Chicago inspite of the vast distance away from home. She added that India is certainly not a geographical entity defined just by its physical borders, but it is really a community of people with shared values. Soha Ali Khan especially thanked FIA-Chicago leaders for inviting her and specially acknowledged trustee chairman Iftekhar Shareef and Syed Sabahat Jamal the Executive Director FIA-Chicago for making arrangements for her visit to Chicago. To show FIA's appreciation, young Anu Agnihotri presented a large flower bouquet to Soha Ali Khan amidst applause.
Consul General of India Dr. Ausaf Sayeed in his remarks offered greetings to the Indian diaspora on behalf of the government of India and said Chicago has always been very close to his heart; as he visited this city before. Consul General Dr. Sayeed added that he is keenly aware of the warmth and vibrancy of Chicago community and the proud contributions they have made. He heaped praises on FIA-Chicago for having been the first community organization to have called on him at his office to showcase a warm Chicago welcome.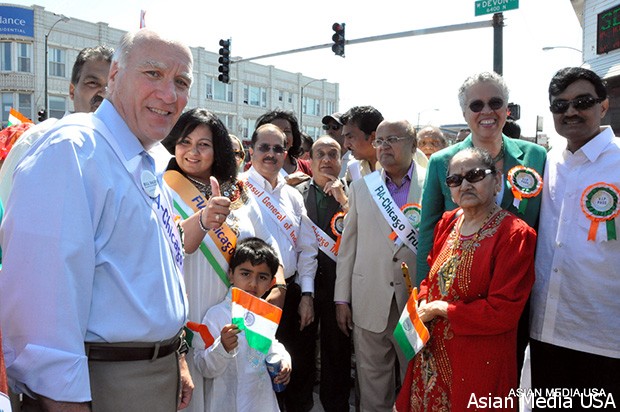 Trustee Chair Iftekhar Shareef introduced various elected officials on the reviewing stand including Governor Quinn, County President Preckwinkle, Circuit Clerk Brown, Bill Daley, State Senator Dillard and Robin from Homeland Security. Iftekhar Shareef also gave a rousing introduction of Bollywood actress Soha Ali Khan and thanked her for her spirited participation. Iftekhar Shareef invited Consul General Dr. Ausaf Sayeed to present mementos and recognition's to visiting bodybuilding champs from India Mir Mohthesham Ali Khan and Esa Misri at the parade.
FIA President Hina Trivedi thanked the sponsors and business community for their valuable help and support in the organization of the festivities and thanked the team of FIA leaders, trustees and the executive board for their steadfast dedication and team spirit. The closing ceremony on the reviewing stand was graciously handled by Sanhita Agnihotri who drew the curtains on the colorful parade with the singing of Indian national anthem.
Iftekhar Shareef latter condemn the actions of two individuals who are confusing the Indian community by using the name of FIA Chicago and collecting funds . These two individuals after losing FIA elections in 2009 registered another FIA by manipulating the name by one letter . Iftekhar Shareef on many occasion condemn their actions and openly invited them to join the original FIA founded in 1980. Shareef warned them of legal action if they continue to confuse the community . It is learnt that the other group took out a small Parade of one float in a parking lot in Schaumburg Illinois, and the total attendance was 25 innocent people who doesn't know these are the break-away group . Shareef said the original FIA has no issue if they do any events but not using the FIA-Chicago name.