Pakistan's independence Parade attracted Mega crowd on Devon avenue
Chicago IL:. Pakistani Chicago celebrated their homeland's 66 years of independence on Sunday on August 18, 2013 in Chicago with a parade, festival Mela and live musical performance by singer from Pakistan. Blessing from Allah, beautiful day in the city made for a perfect day for a parade as thousands gathered for the Pakistan Independence Day Parade at Devon avenue.
They celebrates their 66 years of independence from British rule by having their 23rd annual Parade and Taste of Pakistan festival. The parade stepped off from Devon and Damen Sunday afternoon, and the festival continued until 7:30 p.m. at Warren Park. The Parade was organized Pakistan United Parade Committee, Greater Chicago. Pakistan's independence Parade attracted Mega crowd on Devon Avenue.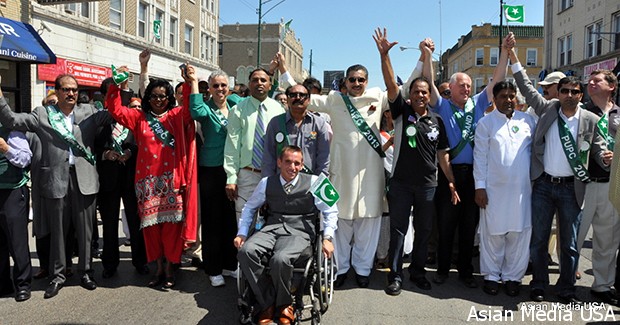 The parade began at 12:00 noon and ended at 2:00 PM. The event all together was a fun filled family day. The streets of Devon were flooded with families screaming in pride "Pakistan Zindabad!" and "Happy Independence Day!". Men, women, and children all were dressed for the occasion. Women wore their beautiful and colorful traditional dresses. The men wore their traditional white outfits with a green shawl. The Pakistani flag was waved in joy by many. Tattoos and face paint of green and white were amongst the few gestures of celebration.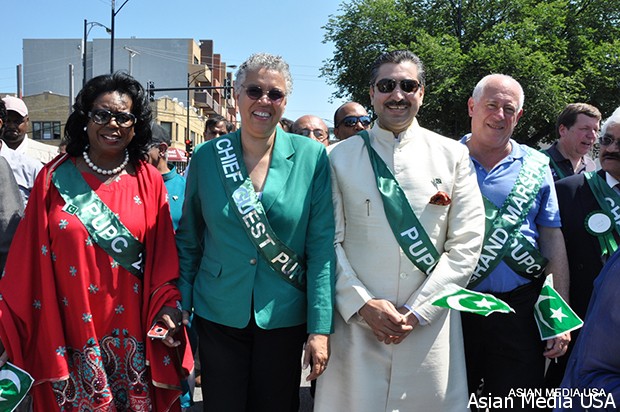 Among the first line of people to walk in the parade were Chairman Tasleem Raja, Vice Chairman Zakir Sabri, Secretary Asif Saleem, Treasurer Hammedullah Khan, Illinois Governor Pat Quinn, President, cook county board Toni Preckwinkle, Alderman Debra Silverstein, State Senator Ira Silverstein, Clerk of circuit court Dororthy Brown; County Treasurer David Burrios, Consul General of Pakistan Zaheer Pervaiz Khan, Alderman Joe Moore, Commissioner, Human Relations Board Mona Noriega, Board Member Raja Razzaq, Media Coordinator Jawaid Riaz, Ambassador Husain Haqqani, Chief Patron Hameed Ullah Khan, and Past Chairman & Float Committee Khalid Khan.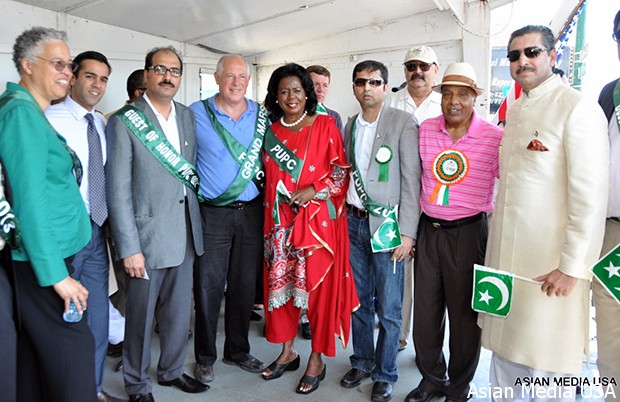 21 extraordinary floats rolled down the streets of Devon Ave while many dances were performed by the children.
The front panel walked on Devon avenue from Damen to Claremont street, where the stage was designed. The prominent leaders and politicians came on stage. Program on stage began with The American national anthem and then the Pakistan national anthem. After the national anthems ceremony the floats were slowly moving by stage to gave their best performance. During this moment is where the crowd cheered the loudest and the politicians and leaders all saluted. The floats presented were Nayab Mart, ATM Card & Jamba Juice, Tahoora Sweet Bakery, Sabri Nihari, First Choice Carpet, East West University, Blue Ribbon Taxi, Star Autos, Central Bank, Money Gram, Rani Corporation, Jarvis Currency Exchange, Khan BBQ and Money Dart, The parade ended with an incredible performance from the Jessie White tumbling team.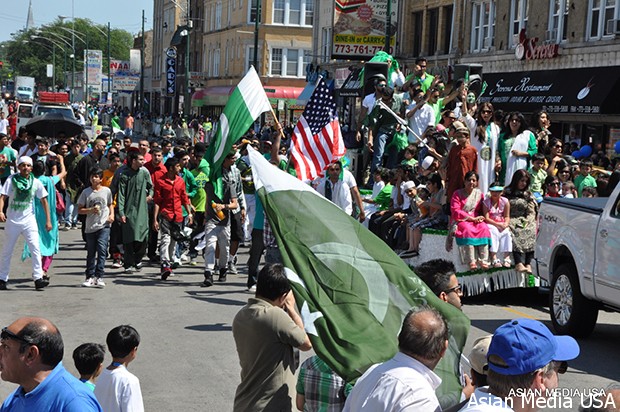 It is my proud privilege to extend heartiest congratulations and warm greetings to all members of the Pakistani-American community on this auspicious occasion of Pakistan Independence Day, 2011. We celebrate this day to pay homage to visionaries, leaders, and workers of the independence movement and all those gave sacrifices of create of Pakistan". Pakistani-American community of the Greater Chicago is a source of immense pride and great asset for the country. The community here has not only made positive contributions towards the socio-cultural life and economy of the State of Illinois but has earned respect of other local communities for being socially well integrated, disciplined and law abiding people.
Pakistan United Parade Committee of Greater Chicago deserves special tribute for initiating and carrying forward the tradition of celebrating Pakistan Independence Day for the last 22 years. The management of this year's committee has exhibited exemplary team spirit under the Chairmanship of Mr. Tasleem Raja to make the Independence Day celebrations very successful. I would like to complement them for their dedicated hard work and selfless contributions for the national cause and making us all feel as "proud Pakistanis" said by Consul General of Pakistan Zaheer Pervaiz Khan.
"On the 66th anniversary of Independence of Pakistan. It is my great pleasure to congratulate Pakistani – Americans on this memorable day. It is the day of rejoicing and thanks giving. It is also a day of paying homage to the founding fathers who suffered for the cause of freedom. They gave their lives so we could live honorably.
Let us join together in our quest for excellence so that our motherland can assume its rightful place in the 21st century" said chairman Tasleem Raj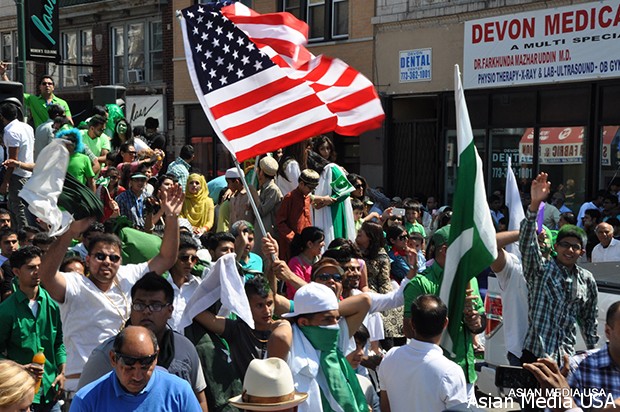 Notably the honorable Dorothy Brown mentioned, "The event provides us with an opportunity to recognize the contributions to our great nation of the people of Pakistani decent," said Clerk Brown. "I congratulate Pakistan-Americans of the Chicago metropolitan area as we commemorate their country's 64th year of independence with their annual parade in West Roger's Park."
The Consul General of Pakistan also had few words to say, "
Unfortunately, few other key figures such as Governor Pat Quinn, Mayor Rahm Emanuel, Congresswoman Jan Schakowsky, and Senator Mark Kirk couldn't make it to the celebration, however they sent letters to the congratulate the Pakistani community.
Due to some rain about 2,000 people still attended the Mela. Delicious assortment of Pakistani food was served. Also present were many different varieties of stalls of shops to browse from. Many colorful and beautiful Pakistani dresses were worn, great music, and special singing performances were just a taste of the event. Raffle tickets sold for $10 a piece which awarded prizes such as an airline ticket to Pakistan, flat screen television, camcorder, digital camera, iPod, and many more.
Sponsors of the event were Ali Hairstylists, Allied Print Copy, AM Travel, Amana Mutual, Anmol Restaurant, Ashyana Boutique ASIA Insurance, Asian Human Service, BE Jee Collection, Bridge Travel International, Chandni Exclusive Chicago Furniture, City Service Taxi, Dilkash Boutique, East West University, Express TV, Fresh Farms, Global Trading, Globe Taxi, IFANCA, Indus Society, Islamic Relief USA, Italian Express, JKKabbab, JF Labs, KFC Zabhia, King Autos, King Sweets, MadnyMart, MidWest, Money Dart, Money Gram, Nayab Mart, New Star Autos (Jamil and Shakil), Noor Meat Market, Office Mart, Pakeeza, Pakistan American, Medical Center, Pakistan Business Association, Pitta House Schamburg, Pitta Inn Restaurant, Pitta Kabab, Primier Motorwerks, RK Carpet, Raj Jewelers, Rani Corporation (Rashid a Chaudluy), RNA Corporation, Rogers Park Autos, Royal Sweets, Sabri Nihari, Sahiba Boutique, Seem Travel, Sky World, State Farm Insurance, Studio Elite Back, Tahoora Sweets In, Tayyaba, Tazza 2 u / Barkat Foods, UN Resolution 1948, Usmania, Zeenat Banquet and Pakistan United Parade Committe (Greater Chicago)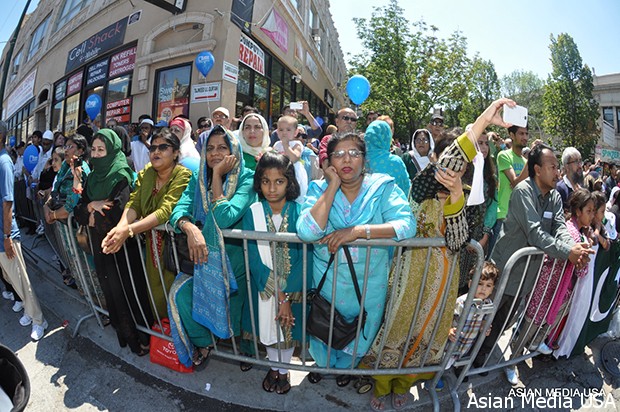 Chicago Police did a excellent job to manage Mega crowd very peace fully.
"I think the best part is just to see the whole community here together doing something positive. I think because of all the political turmoil that is going on in Pakistan currently. It is just to see everyone together and enjoying themselves," said Chairman Tasleem Raja
For Khan and her family the festival included sharing a plate of Biryani. For others, the day want just about taking in the culture, it was showing off their pride.
"I love my flag. I love the color of it. I love the design. The moon and the stars. I truly love my flag and I truly love my country," said Vice Chairman Zakir Sabri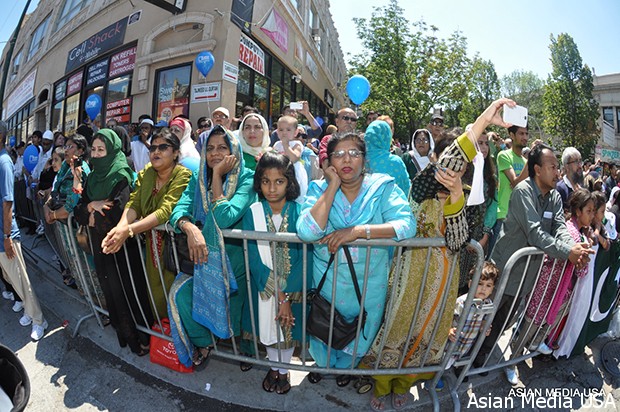 .
Even as the festival wrapped up, participants said they will continue to celebrate Pakistani pride until they gather again next year.
Suresh Bodiwala, Chairman from Asian Media had an opportunity to find out Tasleem Raja Chairman of Pakistan United Parade Committee for perspective of the Pakistan Independence Day where he replied that "I would like to thank our sponsors, the Parade Committee members, the volunteers, the media, our friends, and especially our community; without their help, this celebration would have been impossible. Wishing everybody a happy and healthful Pakistan Independence Day and I am proud to be associated with such dedicated people who demonstrated their respect and love for Pakistan".