Consul General of Pakistan Chicago Celebrate Independence Day with Flag-Hoisting and Cake Cutting
Chicago IL: Council General of Pakistan in Chicago celebrated the country's Independence Day by Flag-Hoisting and Cake Cutting on Wednesday 14th August 2013 at 11-30 am. In heart of Chicago downtown with leading Chicago land entrepreneurs and citizens to honor the sacrifices of their freedom fighters who fought and to remember the work of their Founding Father Muhammad Ali Jinnah, for giving to them a country where dignity and individual freedom is assured.
As usual a large number of Prominent Pakistani community Leaders, Businessmen, Journalists, Citizens, Americans Politicians and invited guests including children and students gathered at the Daily Plaza, 50 W. Washington Street, Chicago IL, to join the festivities.. This event was also attended by State Senator Ira Silverstein, Elderman 50th ward Debra Silverstein, Daniel Goff, Deputy Director, Office of Trade and Investment, – Illinois Department of Commerce and Economic Opportunity, Office of the Governor, Andrew Spinilli, Associate Director – Office of the Mayor | International Relations and Protocol, David Carlin, Senior Advisor, Office of Illinois State Treasurer Dan Rutherford, Nettie Lasko, Immigrant Assistance Program Coordinator office of the Attorney General, Matt Abbot, Dir. Of Community Affairs, officer of Senator Mark Kirk, Talat Rashid representing Mayor of Bolingbrook Roger Claar, and Mr. Munir Chaudhry, on behalf of the Pakistani Community.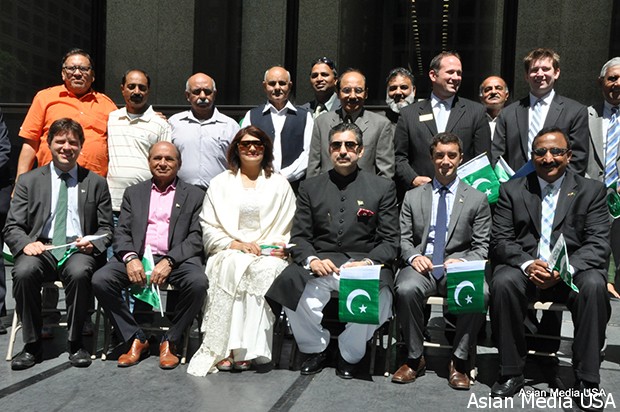 Saquib Nisar, Accountant in office of Consulate General of Pakistan efficiently performed his duties as MC. He in his introductory speech said, 'On behalf of the Consulate General of Pakistan in Chicago we are honored to have you all here to celebrate Pakistan's Independence Day Flag Raising Ceremony. Deliberations began with Recitation from Holy Quran Ali Imran followed by the Flag Raising Ceremony. Consul General of Pakistan in Chicago Honorable Zahir Pervaiz Khan hoisted the Pakistani Flag amid cheers and Pakistani National Anthem. This was followed by the singing of the American National Anthem.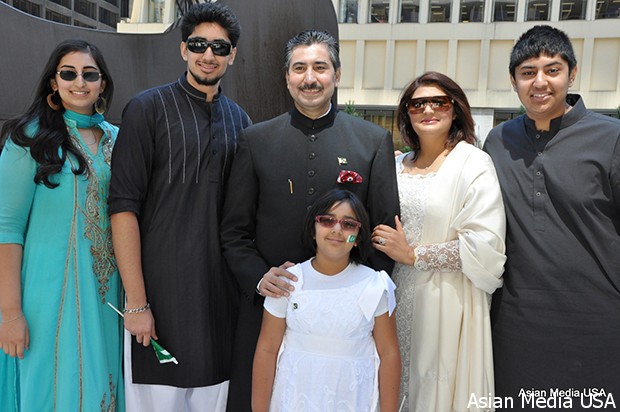 Honorable Consul General of Islamic Republic of Pakistan Mr. Zaheer Pervaiz Khan read President and Prime Minister Messages. He also appreciated all the Pakistani community for joining the ceremony. He asked all the Pakistani community members to remain united and act in the USA as Ambassadors of the country. Addressing the students he urged them to read about the history of Pakistan movement and its leaders that will educate them on how Pakistan was created and what difficulties our leaders faced over the last 66 years to keep the national flag high in the comity of nations. Then Daniel Golf, Deputy Director, Office of trade and Investment- Illinois Dept. of Commerce and Economic Opportunity from Governor Pat Quinn's Office conveyed the message from the Governor on the occasion of Independence Day of Pakistan.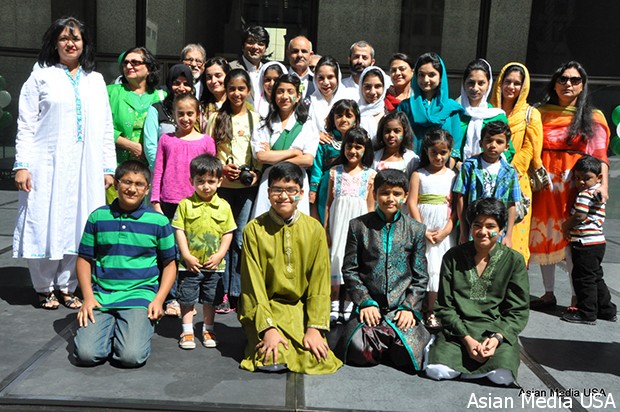 Andrew Spinillily, Associate Director-Office of the Mayor Rahm Emmanuel's Office, Nettie Lasko, Immigrant Assistance Program Coordinator on behalf of Attorney General Lisa Madigan; Matt Abbot, Director of Community Affairs on behalf of Sen. Mark Kirk; Talat Rashid on behalf of Mayor Roger Claar Bolingbrook); conveyed messages and wished Happy Independence Day. Then Munir Chaudhary, on behalf of the Pakistani Community recalled sacrifices made by ancestors and wished continued progress of Pakistan. He also appreciated the Consul General for his services for the community and keeping them united.
Cake-cutting was held by the Consul General amid clapping and cheers. This followed by inspirational speech by The Counsel General Honorable Zaheer Pervaiz Khan wishing Happy Independence Day to all and thanked all for remaining present in celebrating Independence Day. He recalled progress made by all in patriotic citizens of Pakistan and hailed relationship of Americans.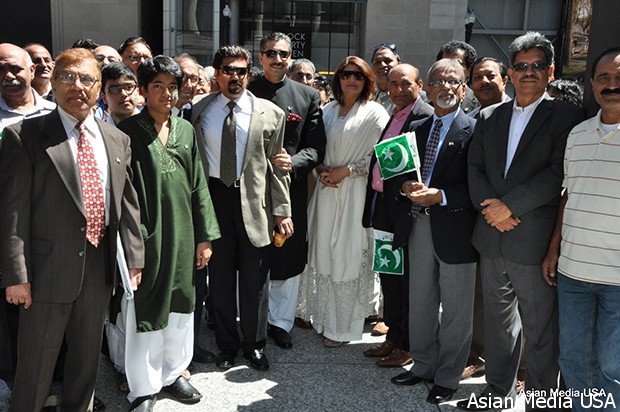 Then beautiful entertaining program started by Adeel Baig with songs from Shazia Baig(Lal Meri) Shahzad Khan making all zooming and also there was Tere Bina Performance by Children. The event ended at about 2:00 PM.
Suresh Bodiwala, Chairman of Asian Media USA and Jyotikumar Chokshi, Editor had an opportunity to find out Mr. Zaheer Pervaiz Khan's perspective on the Pakistan Independence Day. He conveyed his warm Greetings to all and wished everyone a very Happy Pakistan Independence Day to the entire South Asian Diaspora. He further commented that "On this significant day, we would like to encourage compassion, non-violence and goodwill, which may always flow in unison".