Association of Indians in America Honors the US Congressman Danny K. Davis and the film producer, Tirlok Malik
Chicago IL: Association of Indians in America Inc. organized an AIA Awards Banquet on Sunday August 4, 2013 with Cultural and Entertainment program from 5.00 pm onwards at Ashyana Banquets, 1620 West 75th Street, Downers Grove, IL 60516.
Salil Mishra, President AIA Illinois Chapter served ably as MC. Naren Patel, National Vice President, Owner and CEO of Medstar Laboratory Inc. welcomed all including dignitaries Congressman Danny Davis, Congressman Mike Quigely, Congressman Bill Foster, Bob Peickeut of Dupage County, Theresa Mg, Representing Governor Pat Quinn, National President Dr. Pandey, AIA National Committee Members from across the US, Trilok Malik, Dr. Sushil Gupta, Chapter President Salil Mishra, several community leaders etc. He conveyed his heartfelt congratulations to Honor Awardees Congressman Danny Davis and Mr.Trilok Malik and also to the Special Awardee Dr. Sushil Gupta. He further asserted that the Asians are often referred as the 'Model Minority'. He thanked all for coming and joining the event.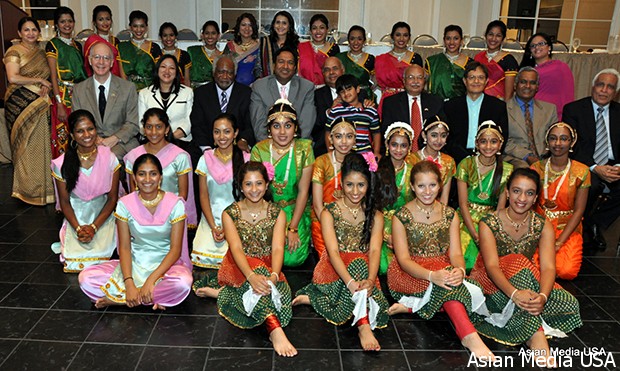 Dr. Ghanshyam Pandey, National President AIA, congratulated special guests and event organizers, and recognized the contributions of those hard working volunteers. He further stated that tonight's event is continuation of a great tradition that AIA established to honor the pioneers who have significantly contributed in promoting a healthy relationship between India and the US in their own way, and those individuals of Indian origin who are high achievers in areas like science, education, arts and politics. In this respect AIA has conferred Honor Awards to several Nobel Laureates like S. Chandrasekhar, Amartya Sen, Bharat Ratna Sitarist Ravi Shankar, and several congressmen. In line with this tradition, we are honoring two very distinguished persons, Hon. Congressman Danny Davis, and film producer Tirlok Malik, and a Special recognition award to Dr. Sushil Gupta.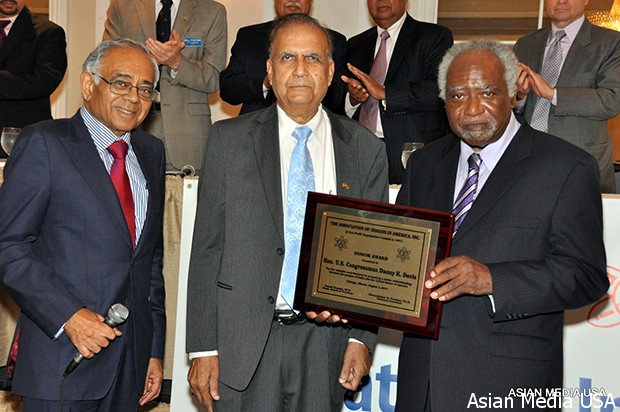 He highlighted a variety of activities and achievements of AIA, such as minority status for Indians and counting of Indians as a separate entity in the 1980 census, and spoke of AIA's vision of the call for Indian Community and its leadership to serve the American mainstream and commitment to the Indian heritage. He further said that AIA continues to serve the Indian community, work on its basic objectives, and address any issue, such as Nuclear Treaty in the past and continues to work on the issuance of Diwali stamps by the US Postal Service. He urged Congressmen Davis, Quigley, and Foster to support the issuance of the Diwali stamps by the U.S. Postal Service.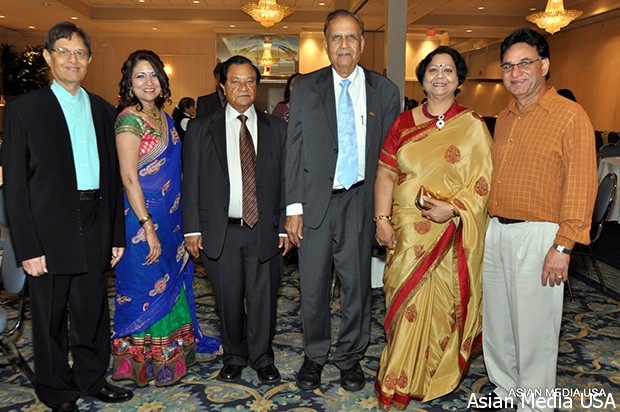 Ashish Sen, Member, Exe. Committee AIA introduced U.S. Congressman Hon. Danny Davis who is a very influential congressman and a member of Ways and Means Committee on the Oversight and Govt. Reform. He is member of the congressional Black Caucus, the India Caucus, the Progressive Caucus and chairs the Postal Caucus. He has been close to the South Asian Community for decades.
In his speech Danny Davis applauded the activities of AIA and expressed pleasure in serving the cause of the community and assured his support.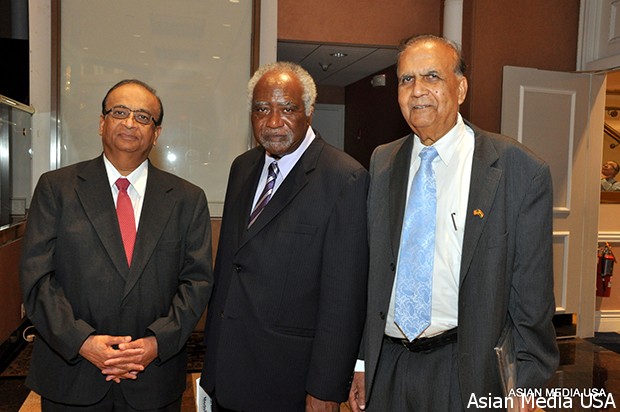 Congressman Hon. Mike Quigley, representing 5th Congressional district of Illinois, was introduced by Balvinder Singh, Member, AIA Organizing Committee. Hon. Quigley conveyed his greetings and respects on the occasion of AIA National Awards Banquet. He thanked AIA for their continued service to countless communities nationwide and abroad.
Next Dr. Ram Gajjela, Member Exe. Committee, AIA Illinois Chapter introduced Congressman Hon. Bill Foster who represents Illinois' 11th Congressional District. Bill Foster is a scientist (physicist — he was particle accelerator designer at Fermi National Accelerator Lab) and a businessman, and his candidacy was endorsed by 31 Nobel laureates. Hon. Bill Foster in his speech touched and asked AIA's resources and talent to help various facets of activity like Reviving American Manufacturing, Refurbishing/Reviving Wall Street, Fiscal Responsibility, Energy, Health Care, Science and Technology and education etc.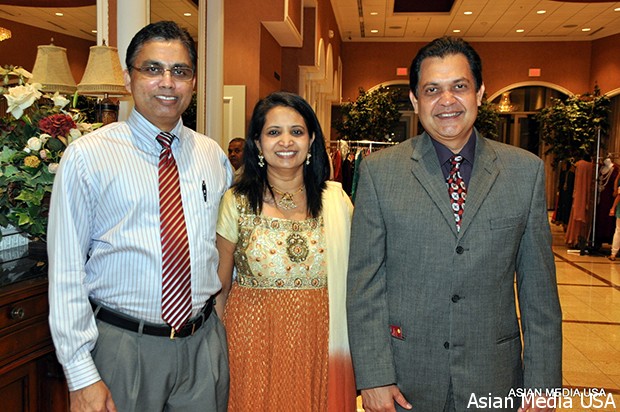 Vinod K. Bansal, Chair, AIA Board of Trustees emphasized uniqueness of AIA amongst the Indian Organization for its Non-Religious, Non-Linguistic and Non-Provincial Association. He applauded it for many notable achievements to its credit, including help to recently arrived immigrants of Indian Origin to settle and integrate in the US.
AIA awards for highest achievements were given to Hon. Danny K. Davis, US Congressman and Trilok Malik, movie producer and director, CEO Apple Productions, Inc. His Apple Productions has produced many films since 1990. Trilok Malik is driven by his passion. He was introduced by Surendra Rametra, National Vice President AIA. Special Recognition Award was given to Professor Sushil K. Gupta. He was introduced by Piyush Agrawal, Past National President, AIA. Dr. Gupta holds B.Tech., M.B.A.,M.S. in Industrial Engineering (University of Toronto, Canada) and Phd. (University of Delhi, India). He was also awarded 'Distinguished Scholarly Award' of the College of Business Administration, in 1984-85 and received distinguished Service Award in the POMS Annual Meeting held in Chicago in April 22,2012. Dr. Gupta is a very active member of the Indian Community. He is a Regular Donor to the religious and Cultural Activities of the Indian Community.
All enjoyed sumptuous Dinner and enjoyed Cultural and entertaining Program. Sniti Mishra presented many famous songs in her melodious voice. Sniti Mishra was a Zee T.V. Saregamapa Singing Superstar in 2010. This was followed by famous high energy Garbo choreographed by Toral Chaudhari "dholi taro dole baje" by Students from Nrutyakalashree Dance Academy performed by Prachi Desai, Nikita Khara, Isha Patel, Jasmine Patel, Kinjil Patel, Neema Patel, Radha Patel, Aashna Singh, Riddhi Soni, and Siddhi Soni.
Subsequently, Bhangra Fusion Dance presented by Payalia Dance Studio and performed by Avni Patel, Hannah Singh, Ishita Jaria, Monali Mukharji, Yana Garmesh and Choreographed by Trupti Patel was scintillating and made all zoom making lively atmosphere. There was a traditional Gujarati Garba Dance by Kalashree Group, Dance by Kala Padma Academy represented by Ruth and Angali Vargese, and to top of all, there was Bhangra Dance presented by Aashman, Priya Adiga, Sreenija Vedula and Rithika Ashok.
The Association of Indians in America (AIA) is the oldest national association of Asian Indians in America. It was founded on August 20, 1967 after the United States Congress passed the Immigration Act during 1965-66, repealing the Asian Exclusion Act of 1917. The Constitution of the AIA was adopted in 1970 and was incorporated in 1971. AIA obtained the IRS exempt status in 1973. AIA continues to recognize people with Exceptional Qualities. AIA helps and represents the hopes and aspirations of those immigrants who are united by their common bond of Indian Heritage and American Commitment.
National Executive Committee: President: Ghanshyam Pandey; Vice Presidents: Virendra Gupta (GVC); Naren Patel (IL); Surinder Rametra (NY); Durgesh Thakur (FL); Treasurer: Lucy Pandey (IL); Secretary: Salil Misra (IL)