03-08-2013 UIC ISA India Night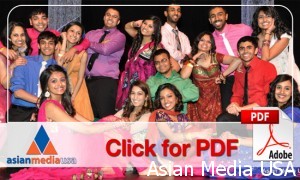 Chicago IL: The students from the Indian Students Association (ISA) India Night Flame Fair Awards 2013 on Friday, March 8, 2013 at University of Illinois Forum, 725 w Roosevelt Rd, Chicago, IL. A sold out, dynamic Cultural Show that showcased dance styles prevailing all across India and featured other talents as well such as singing and verity of cultural dance mix with Bollywood renowned songs. This year, the show's theme was Tribute to renowned Bollywood legend filmmaker late Shree Yash Chopra. Along with Bollywood Music, the show was fused with mainstream hits by American artists that helped to define this growing generation of Indian students. The attendance was house full.
The Indian Student Association at UIC welcomes audiences to India Night 2013! This event showcases traditional and modern dance numbers, entertaining musical pieces, and comedy skits! India Night helps preserve, promote, and celebrate South Asian culture on the UIC campus. India Night was dedicated to the late Yash Raj Chopra, who showed us the true meaning of passion.
Audience included multiethnic things included Family and friends of performers packed the UIC Forum on campus for the show. The auditorium was hustling with excited Parents and Friends of the performers and invites. The show featured acts such as the Nrutya Kalashree, Brownwashed Part II, Pyaar Mein Twist 3, Freshtacular, Raag N' Roll, Ministry of Bhangra, UIC Bhangra, ISA Board Dance, Chicago Dhamaal, UIC DangeRaas and Nazaara. Many were from other Chicago universities like DePaul also.
The program started sharp 7:30 PM. The show had eleven items. Most of the teams were not exclusively UIC students and so many student participants belonged to different Chicago universities like DePaul. Along with the main events, the emcees did a remarkable job entertaining the crowd with hilarious sketches interspersed between different events. There were five Co-MC's individuals who shared the podium made the audience laugh, and made bring tears of joy to the eyes of audience throughout the night. Audience really enjoyed this year's hosts of the 2013 UIC Flame Fare Awards: Led by Sahaj Shah (Dj Mr.Shaw), Jay Shah, Dhruv Patel, Shivam Thakkar, & Selwyn Varghese. These 5 opened the show with a bang as they hyped the crowd walking in their Suits and Ties, making a grand entree into the building. There was also a widespread use of videos each of the teams created to introduce their members before they performed, making the with awesome visual effects.
Sunil Shah was in LA, so his wife Rita Shah attend this event however Sunil Shah, Founder President of the F.I.A, Chicago, IL was recognized for Moral Support and Sponsorship.
Monika and Axita did excellent job by performing vote of thanks. "Thanks to friends and family for coming to the India Night 2013. There are many of you sitting in the audience that helped with tiny details and anything that we needed. Without your support and cooperation this wouldn't be possible. you all know with every great show, there's always a team behind it, so thanks to the Forum staff … Mitch, Jose, and Lemont, Board members. Shani and Lisa, ISA ALUM, special shout out to Elegance Decor for beautiful Backdrop, all the sponsors … mention back page of all of our pamphlet and Special shout out to Sunil Shah and Asian Media USA, Pranali Sheth and TV ASIA for Media coverage of India Night 2013" said by Monika and Axita.
ISA Board: Lisa Patel (Co-President), Shani Chibber (Co-President), Krishna Modi (Secretary), Axita Patel (Cultural Chair), Monika Sharma (Cultural Chair), Ami Shishodia (Social Chair), Bansri Thakkar (Social Chair), Selwyn Varghese (Publicity Chair), Nikesh Shah (Publicity Chair), Shivam Thakkar (Public Relations), Shivani Patel (Community Outreach), Jay Shah (Webmaster), Parth Shah (Freshman Rep), Neema Patel (Freshman Rep), Jay Patel (Freshman Rep) and Alex Oommen (Treasurer).
Sponsors: UIC Chancellor's Committee on the Status of Asian Americans, UIC College of Education, UIC Business, UIC Department of Biological Sciences College of Liberal Arts & Science, KAPLAN Test Prep and Admissions, Chirag K. Patel Subway, UIC Ghareeb Nawaz Express, New York Life Mahendra (Mike ) Patel, Dunkin Donuts and Baskin Robbins – Anita Shah, Elegance Décor Custom Event Decorators, Ann's Beauty Salon, The Bar 10 Doors, Taylor Made Pizza, Francesca's on Taylor and Vibrations- Sadhana School of Indian Music